Oil Portrait Commission
January 8, 2019
Welcome to our latest oil portrait commission of Leya and Jack. Matilde contacted us in 2018 to see if we would be able to create an oil portrait for her mum for Christmas.

Time was very short as we were very close to December, so we all agreed that although we couldn't guarantee a Christmas delivery, Nicholas would have just enough time to paint the oil painting completing on Christmas Eve. We would create a private webpage with photos of the painting and a video of it, so that Matilde could show her mum on Christmas morning. It could then arrive to them in the New Year.

Matilde's mum was thrilled when she saw the webpage and video of her framed portrait! Scroll down to see the painting framed and read about how it all came about.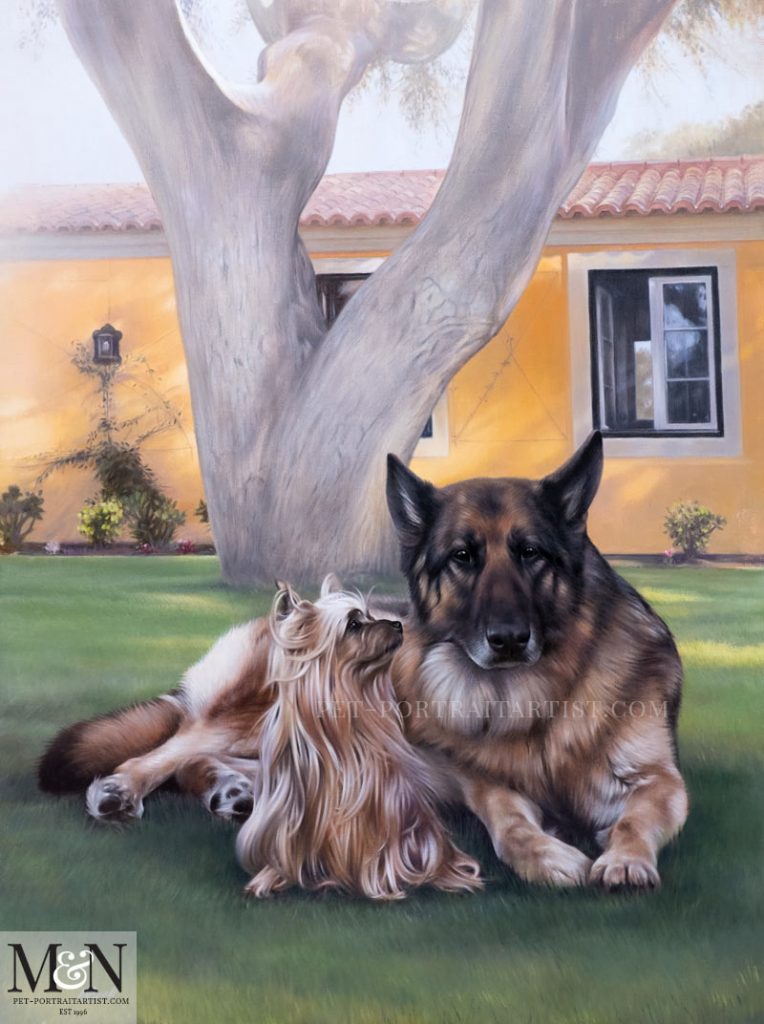 Below shows a video we took of the oil portrait for the webpage we made. it also has our friends guitar music playing behind. We hope you like viewing it!
Oil Portrait Commission – Portrait Arriving!
Matilde and her mum received the portrait safely at their home in London. It was just a few days after the New Year so well timed! Matilde took a photo of her mum unwrapping the painting as you can see…
Hi Melanie,
It arrived and its amazing !!!
My mum loves it so much.
Here is a photo of her opening it 🙂
Thank you so much for everything.

Matilde x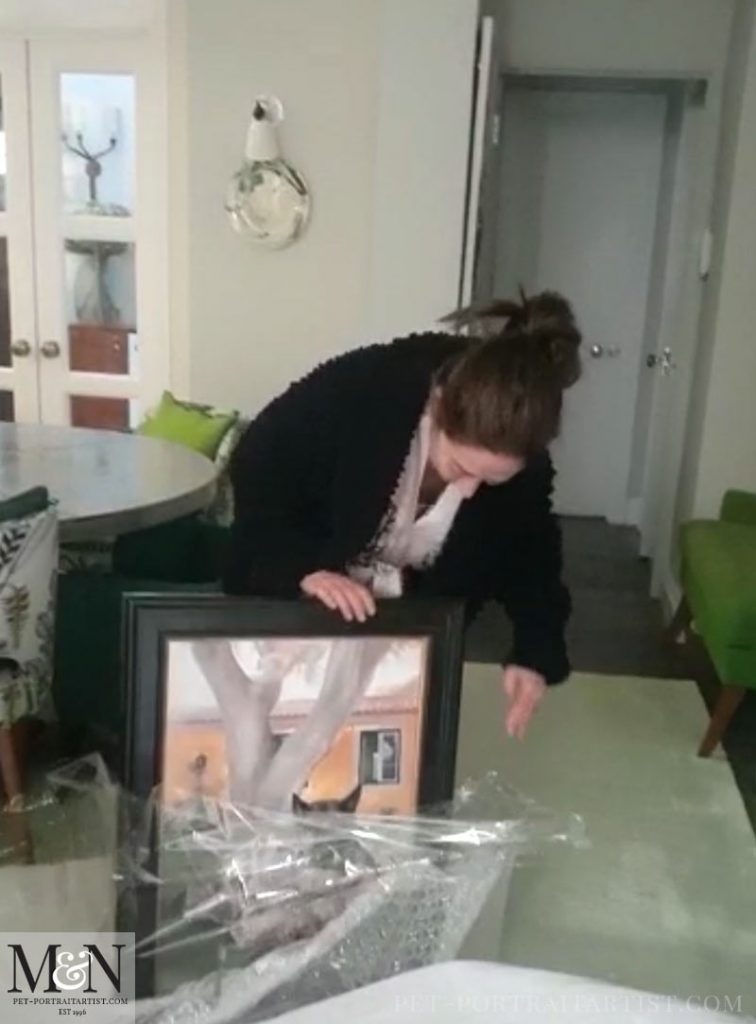 Hi Melanie,
Thank YOU! It was a pleasure and the easiest process ever.
Best wishes and give Lily a cuddle from me!
Matilde, Leya and Jack xx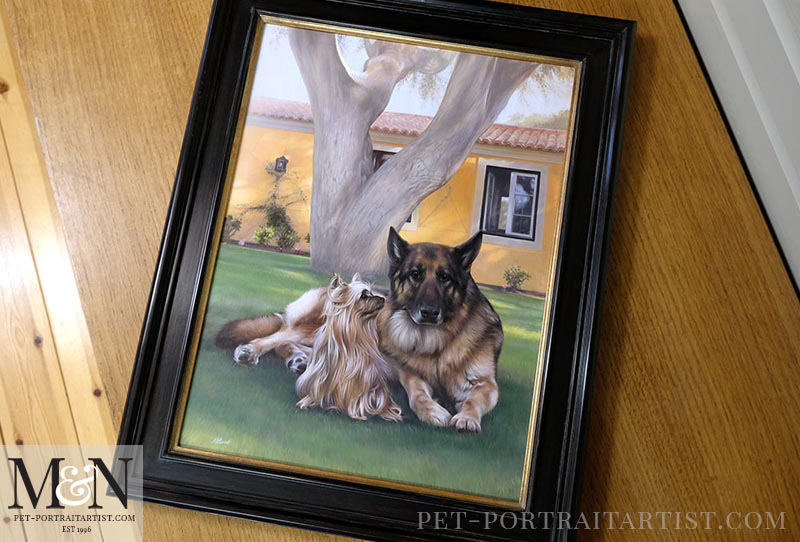 The Oil Painting
Matilde took a photo of Leya and Jack earlier this year and we based the oil painting on that. The positions of the dogs in the photo are exactly as shown in the painting. Leya is looking at Jack and Jack is looking at the camera – perfect pose! They were sitting and laying under the tree in the dappled sunlight. Matilde felt that it would make for a wonderful painting and we agreed! Matilde was also able to send a variety of photos from the day along with taking a few more of Leya at the same angle, so we could see her a little clearer.

Nicholas painted the oil portrait commission at 24 x 18 inch size which was the perfect size for them. Any smaller and it would have been difficult to paint the fine detail in both dogs faces.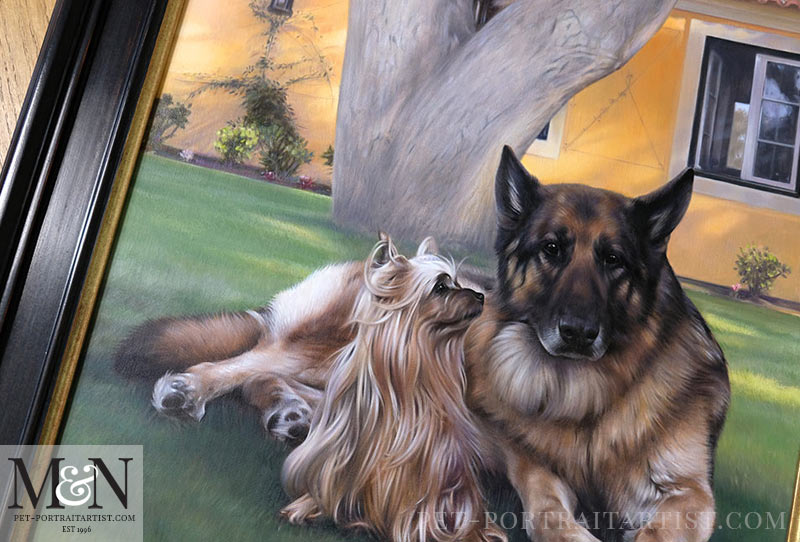 You can see from the photos the level of detail in the portrait is exquisite. Nicholas worked tirelessly to make sure everything was just right. The background was painted lighter to not only bring light into the scene but also allow Leya and Jack to be in full focus.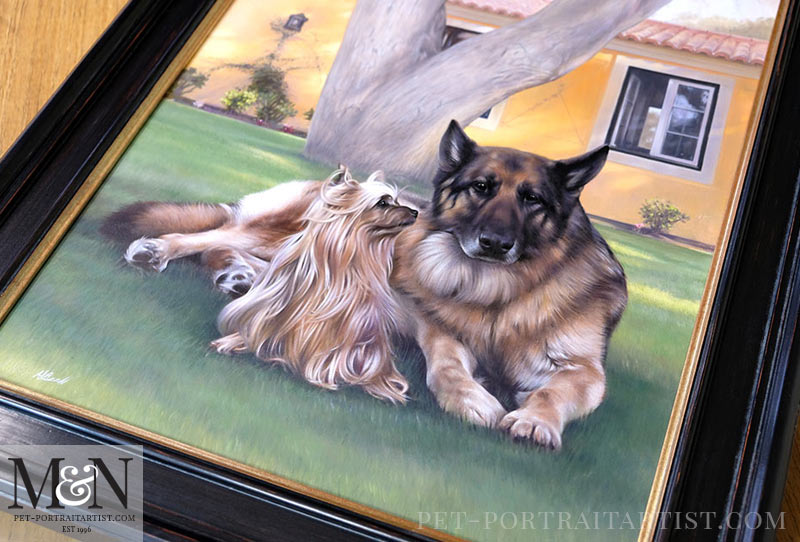 The grass was painted using many different tones and colours. This helped to give the illusion of the dapples of sunlight and shade where Leya and Jack were sitting under the big tree. The colours are fairly muted to allow Leya and Jack to be the focus of the painting and to bring the richness of the warm dappled light where it is streaming through.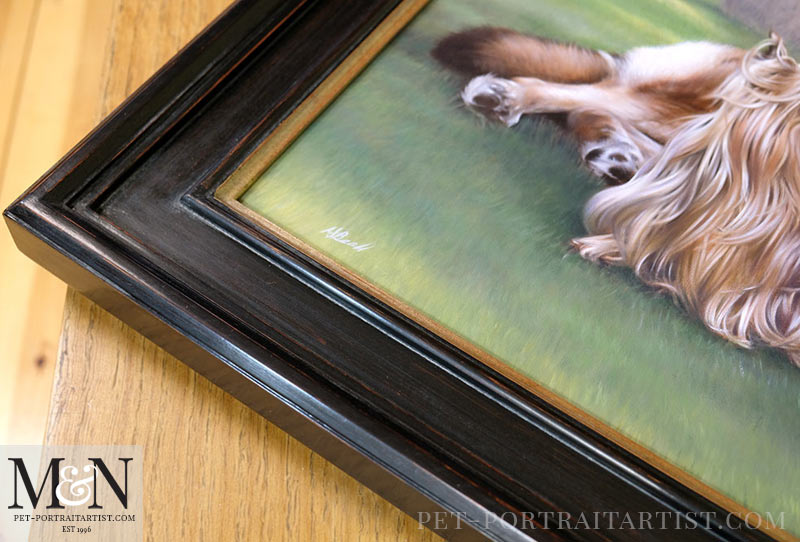 Framed Oil Portrait
We commissioned our framers to frame using the Hampstead Frame for the oil portrait. It is an absolutely exquisite frame and works so well with the painting of Leya and Jack. It really allows the golden yellows of the house behind to stand out. Also it brings the beautiful dappled sunlight in the painting out too and the gold line finishes everything off beautifully.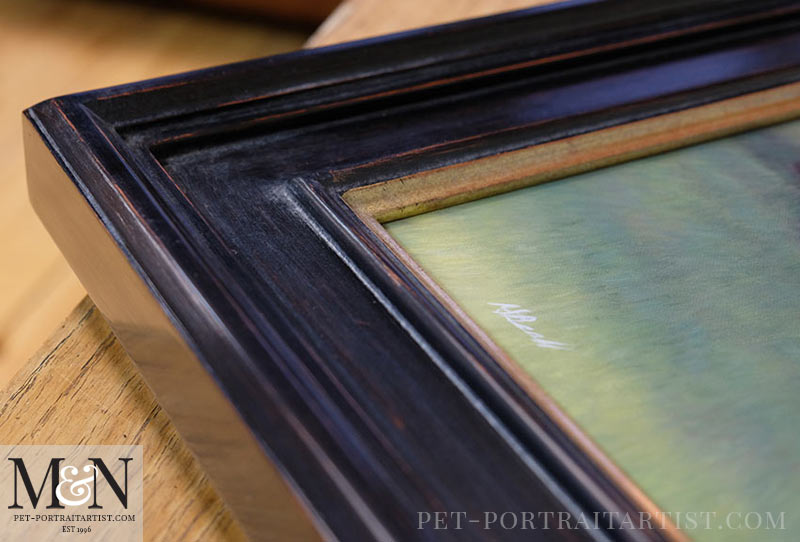 The photo above shows a close up photo of the frames edge and it is just simply stunning. The frame is handmade and hand finished by our lovely framers here in the UK. Our framers are absolute craftsmen, we are so thrilled to be able to work with them.
Amazingly our framers made the frame for us with very little notice before Christmas. As soon as I knew which frame Matilde wanted I asked our framers to hold a space for us. It was their last frame of the year and thankfully they sent it to us in good time.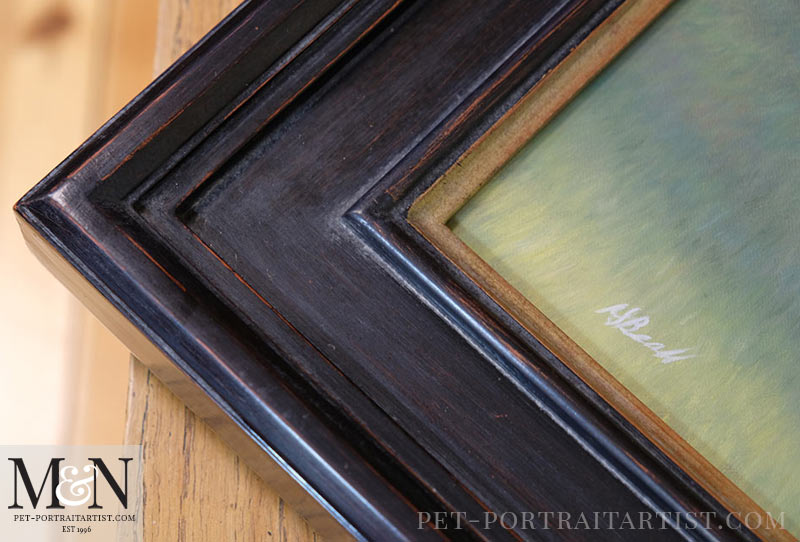 Commission your own oil portrait
We hope that you have enjoyed viewing the portrait Nichoals created for Matilde and her family. If you would like to commission your own oil portrait, you are more than welcome to drop us a line. Visit our website to see more of our artwork and then email us from our oil portraits commission contact page.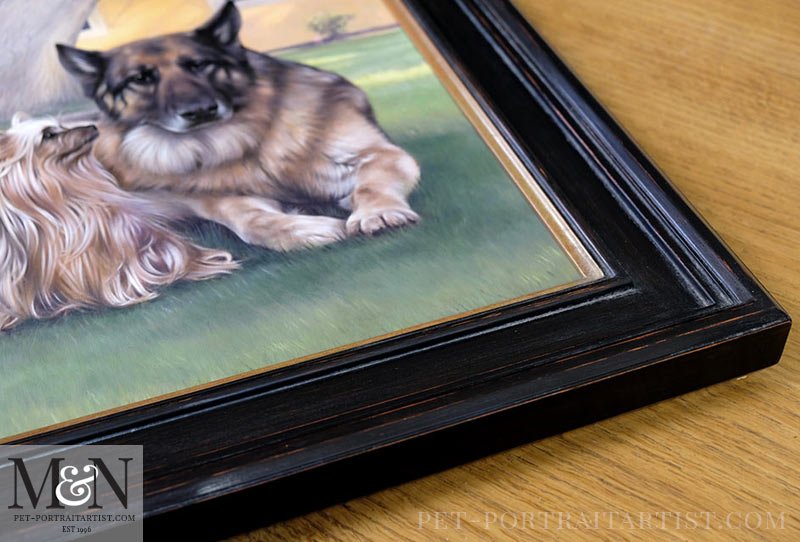 If you are interested in reading about our ordering process, pop over to our pet portraits ordering process page on our blog as an introduction.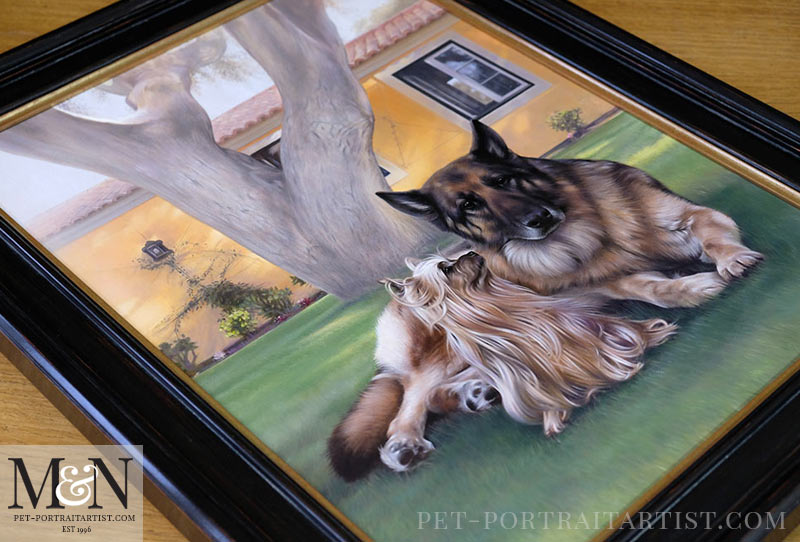 Hi Melanie and Nicholas,
Merry delayed Christmas !
Hope you had a lovely time.
Apologies for only getting back to you now – my mum absolutely loved the website and she can't wait to see it in person!
Thank you so much it was amazing.
Please let me know when we can arrange for delivery !
Thank you once again,
Matilde xx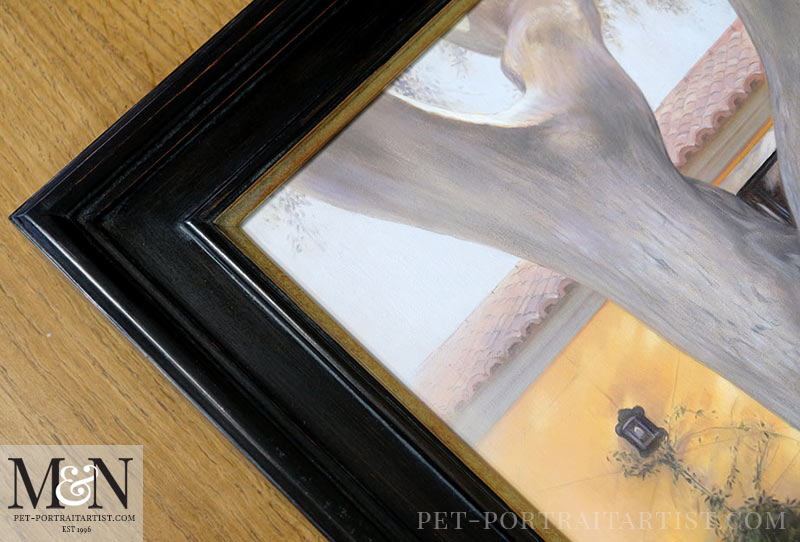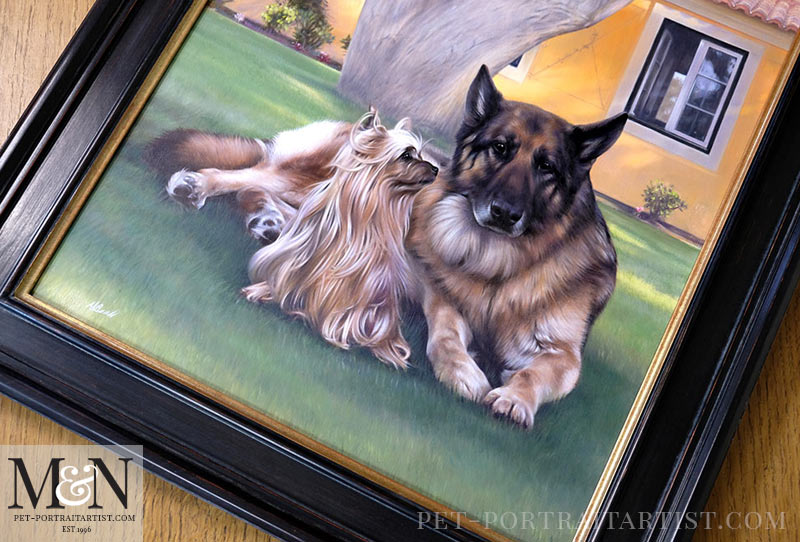 Why not sign up to our Monthly newsletter accessible at the bottom of our website which comes out on the 1st of each month. Catch up on news from our Art Studio! Please don't forget to subscribe to our YouTube Channel too, follow our Instagram @petportraitartists and Facebook @petportraitartists . You are more than welcome to comment below too, we love hearing from our readers!

You May Also Like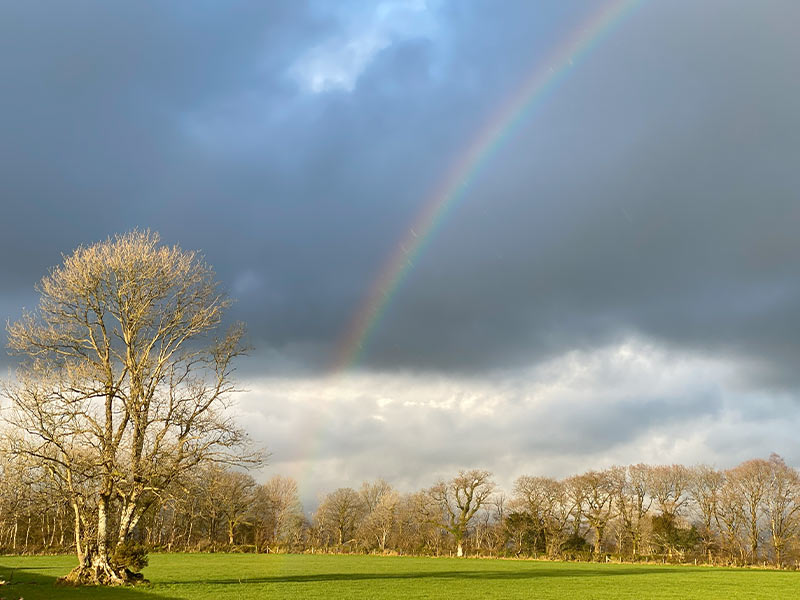 January 23, 2021
December 1, 2014
September 10, 2015