Black Labrador Pencil Portrait
February 24, 2019
Welcome to my latest Black Labrador Pencil Portrait. One of my favourite breeds to draw is the black Labrador, because of their beautiful shiny coat and happy faces – just like Merry in this portrait.
My client Nicholas Williams commissioned the pencil drawing of Merry as a gift for his wife's birthday. Nicholas took a few photos of Merry while out on a walk so that he could make sure he kept the surprise. He managed to capture Merry's happy smile in a number of photos on the walk which is what Nicholas was looking for. As you can see on the left, this was the favourite photo chosen as the basis of the drawing.

The pencil drawing was completed at 18 x 14 size which was a perfect size for Merry. If you scroll down you can see photos….along with a lovely testimonial from Nicholas too.
Hello Melanie,
Many thanks for your email. The portrait of Merry looks exactly as I was hoping it would and I'm sure will be much appreciated by my wife.
Thanks again
Nick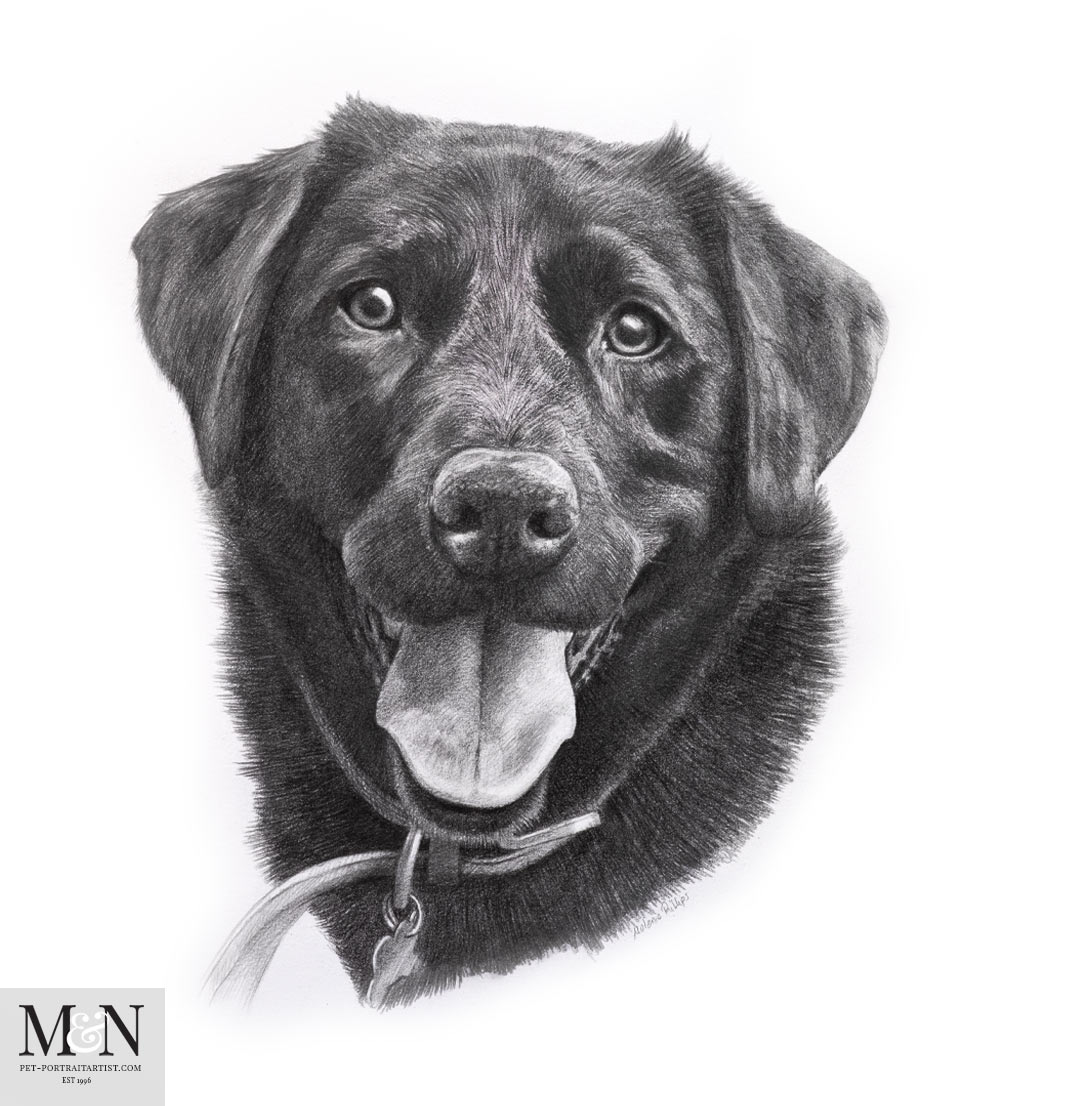 Black Labrador Pencil Portrait Photos
In addition to taking the final photos straight on as shown above, I also take photos from angles so clients can see them in a more natural way. We have two different lenses for our DSLR camera which work for both the straight on photos, avoiding any distortion. The second lens works well for the natural candid photos.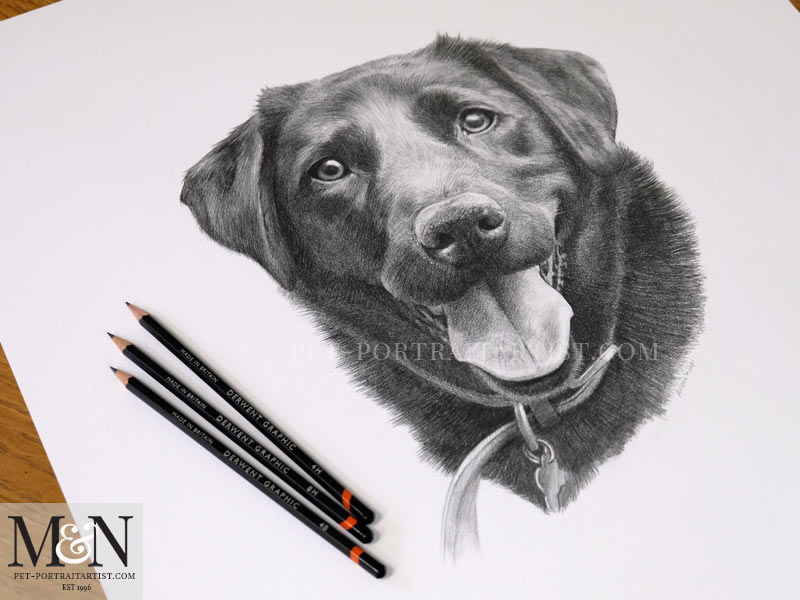 Adding pencils in the scene allows my readers to see a sense of scale. This drawing was quite large and I hope you can see the size comparisons with the pencils to the drawing. It is possible to also compare it with my smaller drawings here on the blog, where the pencils show larger.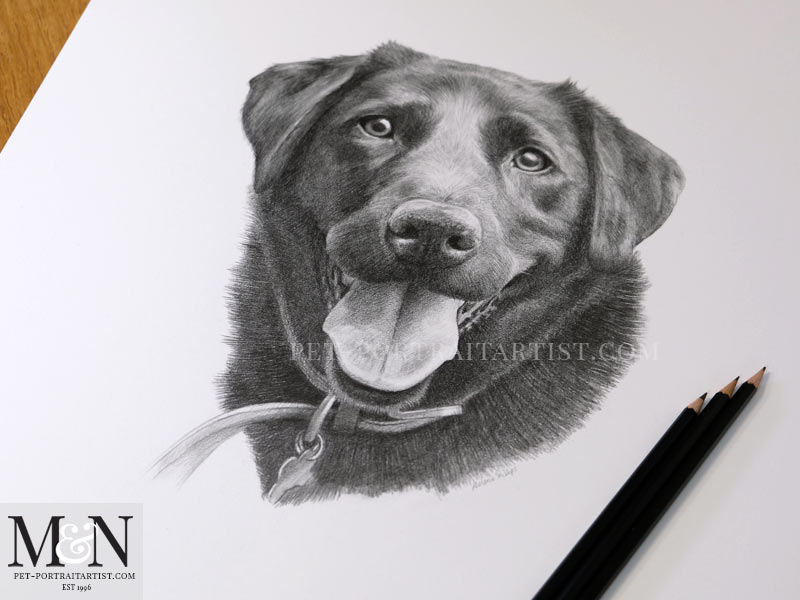 I use a range of pencils from 3B to 6B along with a mechanical pencil for fine details. These allow me to create the different shades and textures of their fur, eyes, nose and collar.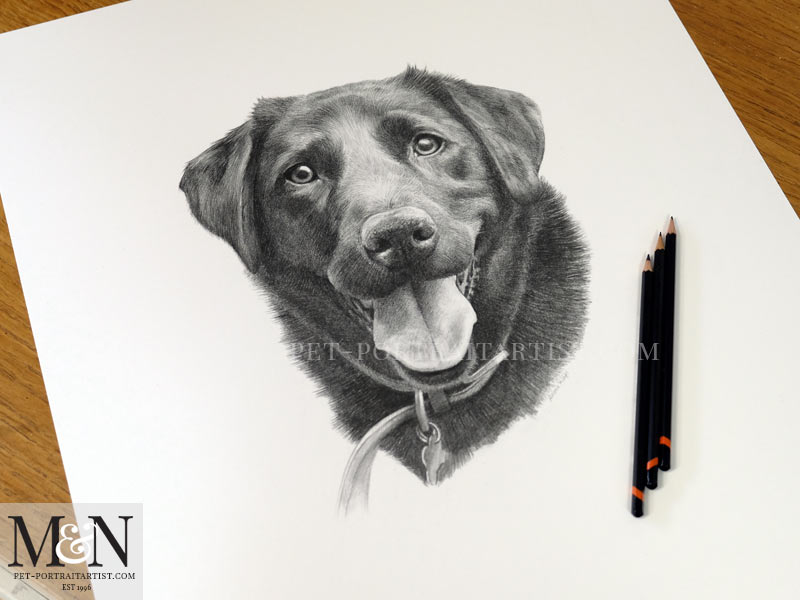 Black Labrador Pencil Portrait Framed
In conclusion, the photos below show the portrait of Merry framed. Nicholas chose to have the beautiful Madison Taupe frame. In addition to the frame, the inner mount is a lovely taupe colour to match the frame and it pulls everything together stunningly. This frame also comes in a slate colour too which is therefore perfect for my pencil drawings also. You can see an example of the Madison Slate version on my blog page for my boxer dog drawing..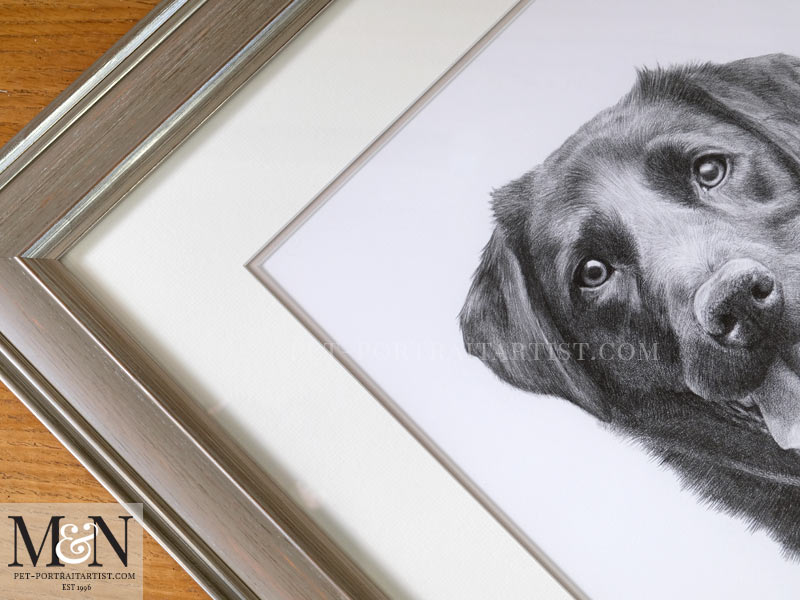 Merry's portrait took a good couple of weeks to draw. It takes time to complete a portrait and each drawing is unique, so timing depends on the size, complexity and number of subjects in the drawing.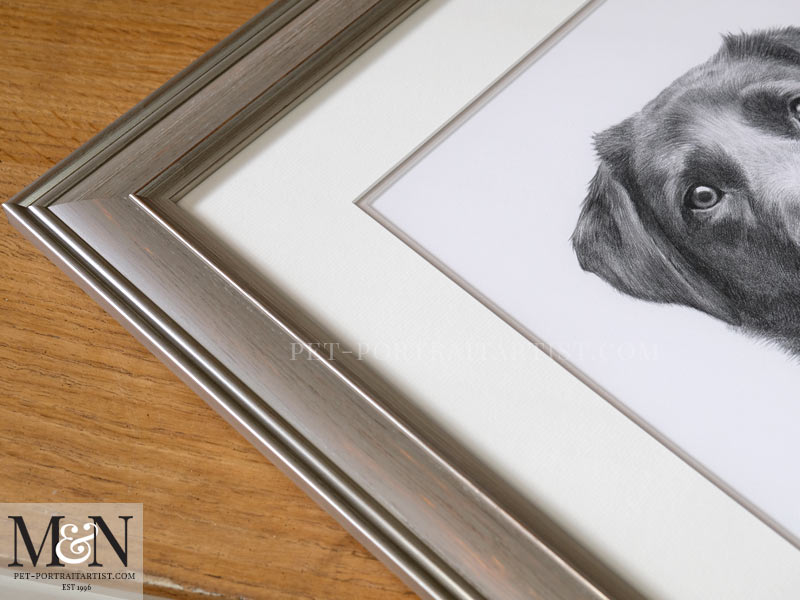 If you are looking to commission a pencil portrait of your Labrador for a special birthday like Nicholas did, please do get in touch early. I do have a waiting list, so it is advisable to book a portrait well in advance.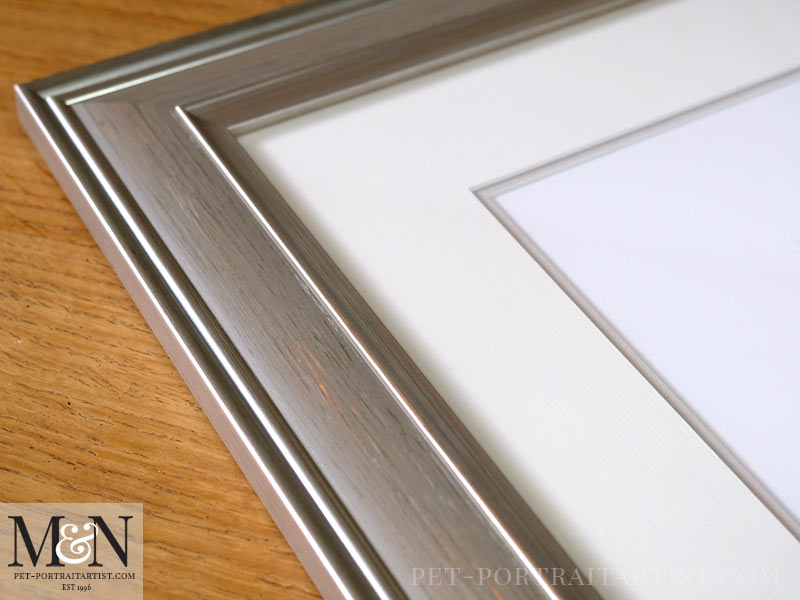 I hope you enjoyed reading about my black Labrador pencil portrait of Merry. If you would like me to draw a portrait of your black Labrador or any other pet, you can contact me through my website or WhatsApp me at any time. I look forward to hearing from you and creating something that's perfect for you!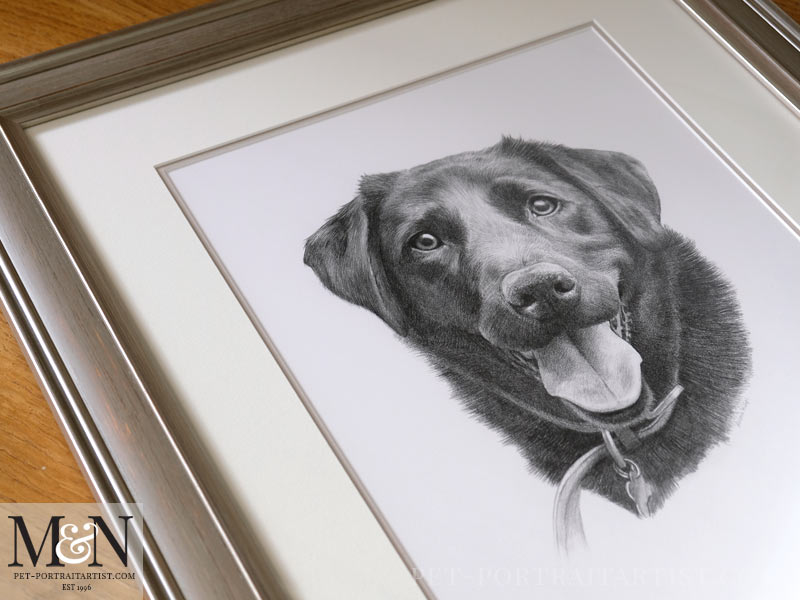 Are you enjoying our blog? Why not sign up to our Melanie's Monthly News, which comes right into your inbox each month! You can sign up at the bottom of our website or at the top of the blog. Please don't forget to subscribe to our YouTube Channel too. You are more than welcome to comment below, we love hearing from our readers!

You May Also Like
July 29, 2018
December 30, 2019
March 30, 2019