Cat Portraits in Oils
September 27, 2019
Welcome to our most recent cat portraits in oils of Roly. He is a very handsome cat, painted for returning clients in Scotland by Nicholas. Kirstie commissioned the portrait as a gift for her husband's birthday. Gordon was over the moon with the portrait and you can see a really lovely happy photo of Gordon. Consequently we are absolutely thrilled too! We have also aded a photo of the painting in situ at the bottom of our blog post.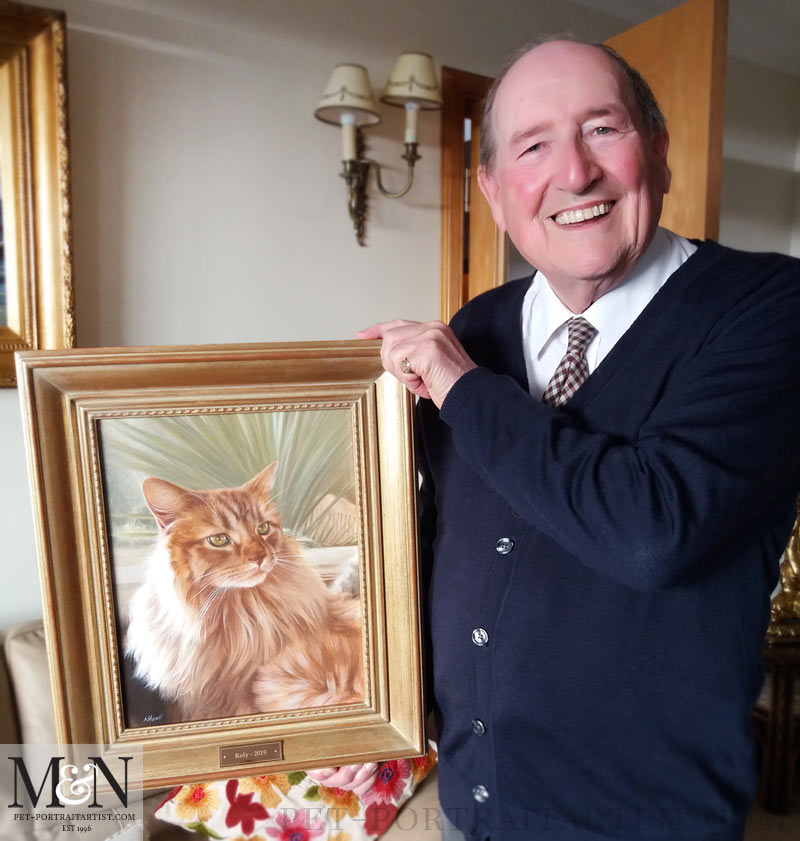 The oil painting was a 14 x 12 size Italian linen canvas and Kirstie emailed us lots of beautiful photos of Roly. I had already drawn him in this pose for a pencil drawing montage with their other cat Archie, commissioned by Gordon for Kirstie earlier this year. You can see it here – Cat Pencil Portrait.

The photo of Roly was taken in the 'Pod' in the garden. You can see the white edging behind Roly which is part of the Pod itself. If you look closely you can also see the garden seat which was another important element to capture. The final photo of Roly's oil painting is below, scroll down to see the painting with brush on the easel.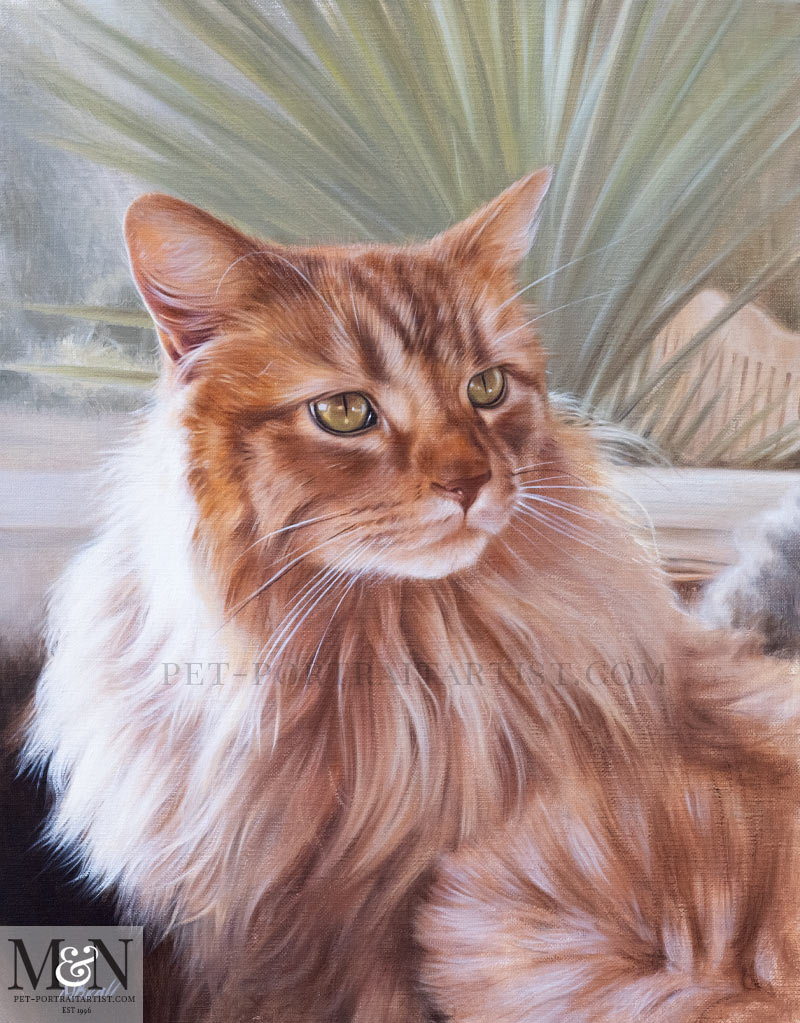 Cat Portraits in Oils in Progress
Nicholas was adding the final finishing touches so I took some close up photos. We love adding close up photos like this to help our readers see the lovely fine detail he has created. As with all of Nicholas' artwork it is amazing to go right up close to see the individual brush strokes. In addition, you can also scroll down to see photos of the painting framed with it's plaque too.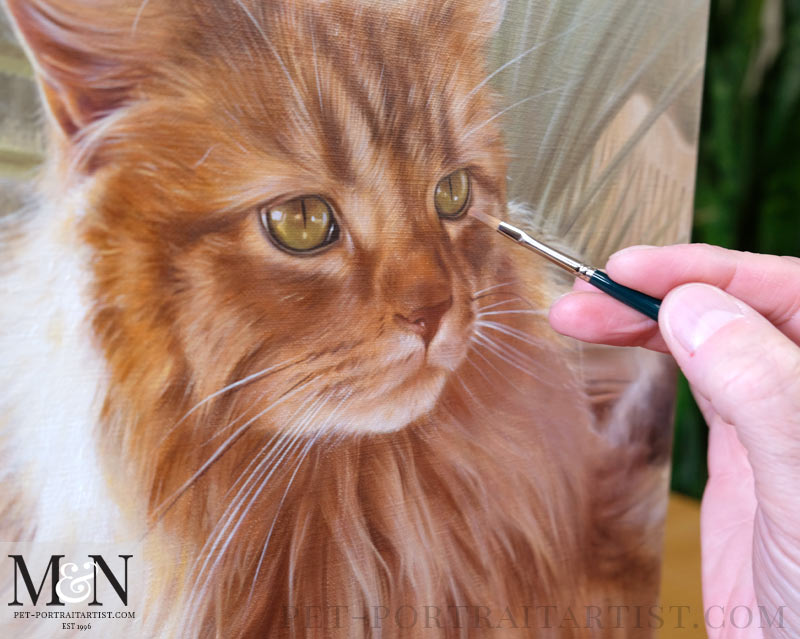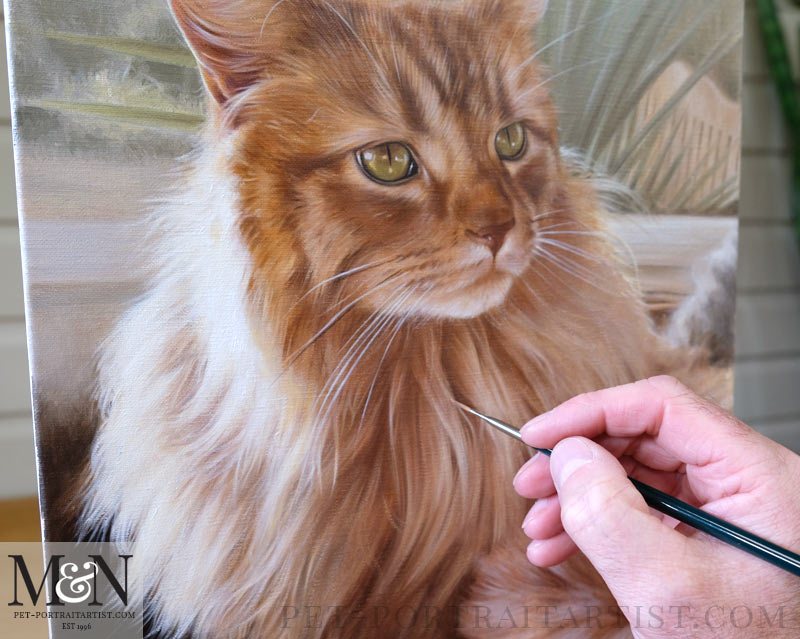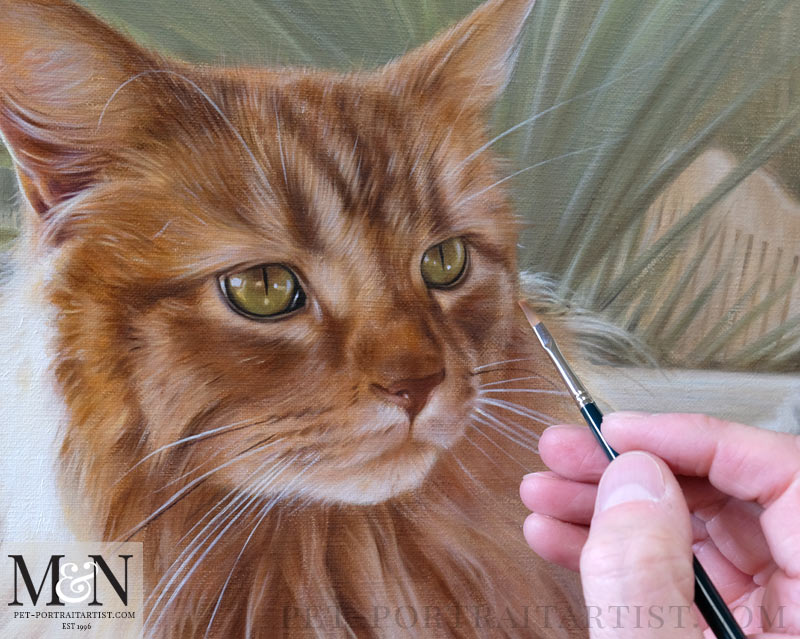 Cat Portrait Framed
The cat portraits in oils is framed using our Hampstead Frame. It also has with a bronze engraved plaque to match. The plaques sit well on this frame and the colours all match well too. The overall colour scheme of the entire piece works beautifully with the painting and colouring of Roly, especially the greens and neutral colours in the garden scene behind.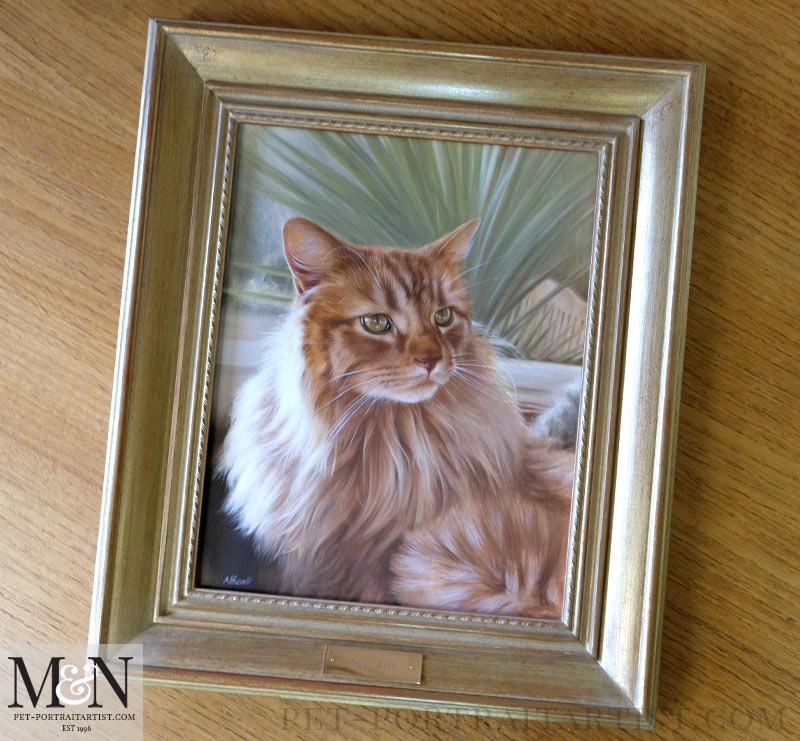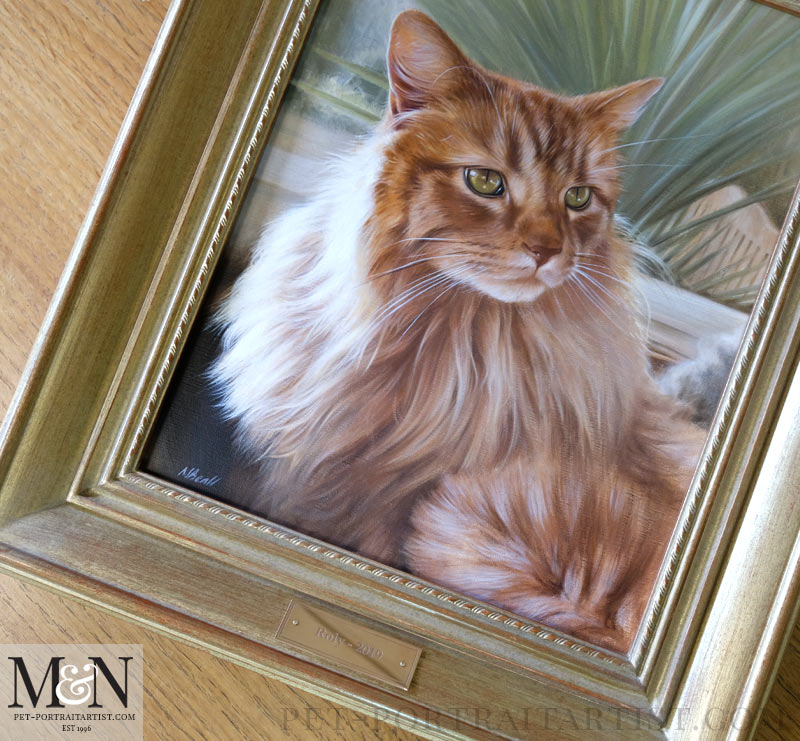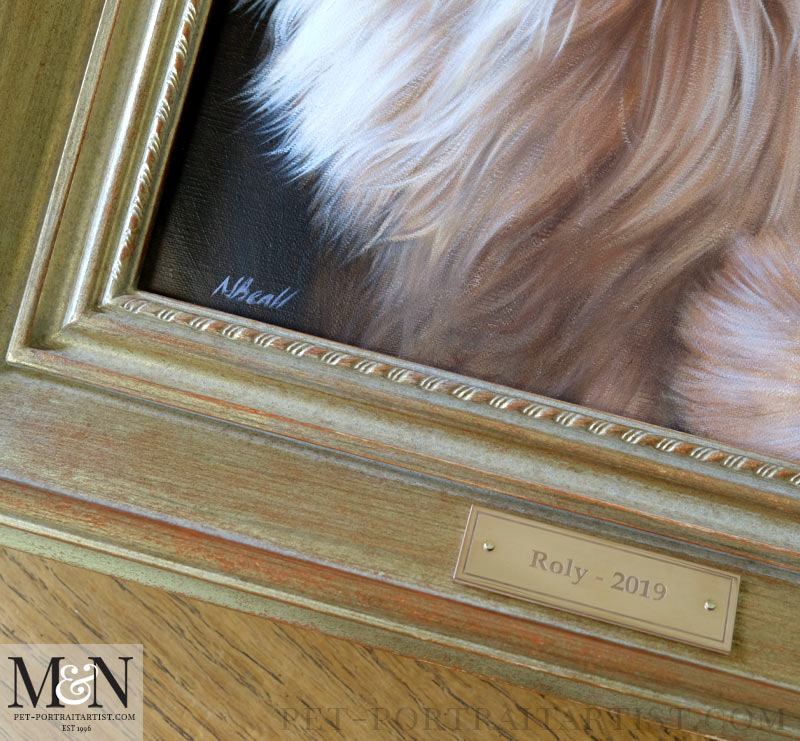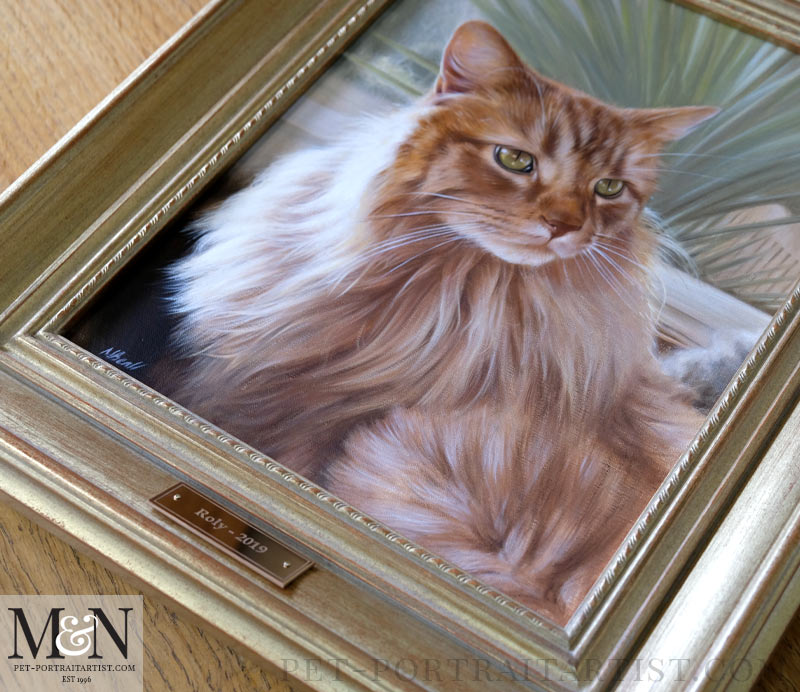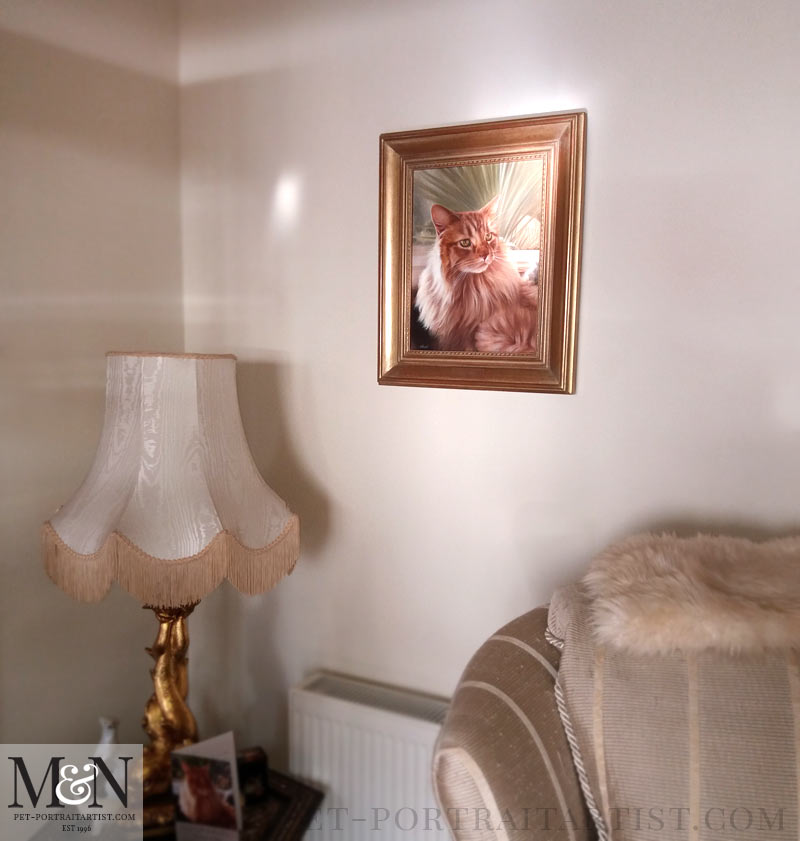 Why not sign up to our Monthly newsletter accessible at the bottom of our website which comes out on the 1st of each month. Catch up on news from our Art Studio! Please don't forget to subscribe to our YouTube Channel too, follow our Instagram @petportraitartists and Facebook @petportraitartists . You are more than welcome to comment below too, we love hearing from our readers!

You May Also Like
December 30, 2019
January 17, 2017
August 9, 2017