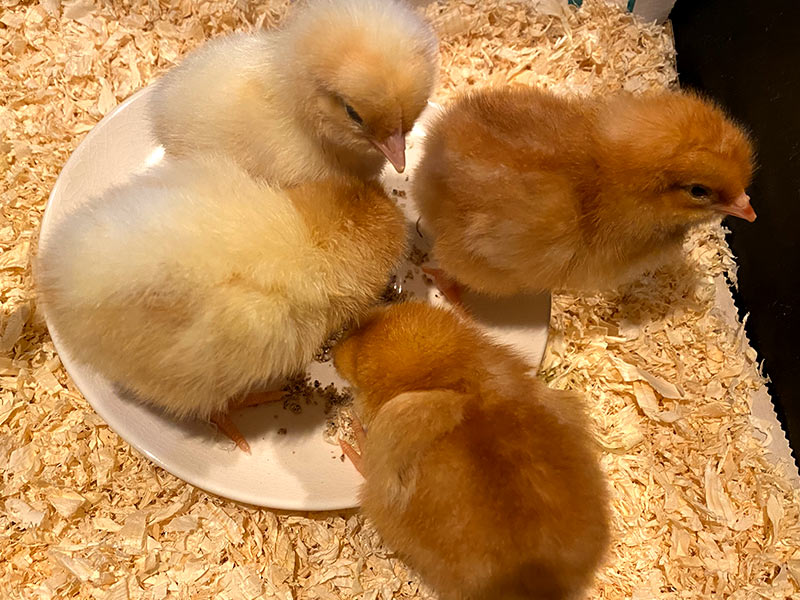 Melanie's October Monthly News
October 31, 2020
Welcome to Melanie's October Monthly News! I gave the game away a little with the feature image didn't I! Yes, we have had babies! It has been a very 'eggciting' time. Consequently out of the 6 eggs we had incubated, 4 hatch perfectly. Well, I say perfectly, the last one was peeping in the egg with a little hole all night long, but couldn't get out….
So on advice of our lovely neighbour we helped the chick out of her egg very slowly over a morning. The chick was very weak, but with some TLC she became stronger and the following day she was up with the others, albeit a little smaller, but a determined little girl. The photo shows her sitting on the left.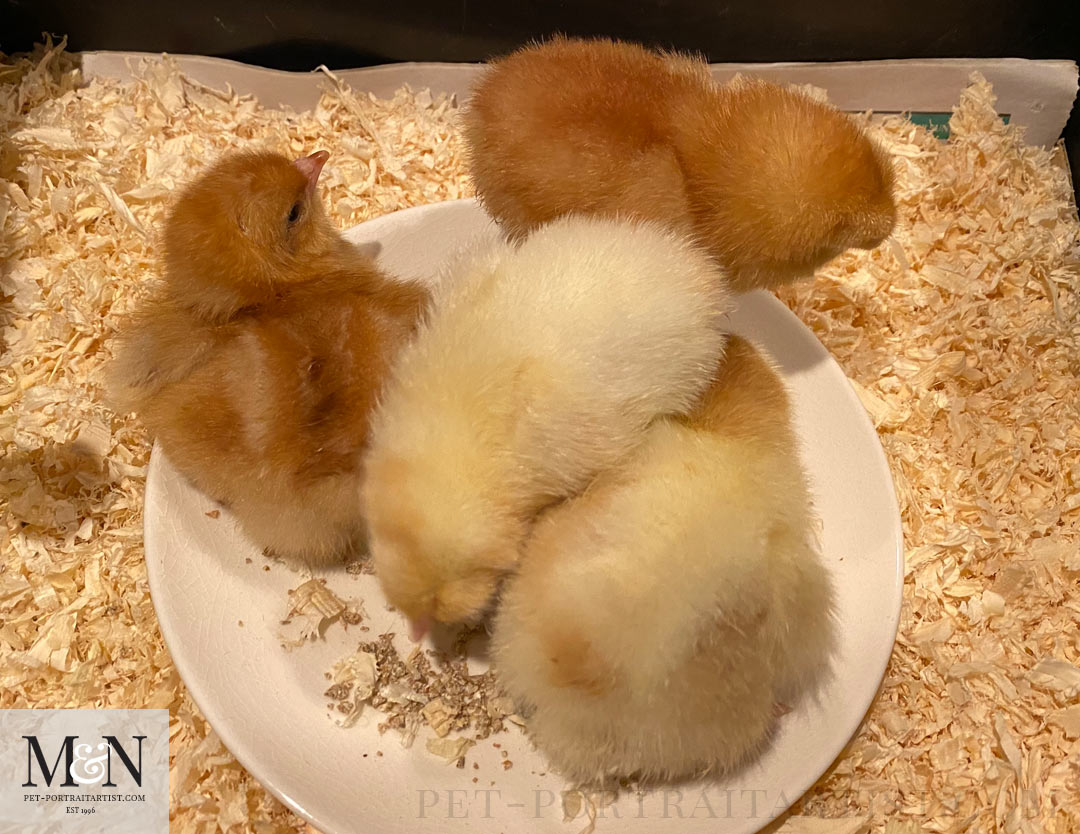 We named her Truffle and Fudge is at the back. Honey is the final girl sitting front right. We have what we believe is three girls and one boy. The boy we haven't named as once he is old enough we will give him to someone that can house a rooster.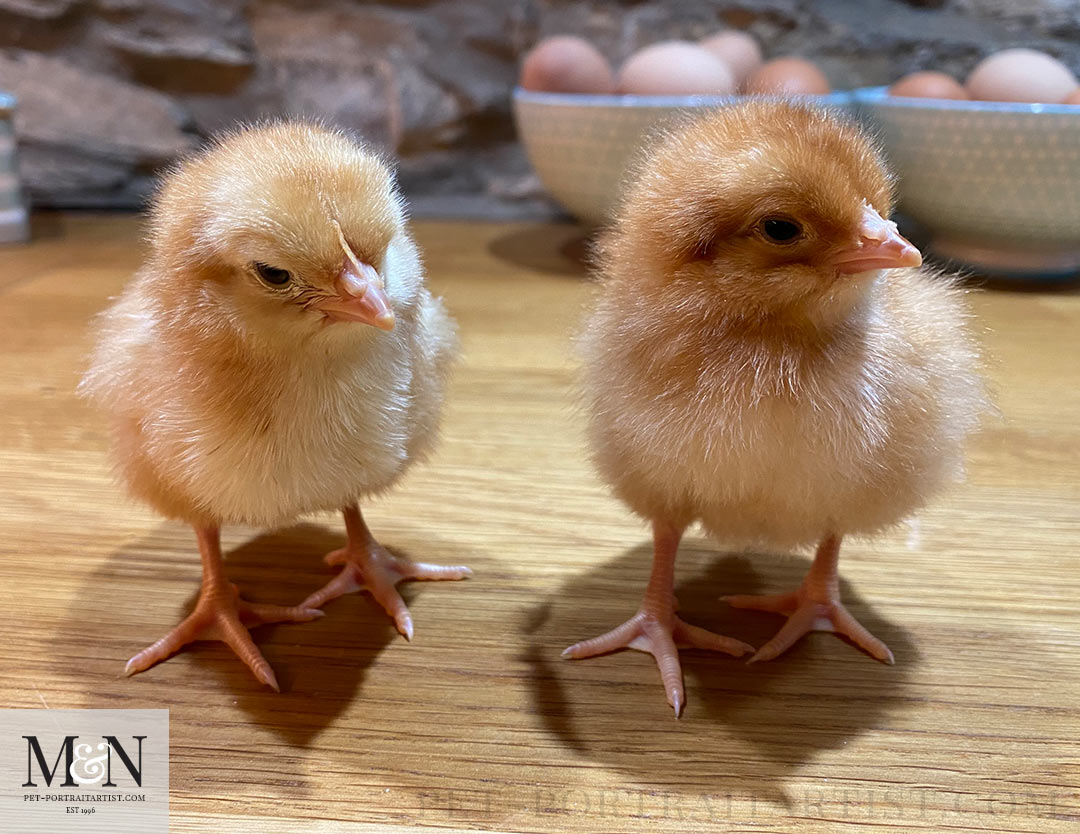 They are currently living in a cardboard box in our kitchen and taking all of our time up. Not only feeding and cleaning, but you can imagine it is very difficult to walk past them without having a cuddle.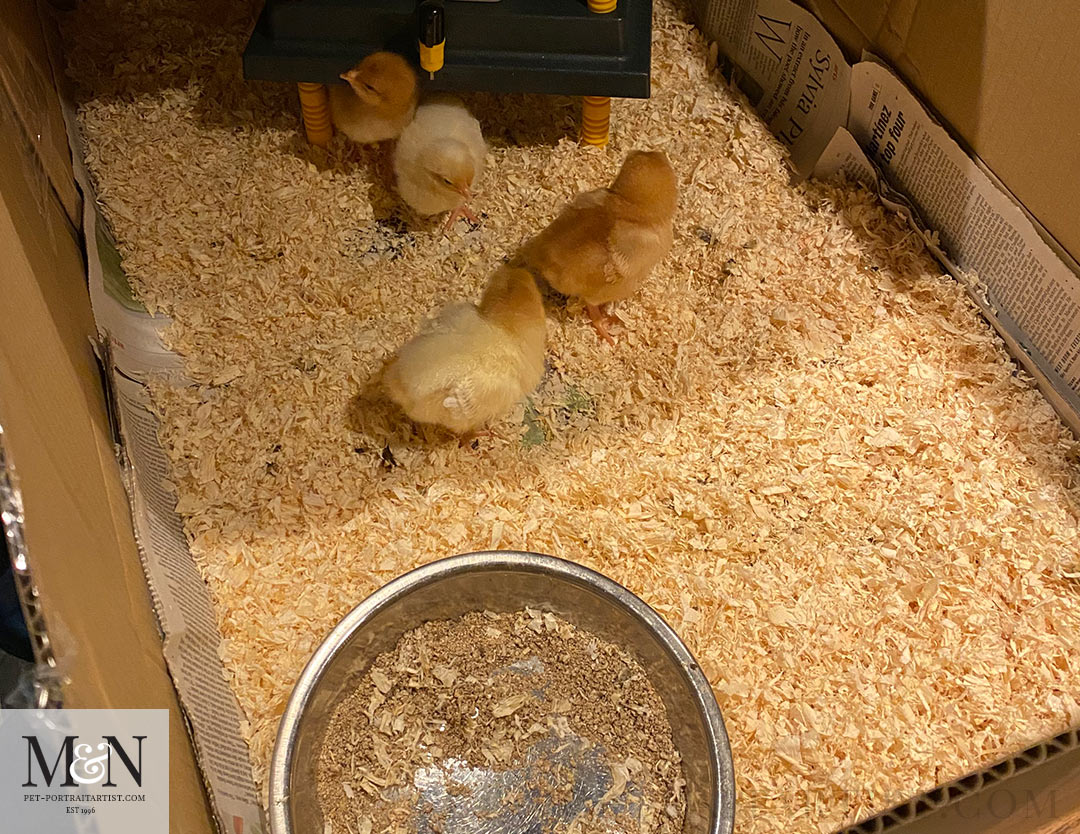 Lily has been completely fascinated. She couldn't believe what was happening and all she wanted to do was sniff them!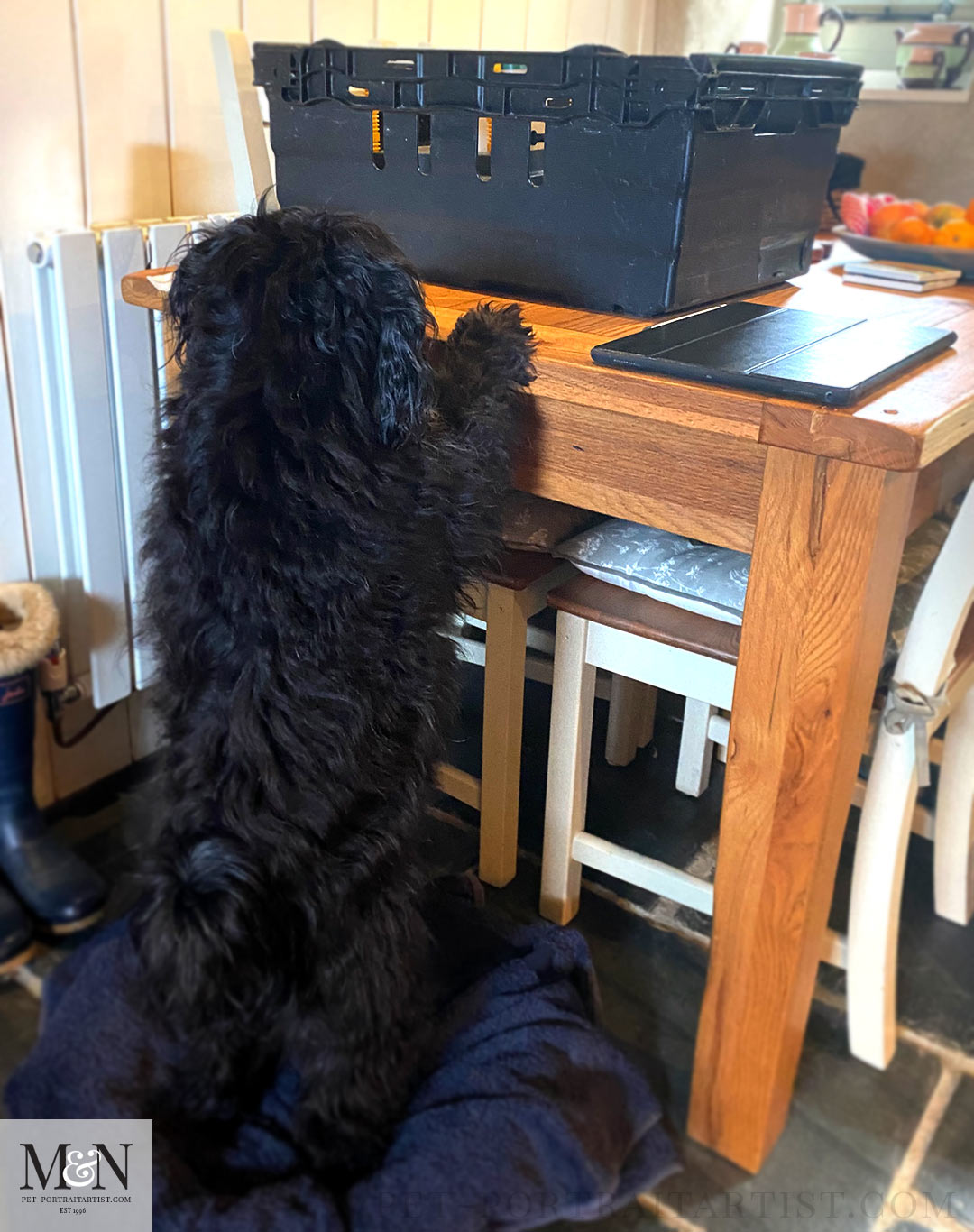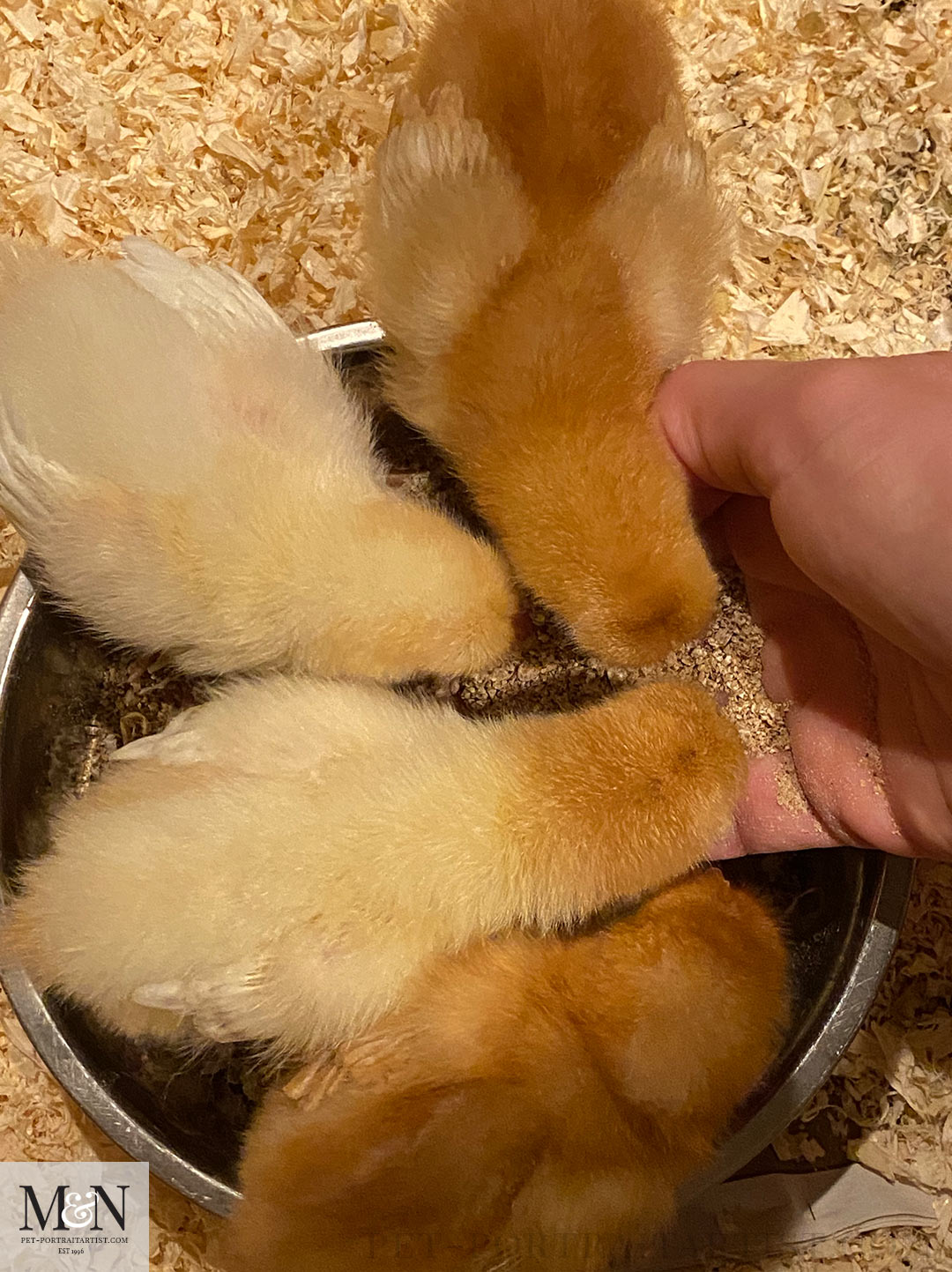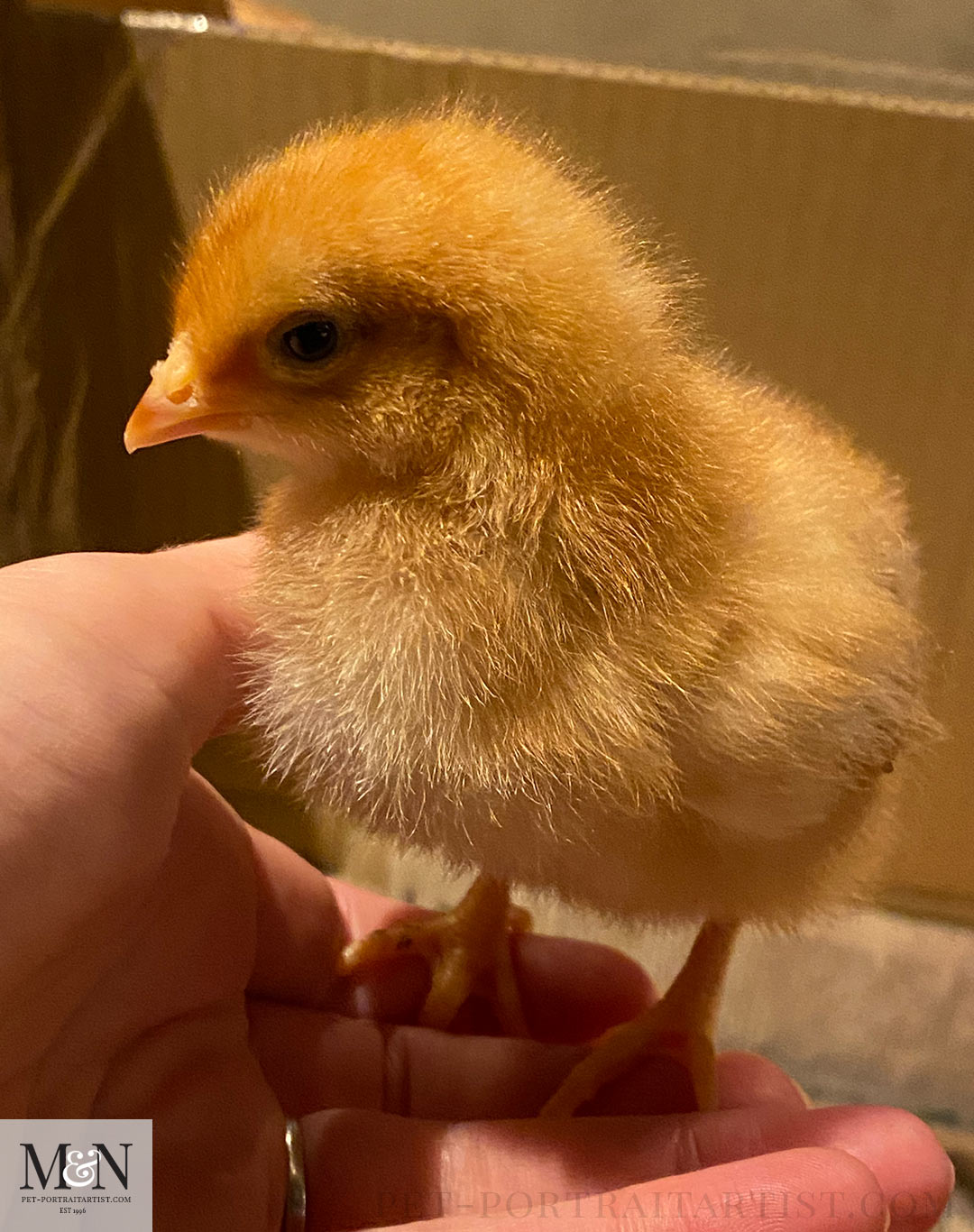 Lily Walks
I have had less chance to take Lily for walks in the last few weeks as the weather has been quite wintery and rainy. But I have taken a few lovely photos of afternoon and evening sunshine which you can see below. I just love to see the sunlight reflecting on the puddles in the lane. So pretty!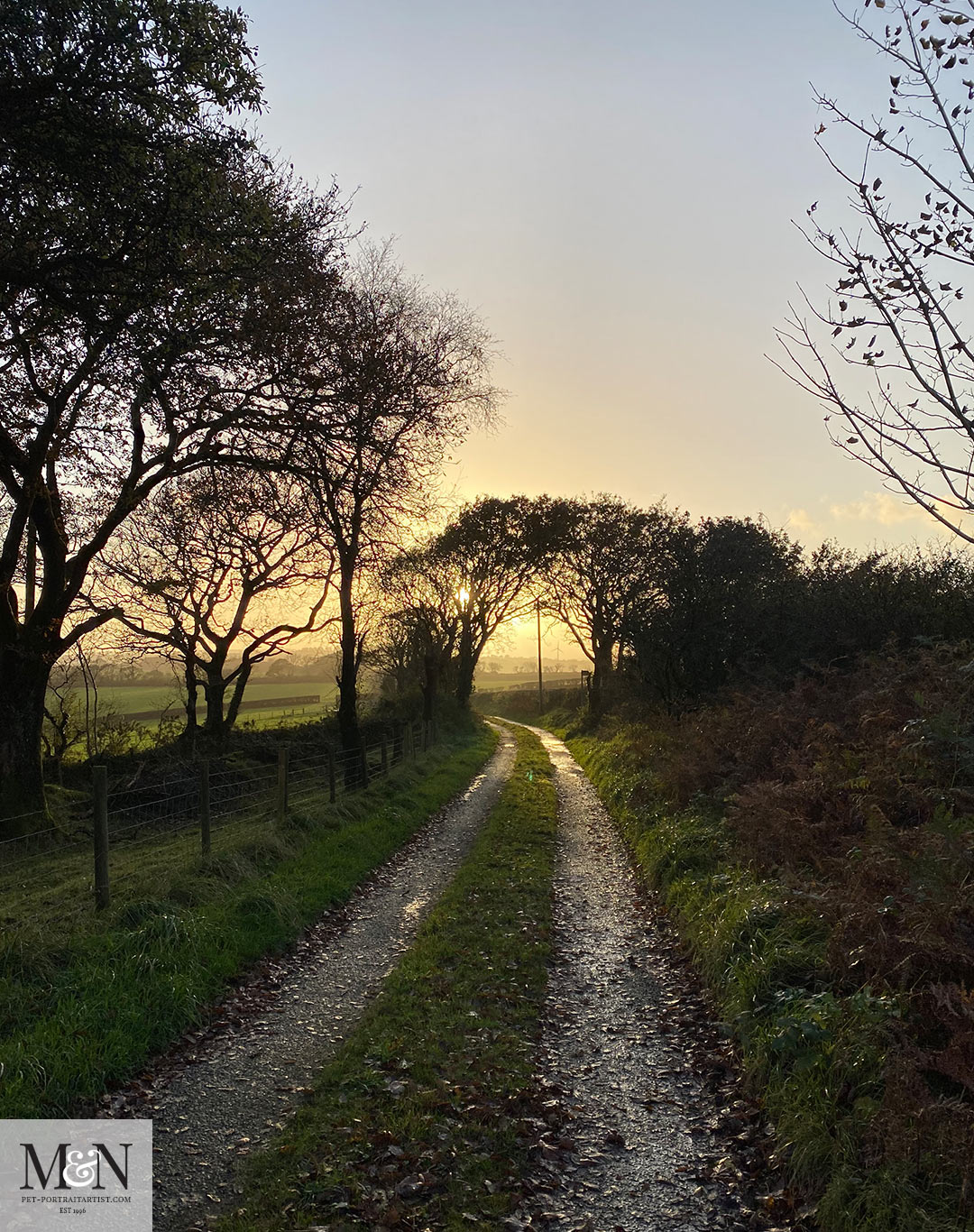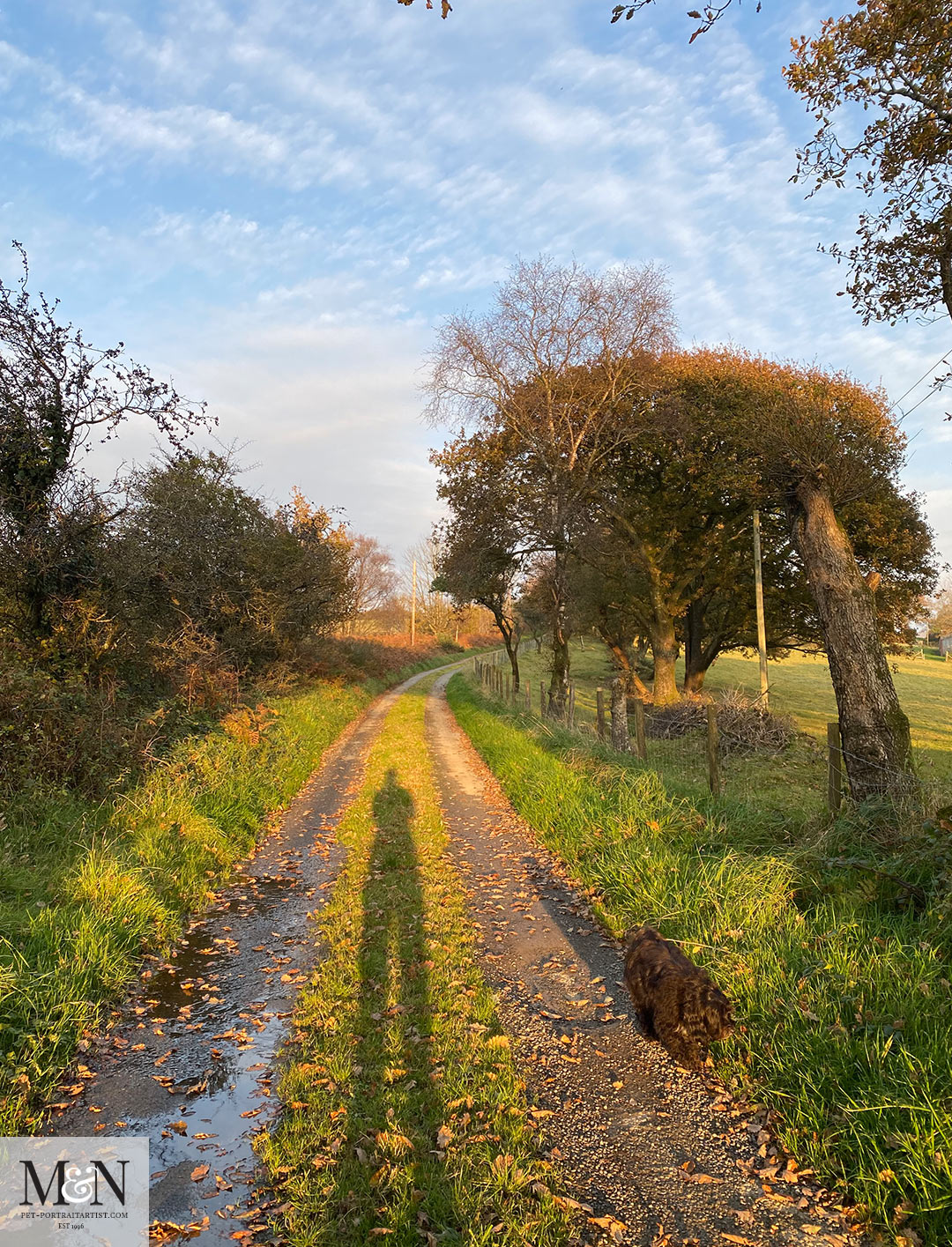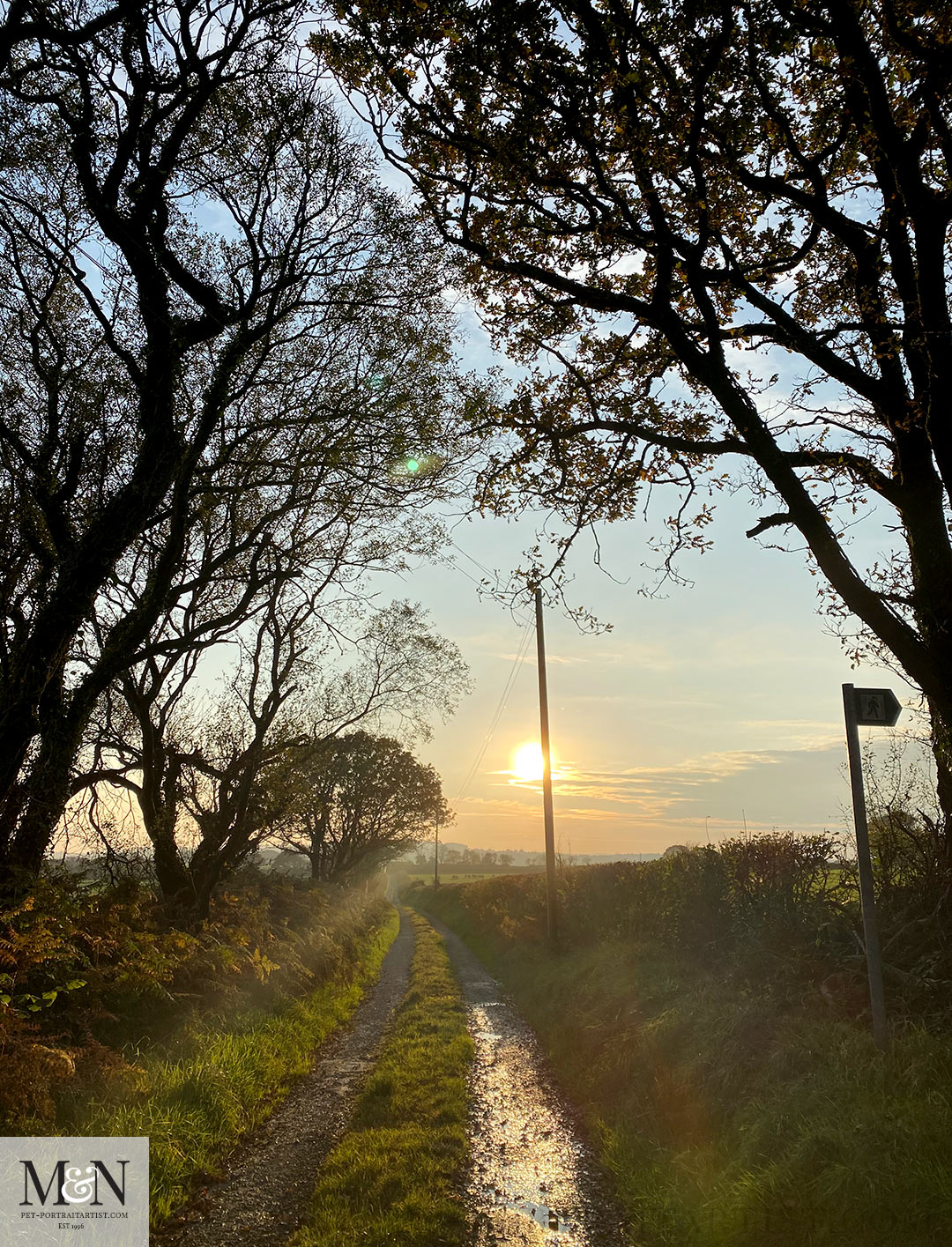 Cottage Garden
One area that has been neglected this month is the garden as we have been so busy with artwork. Next month I also need to get out and clear leaves and put the plants away in the greenhouse for the winter. I'll take photos of the garden for next months blog. However, in the mean time here is a photo of a cute frog I found outside the studio one morning!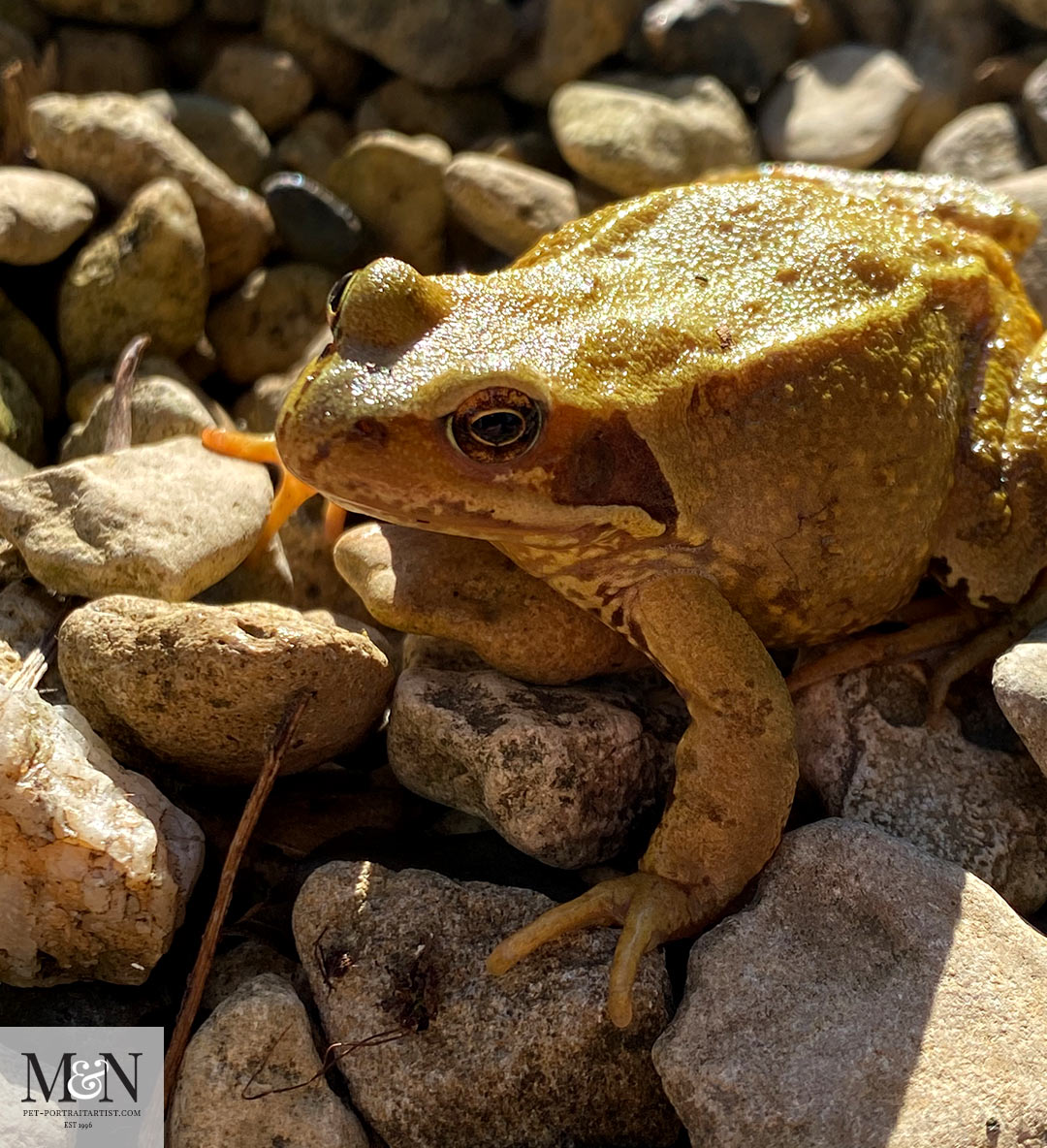 Powys two day break
We are currently in another two week lockdown however before any restrictions were set, we did head off for our first getaway of the year. We had a very short two day break in a little cabin in Powys. You can see the photo below where we stayed. It was set in a huge estate and you can see more photos of the grounds below.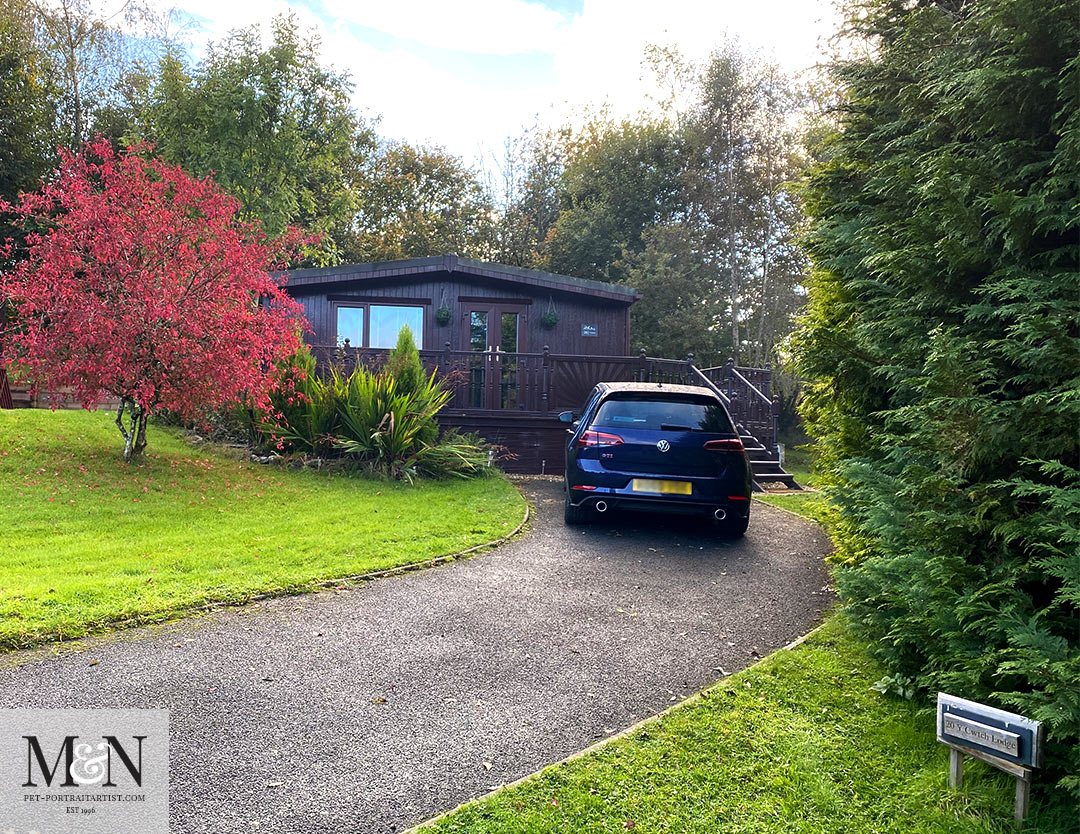 The manor house was very Arts and Crafts and so pretty. The grounds it was set in were beautiful. You can stay in the manor house and there is a restaurant in there, however due to restrictions we decided not to eat there this time, perhaps we will visit again! We had a self catering cabin with everything we could need and more so had a wonderful break.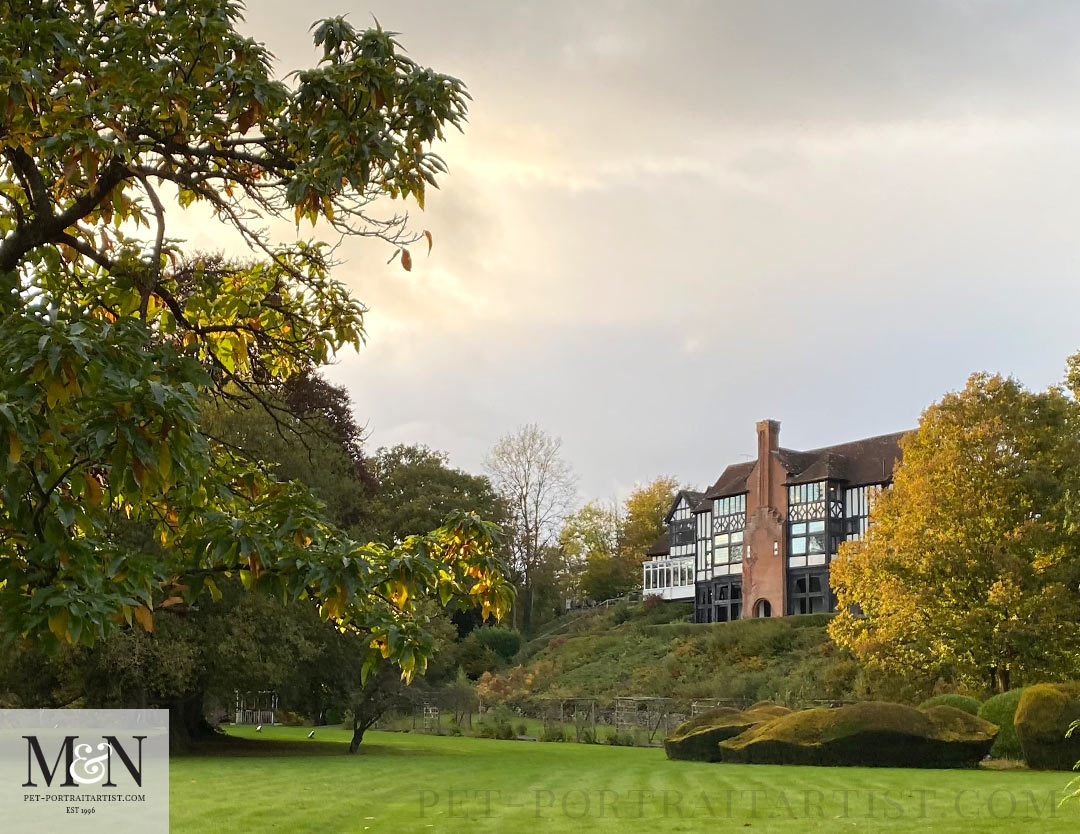 The restaurant is on the bottom left of the house, we are sure that it is beautiful inside.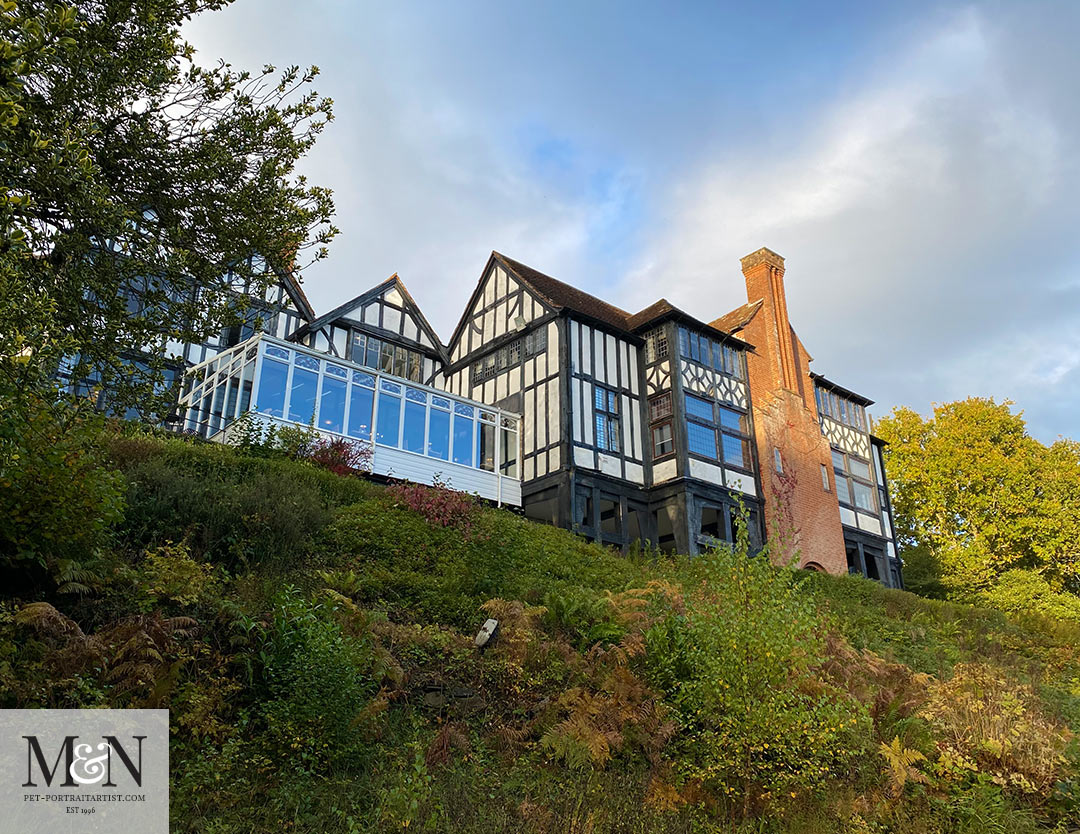 The bridge to get from the cabin to the grounds was absolutely fantastic. Only two people allowed on the bridge at once and Lily wasn't sure to begin with, but soon got used to its wobble. The weather was also really lovely as you can see in the photos.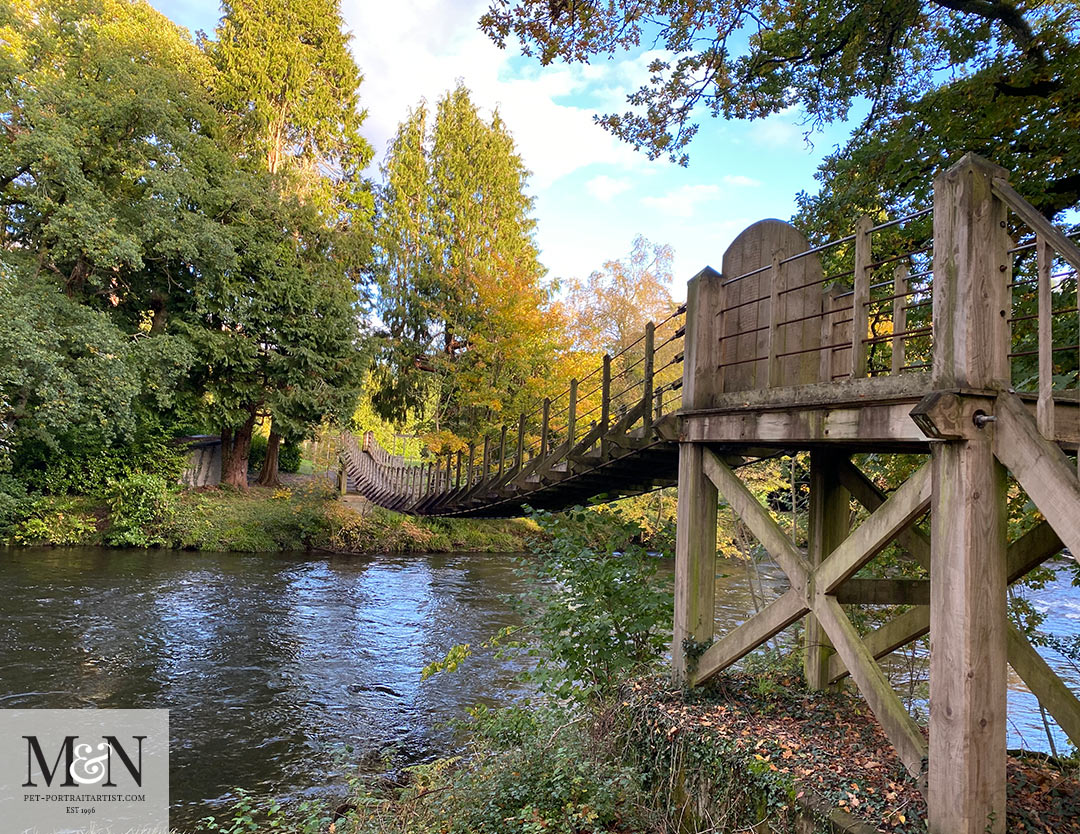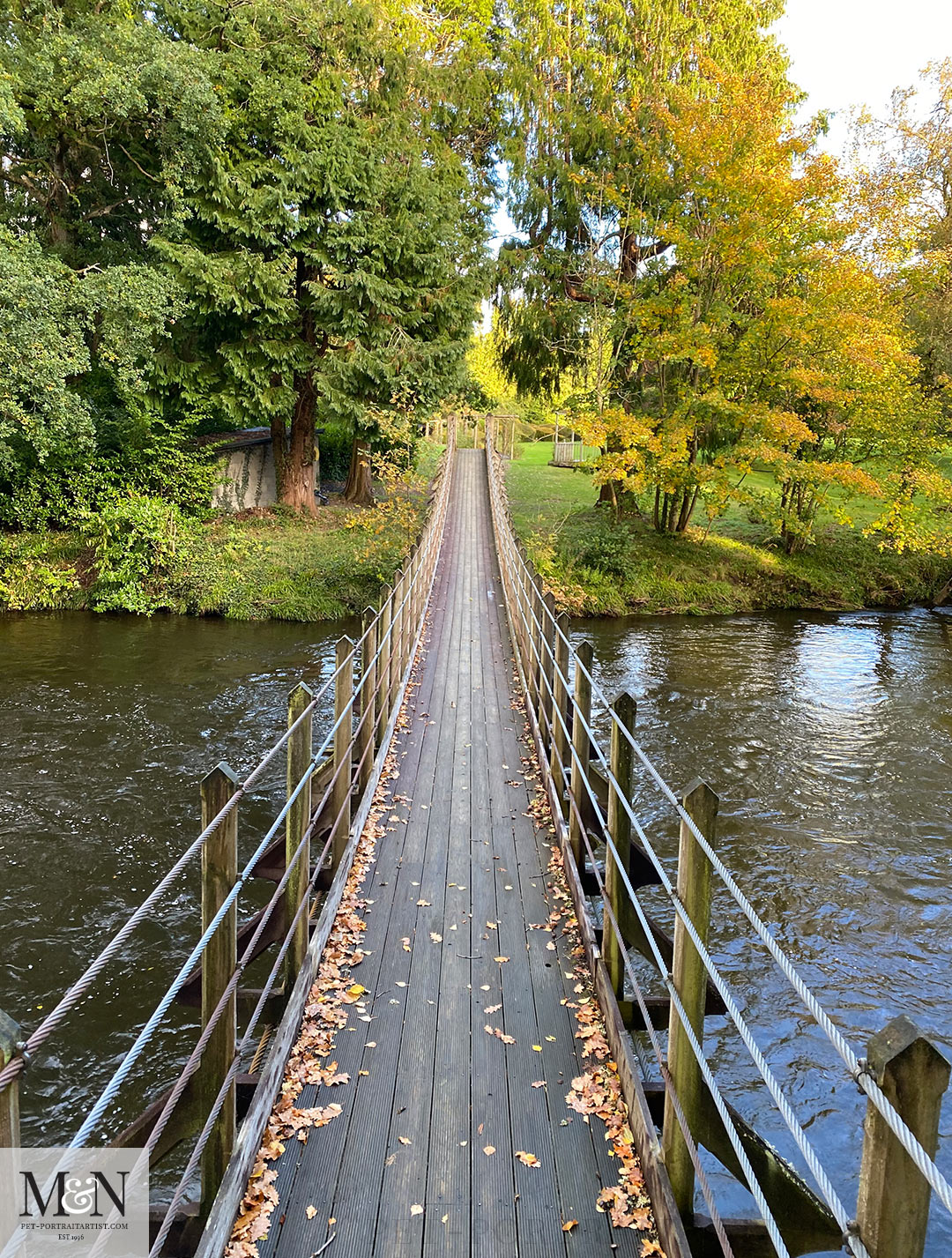 The photo below shows the ponds in the grounds with seating. There must be a number of gardeners looking after the area as it was all beautifully kept.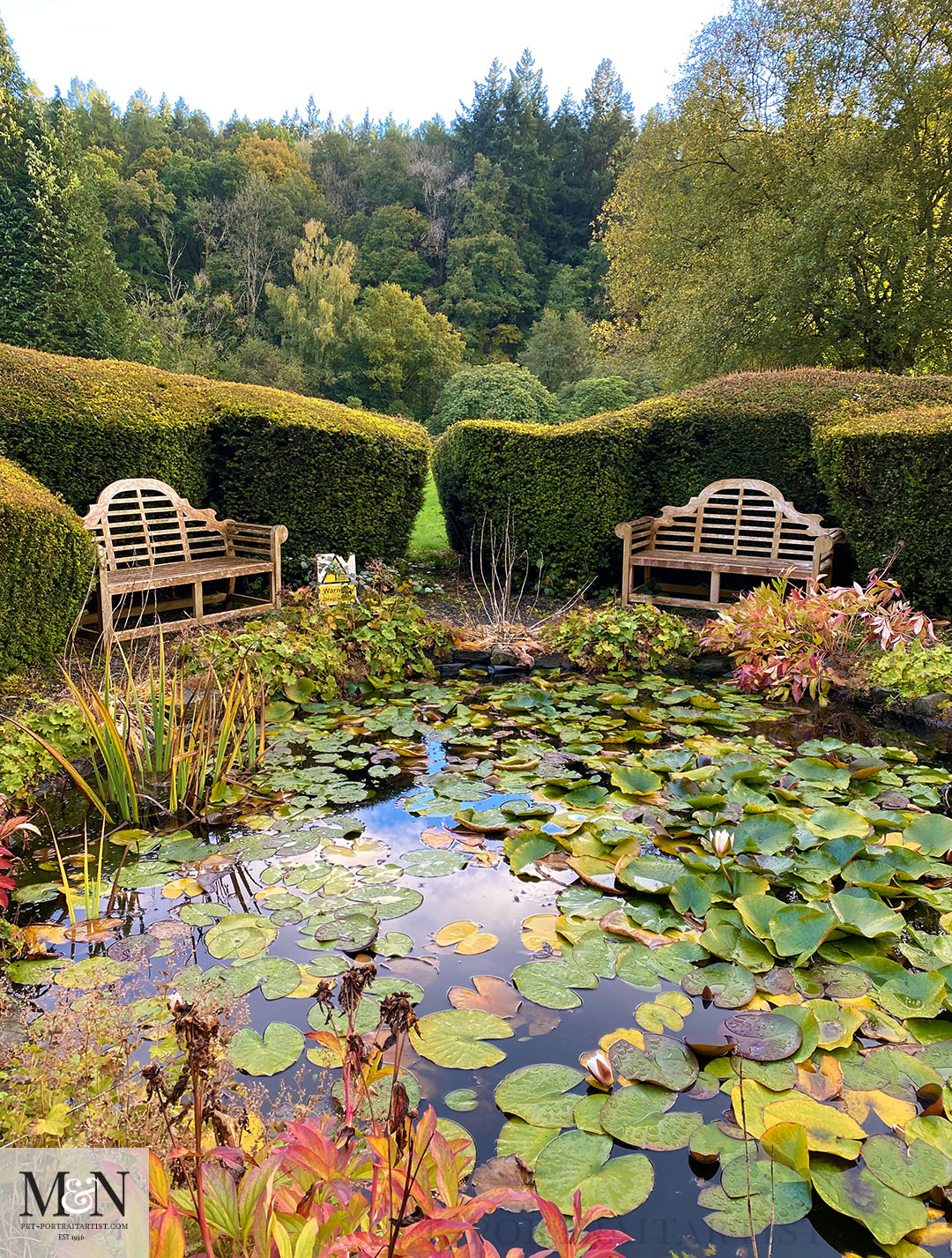 Elan Valley
One of the days we visited the national park in the Elan Valley and visited the Dam there. Such a wild place but amazing. The hills were incredible and so I have added a few photos of our trip below. We climbed up the steps from the valley bottom to the top of the dam, which proved to be pretty windy! We hope you like the photos.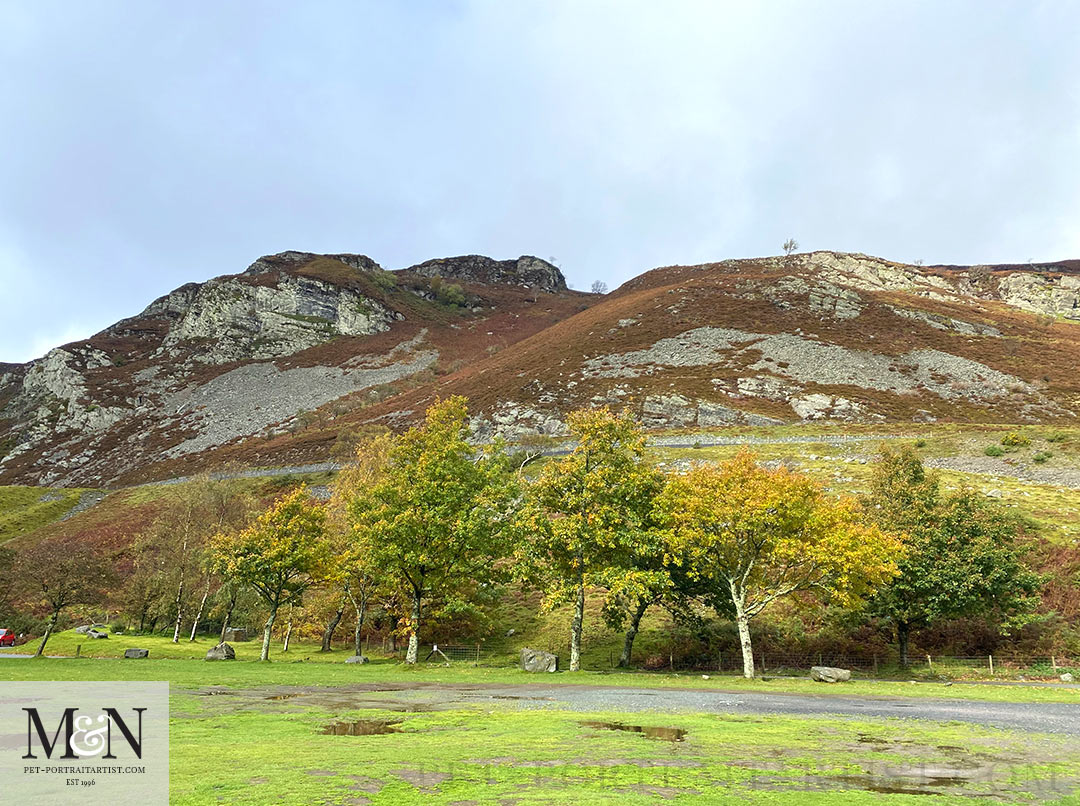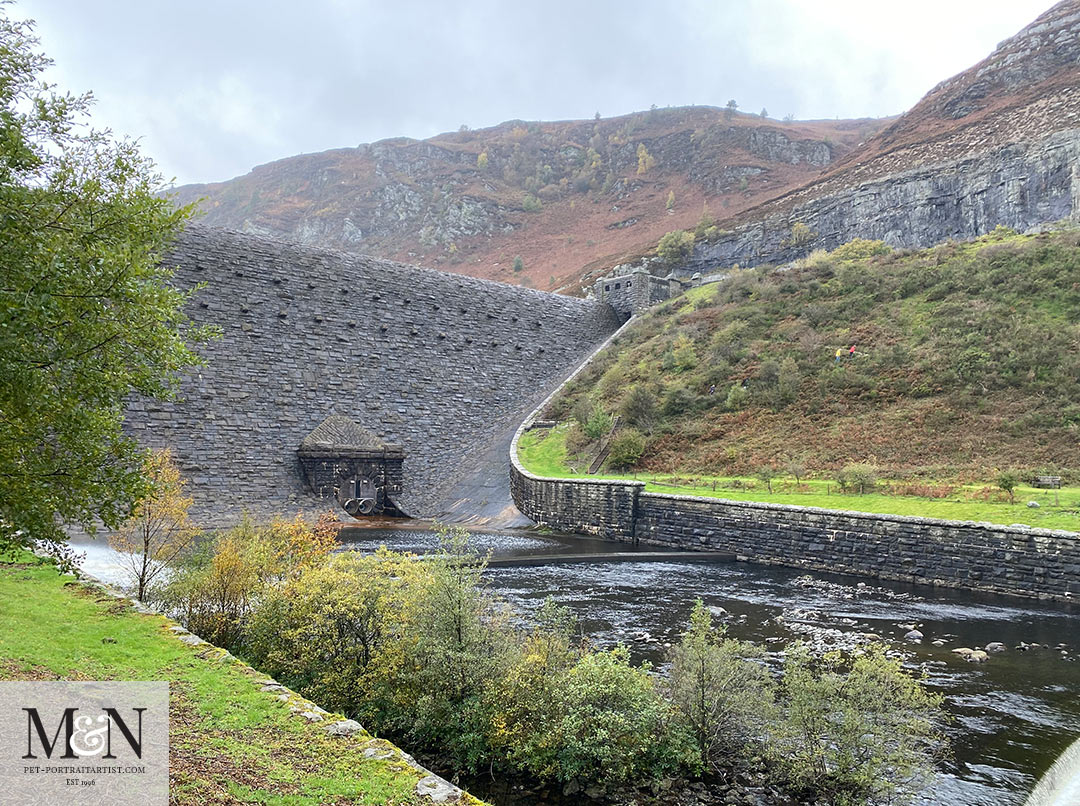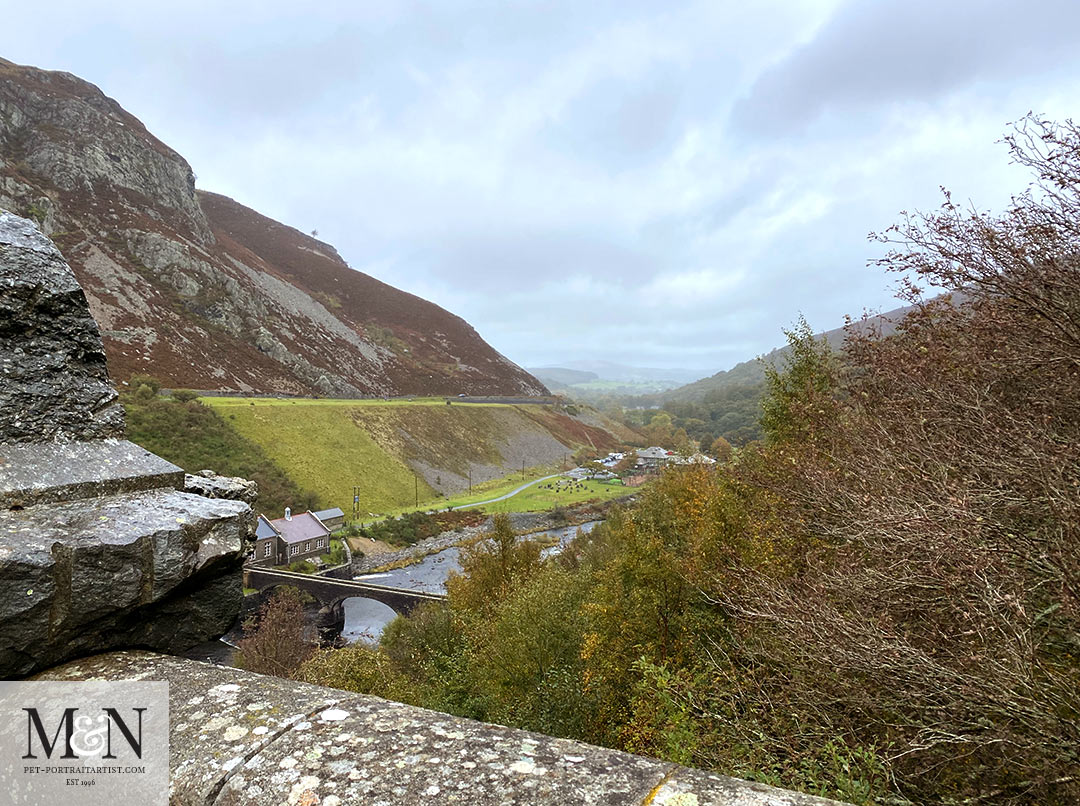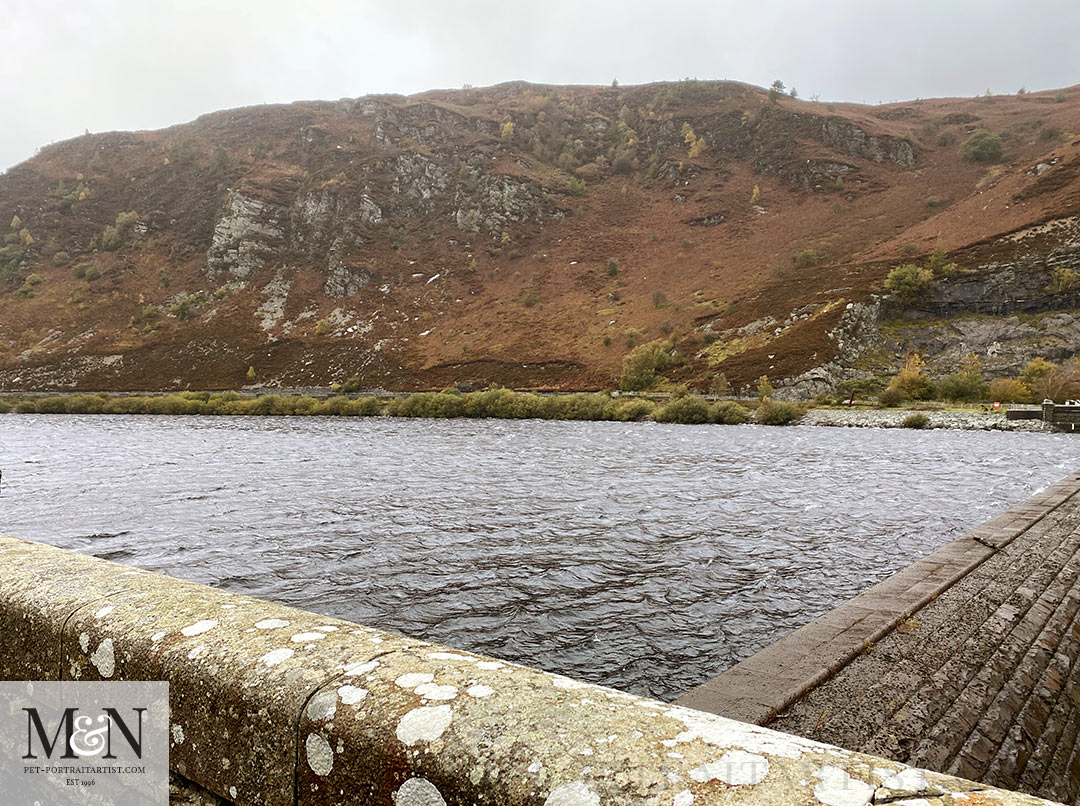 Dinefwr Castle
We finally visited Dinefwr Castle on our way home. I have also added a few photos of the castle and the views. It is so beautiful there and the weather was great. Once up on the top of the castle you could see for miles, the scenery is stunning.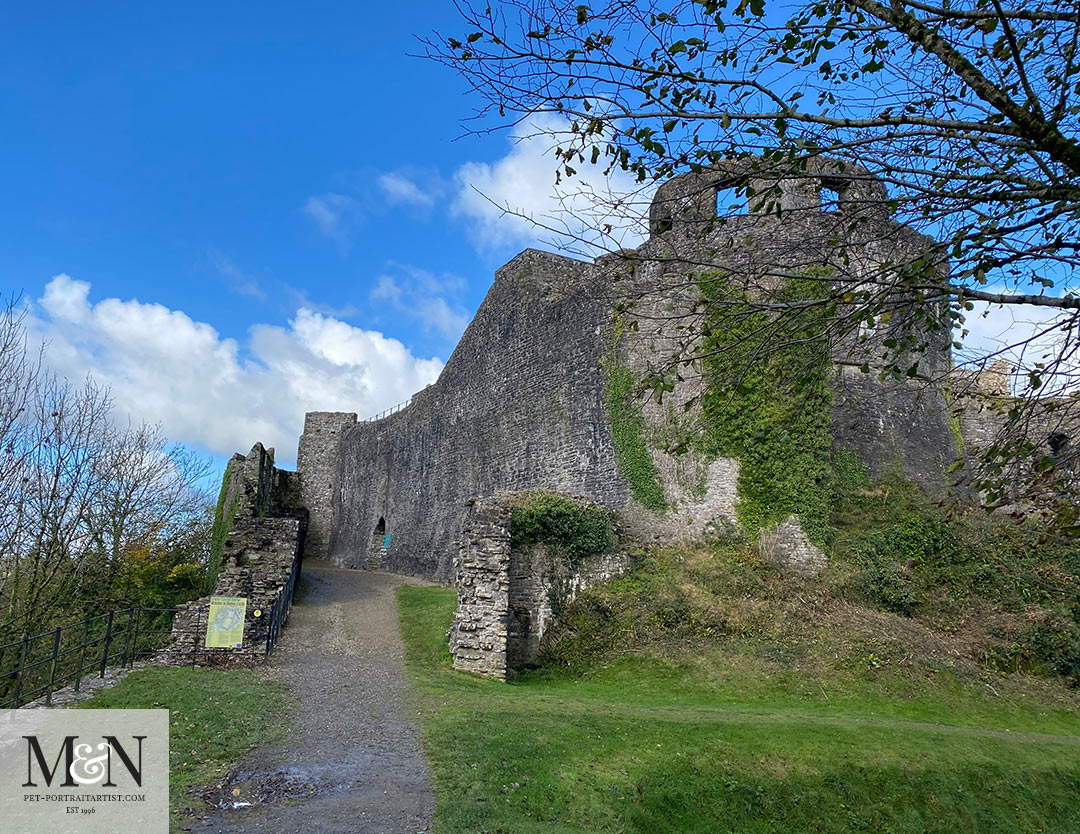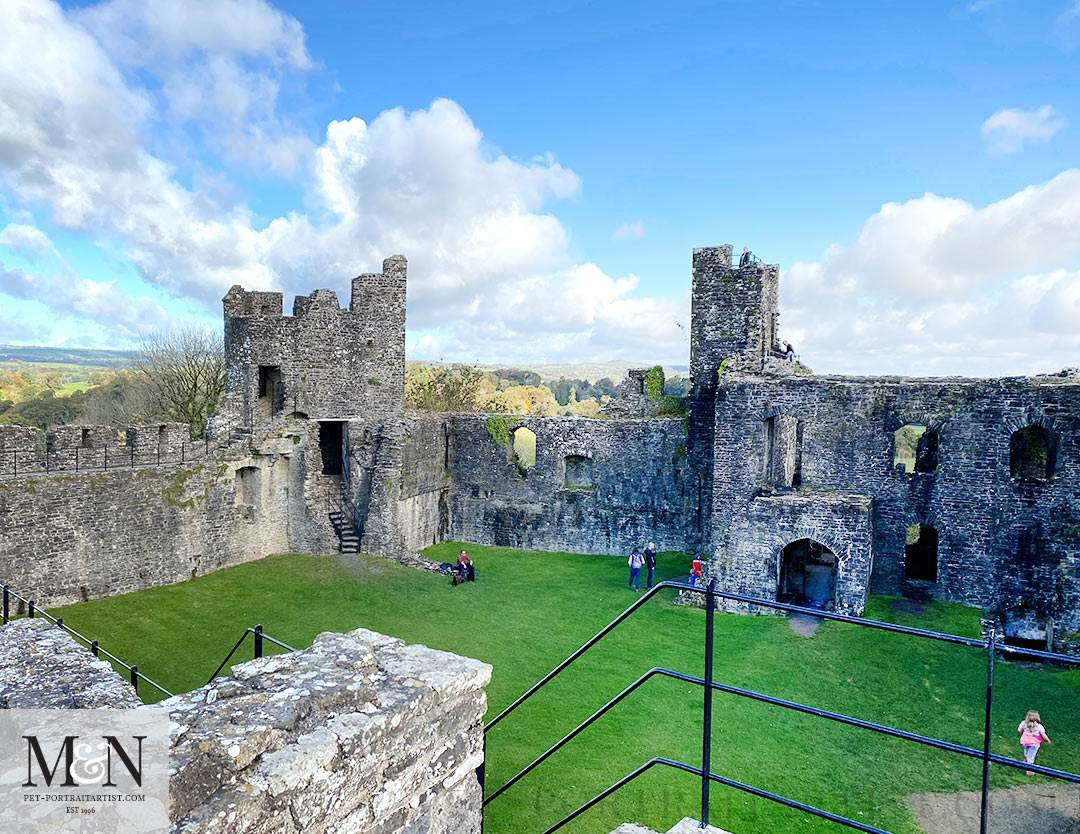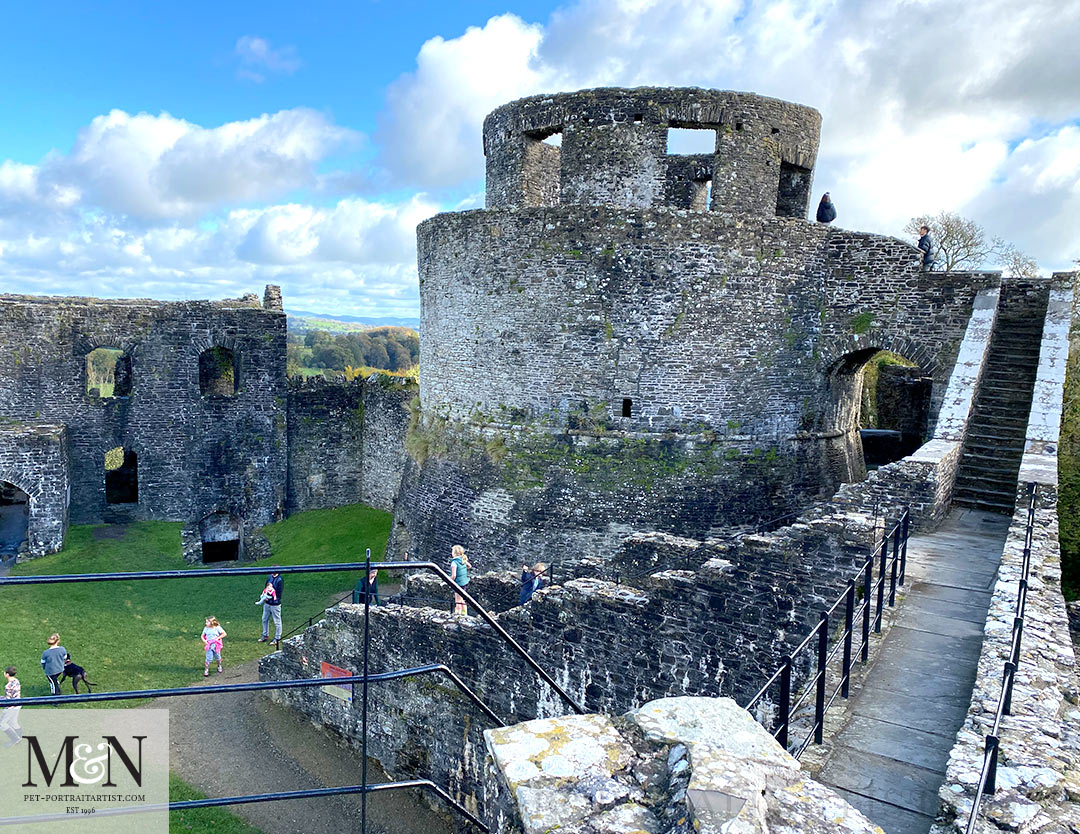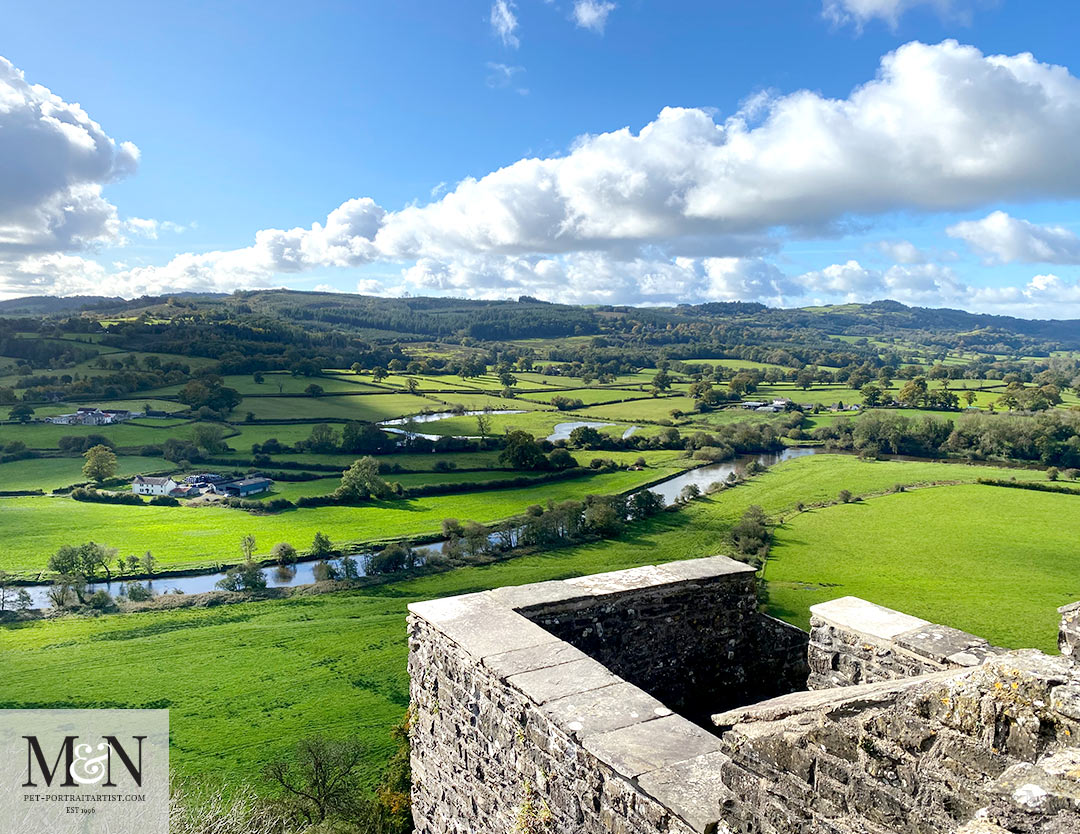 Updates from the Studio
We have been very busy in the studio this month and we have just had a new order of canvas arrive for our paintings booked in for next year. Both Nicholas and myself are fully booked for portraits for Christmas and Nicholas is currently taking bookings for May 2021 for the oil paintings. So have lots of exciting paintings to reveal next year and we are looking forward to sharing them all with you.
Madigan's Painting
One painting that Nicholas thoroughly enjoyed this month was the portrait of Madigan. Carla (USA) wanted to commission a painting of her dog Madigan outside with the fall colors in the background for her husband as a surprise gift. The painting was a 20 x 16 oil painting on Italian Linen canvas.

Madigan is a Boerboel, a South African Mastiff. Nicholas has painted a Boerboel in the past and because of this he was very much looking forward to it. Our Large Regent Frame was a perfect combination for Madigan painting as you can see below.
Hi Melanie and Nicholas,
Wow. We received it!! It's wonderful. My husband is speechless
It's beautiful. And perfect.
Carla
Domino's Pet Portrait
So the second portrait to show is the drawing of Domino. Lynne commissioned the portrait as a surprise gift for her husband for their anniversary. The drawing was a 9×7 framed pencil. Lynne sent a wonderful WhatsApp message to me when it was received which you can read below….
Hi Melanie,
Just to say a big thanks for your hard work and amazing talent for the drawing you did 💕My husband loved it and he did actually consider giving me the same thing 🙈 but thankfully I ended up with lovely pearls instead! Could you also pass on my thanks to Amanda who did a wonderful job of framing the portrait too.
Lynne
Monroe's Pencil Portrait
Finally the portrait of Monroe is just about to leave our studio. I have only just finished the portrait at 14 x 11 inches, so it is now ready to head off to the USA. Joe has also already commissioned the next one which I will be starting in the New Year. Watch this space…however as a clue it's not of a dog!
Finally I hope that you have enjoyed reading our Melanie's October Monthly News. If you missed last months, please do go and check it out – Melanies September Monthly News.
Are you enjoying our blog? Why not sign up to our Melanie's Monthly News, which comes right into your inbox each month! You can sign up at the bottom of our website or at the top of the blog. Please don't forget to subscribe to our YouTube Channel too. You are more than welcome to comment below, we love hearing from our readers!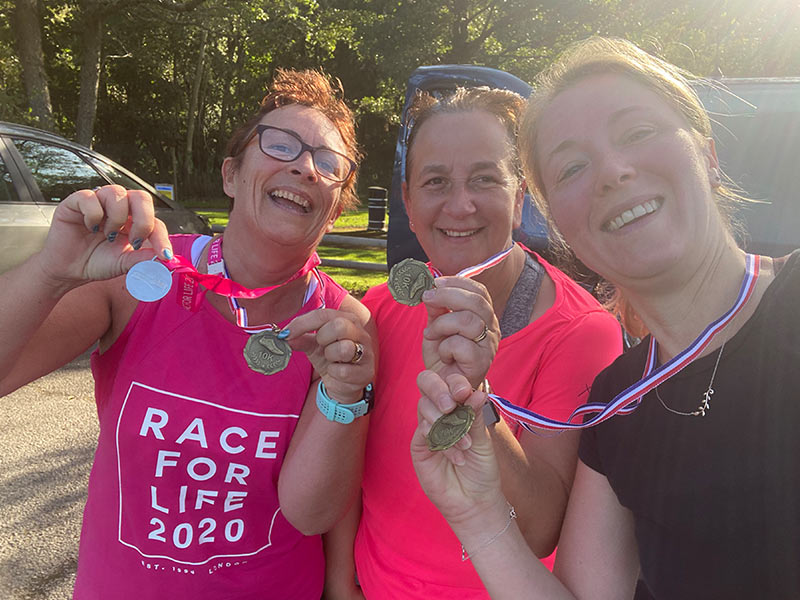 You May Also Like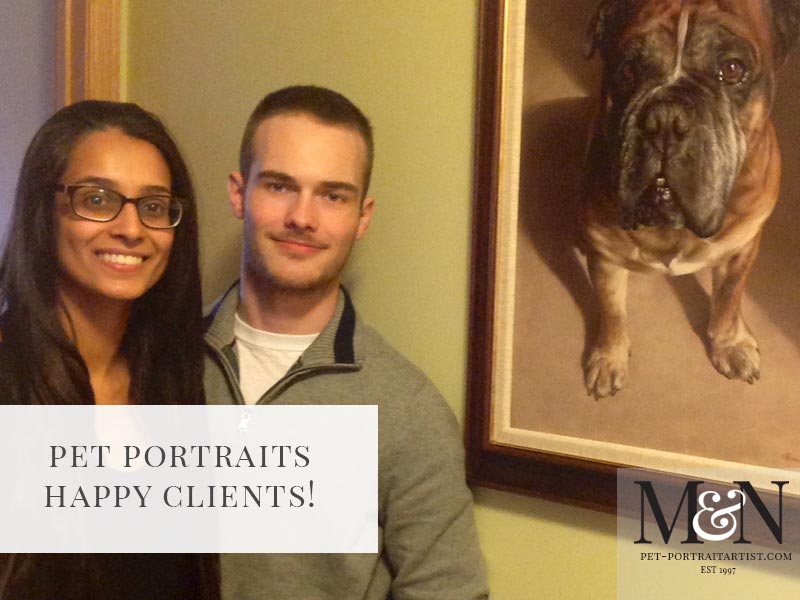 May 19, 2015
December 3, 2018
July 10, 2017