Welcome to my latest dog and horse pet portraits of Flash and Daisy! These portraits are for a returning client in Australia. I think a number of my latest portraits have been from returning clients which is absolutely wonderful.
Jo emailed a few months ago asking if I would be able to draw another portrait as a surprise for her parents of their dog Daisy. I have drawn three other portraits for Jo as gifts for them and so Daisy was to be drawn at the exact same size as the others 9 x 7 inches. A fairly small portrait you might say. Conversely the portrait of Flash was not at all small! It was a 30 x 20 pencil drawing!
As you can see below I have added two final photos of each portrait and some candid ones of Flash. I loved drawing both and Jo was really happy with them as you can read below. They were packed up flat between hardboard and foam wrap in a very large cardboard box and headed off on their Journey to Australia. If only I could have delivered them personally!
Melanie I don't know what to say, opening your beautiful sketch of Flash made me and my daughter burst into tears, you have captured him so perfectly. He was the most amazing horse, an absolute one in a million and I will never get over the sudden loss of him. My parents will adore the final image to their collection of beloved dogs. I can't thank you enough, you are so talented and so beautiful to work with. One day I will pop in to see you and thank you in person. Every happiness, Jo x
Hi Melanie,
Thank you so much for the drawings. It will so be so nice to have them framed and on the wall. You are super talented at what you do, the detail is incredible. We miss our horse so much I'm not sure I will be able to look at it without crying. Talk again soon, thank you again, very happy with them.
Jo xx
Dog and Horse Pet Portrait
The photos below are of Flash the pony with pencils on my plan chest. As you can see from the size relationship between the pencils and the drawing, Flash was drawn at a fairly large size at 30 x 20 inches. I use specialist Hot Pressed watercolour paper which comes on a roll so I can draw very large drawings for clients if required, they are great for multiple heads studies too. Just email me your ideas!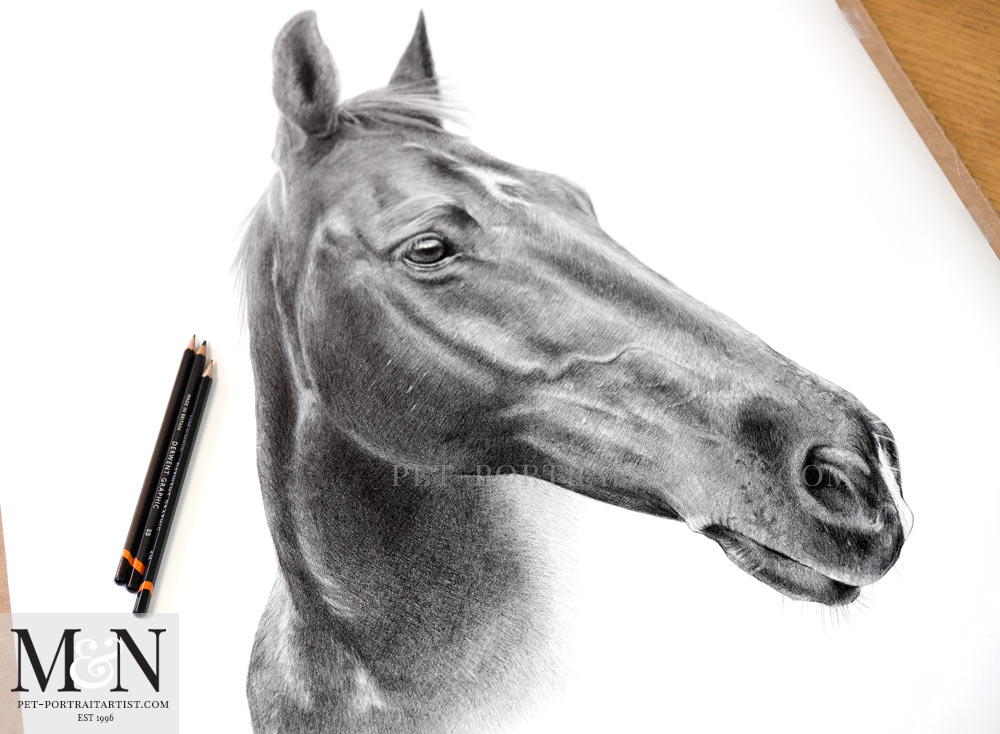 Finally, we hope that you have enjoyed viewing our Art Studio Blog. Why not sign up to our Monthly newsletter accessible at the bottom of our website which comes out on the 1st of each month. Consequently this means, you can catch up on all of the portrait stories and news from our Art Studio! Please don't forget to subscribe to our Youtube Channel too, share, like and follow our social media and you are more than welcome to comment below, we love hearing from our readers!