Horse Oil Painting of Chico
June 3, 2016
Welcome to our Horse Oil Painting of Chico. Chico was commissioned by returning clients and Unable asked Nicholas to paint not only the portrait of Chico but an oil painting of her Labrador too. You can also see the oil painting of Amber, the second portrait Una commissioned. We have a full blog post with lots of photos on our Oil painting of Amber page.
The portrait of Chico is a 14″ x 14″ oil on Italian Linen Canvas. The portrait is based on a photo taken of Chico in an autumnal woodland setting which is the perfect backdrop. The colours on Chico work so well with the warm Siennas and Ochres of the woodland. Nicholas captured the whole scene beautifully and it looking amazing here in the studio when complete.
If you would like to see a video of Chico, pop over to our dedicated blog post Pet Portraits Video of Amber and Chico.
Horse Oil Painting of Chico – Stages
This is a photo fo the portrait in progress. Nicholas traditionally hand paints all of his portraits, standing hat his easel. he works in our Art Studio every day and thoroughly enjoyed his job. You can see the fine paint bush he uses to create the portraits form looking at the photo below.

Horse Oil Painting of Chico – Framed
I have added a few photos of the portrait framed below. All of our paintings and drawings are framed bespoke and our frames hand make their frames. If you would like your horse portrait framed, just drop us a line with your ideas and we can get a quote for you.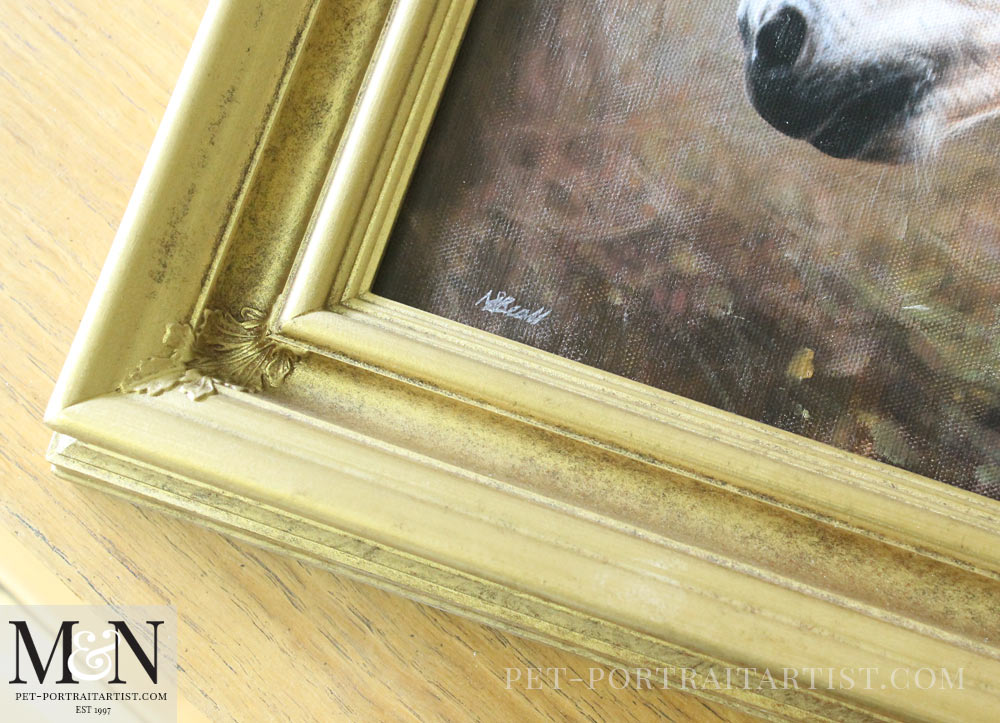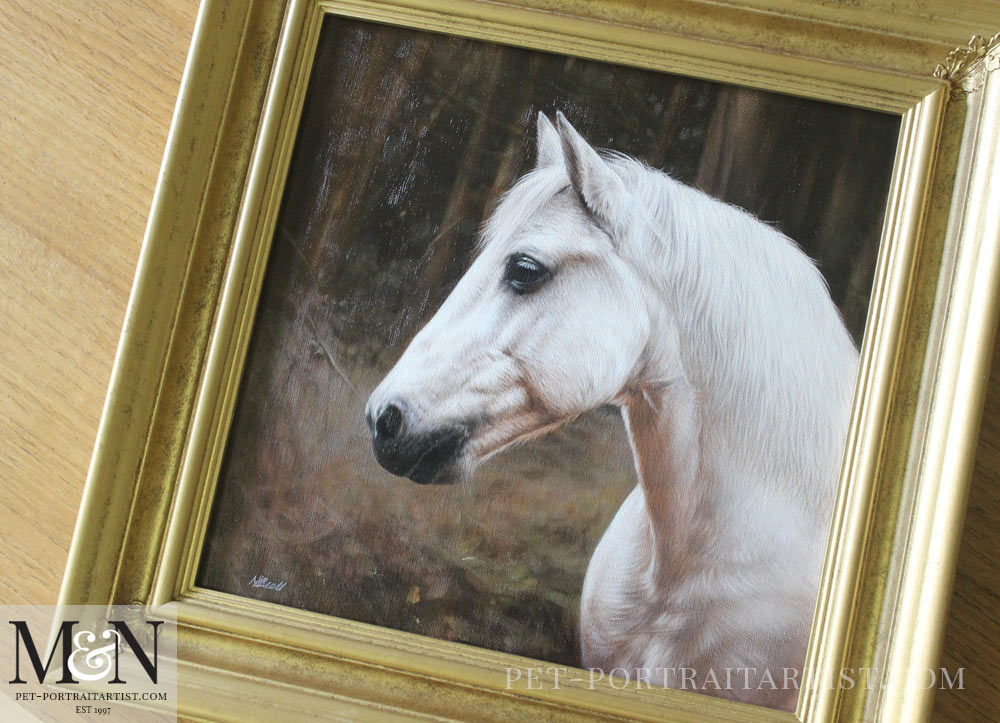 Are you enjoying our blog? Why not sign up to our Melanie's Monthly News, which comes right into your inbox each month! You can sign up at the bottom of our website or at the top of the blog. Please don't forget to subscribe to our YouTube Channel too. You are more than welcome to comment below, we love hearing from our readers!

You May Also Like
June 30, 2018
January 31, 2015
October 4, 2023