Beagle Pencil Pet Portrait of Frannie
November 5, 2018
Welcome to my latest Beagle pencil pet portrait of Frannie! Frannie's pet portrait was commissioned by a returning client in the USA. Ben has commissioned a number of pencil portraits of his dogs. They are all rescue dogs and Frannie the Beagle has only been with them a short while. Ben thought it would be wonderful to have her portrait drawn as a surprise for his wife. Also read a snippet of his email all about Frannie…
Frannie is a beautiful soul, it is without doubt. She is totally goofy and our resident weirdo, but so very sweet and loving of her adopted family. Fran has just fit right into our family and it's like she was always there. She is ALWAYS smiling and wagging her tail, and we can't help but smile with her. She has been amazing. And her eyes are very deep and soulful!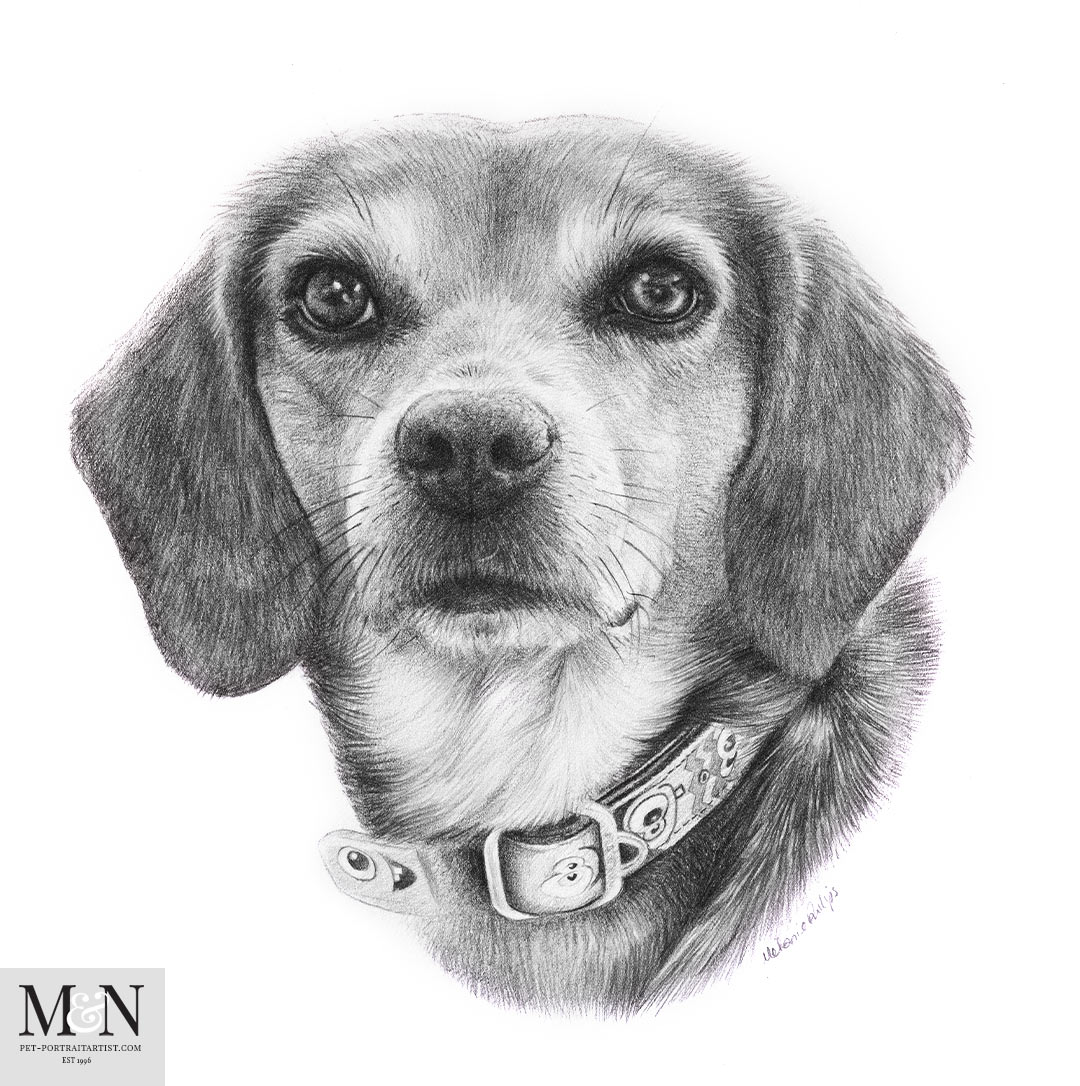 Ben was thrilled with the portrait. Read his reply when he saw the final photo of Frannie below. Amazingly Ben has also just adopted another beautiful Beagle called Blue and I hope to draw him soon too!
Frannie! That is so cool. Thanks so much. There is no mistaking who that is and no missing the sparkle in those eyes. Wow. You truly have a gift (I'm sure you hear that a lot). I intend to surprise Marisa with it and she will LOVE it.
Ben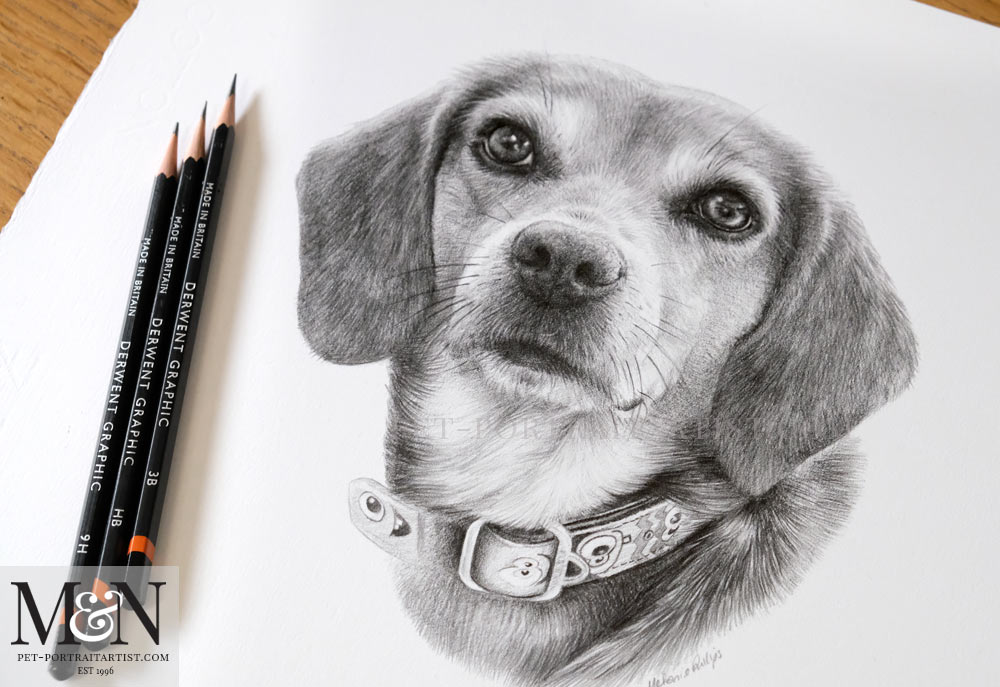 Here is an email that Ben sent when he had the Beagle portrait of Frannie framed after Marisa received it! So thrilled that they love it!
Hi Melanie.
Just wanted you to know we got our Frannie portrait back in its frame. It is (for now) hanging in the place of honor by our previous portraits (it may move eventually). I took a pic with my phone to give you a glimpse. I realize now I should take one with her and her portrait together! Soon! We can't stop staring at it… amazing. Love your work!
Talk soon, always enjoy chatting. Thanks again.
BEN
Beagle Pet Portrait of Frannie
The photos here are taken of Frannie's pencil drawing with my graphite pencils along side. Hopefully you can see the portrait in more detail from different angles and close up too.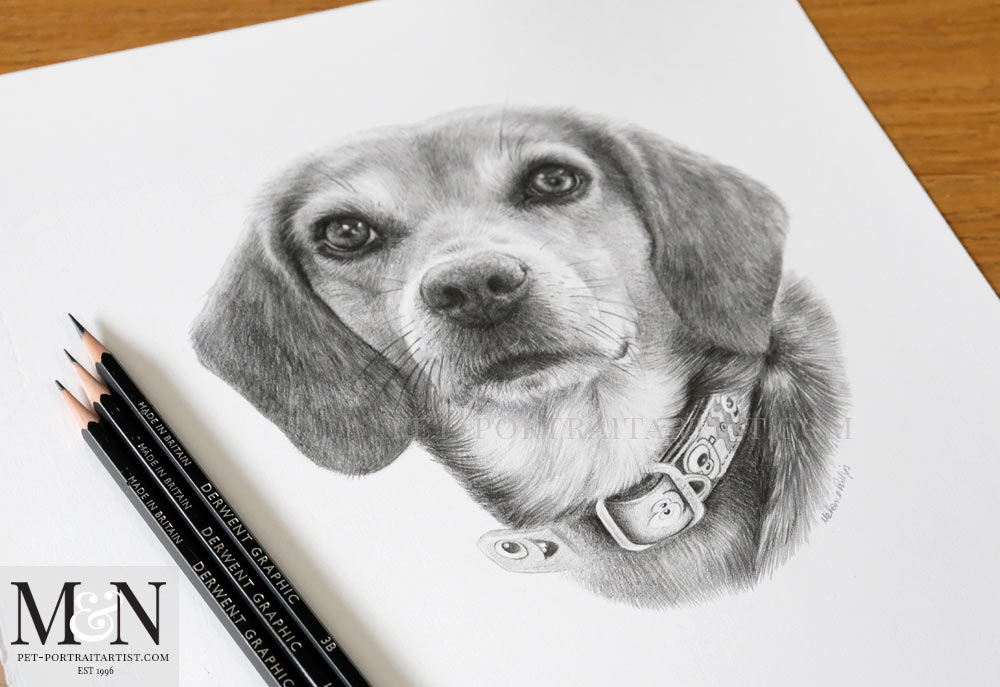 Ben has quite the collection of pencil pet portraits of his dogs, along with a few oil paintings too. We absolutely love working with our returning clients. Its amazing to say this but I do think once a client has commissioned a portrait, whether it is a pencil or an oil painting, if they have a second or third pet, they come back to us. Amazing!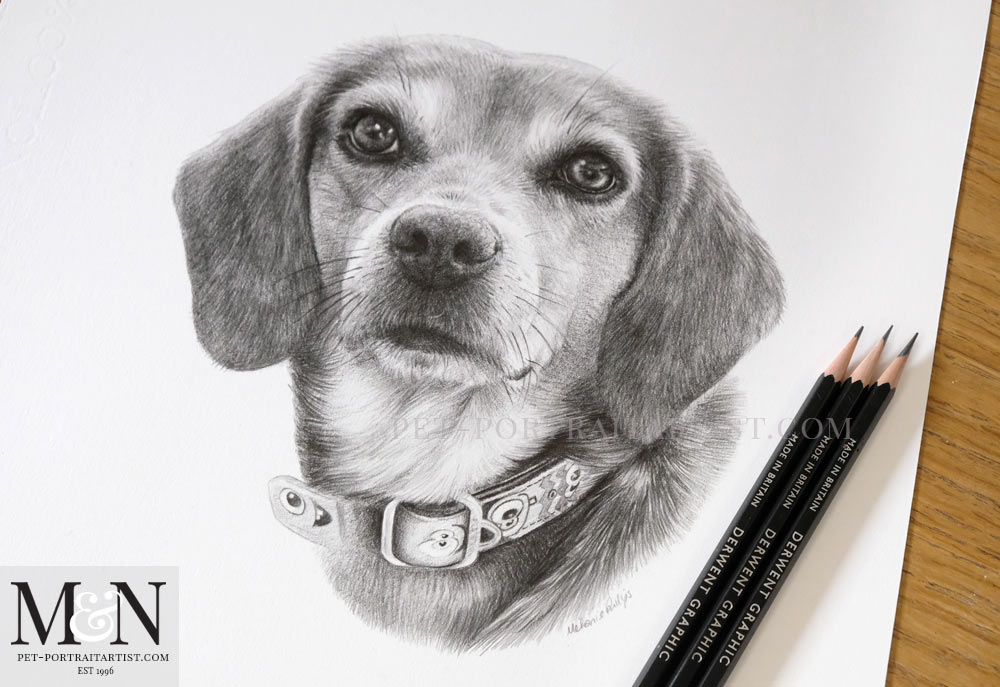 Finally, if you have a Beagle that you would like me to draw, similar to Frannie's portrait, please do get in touch. I would love to work with you on a Beagle portrait too. Email or WhatsApp me your photos!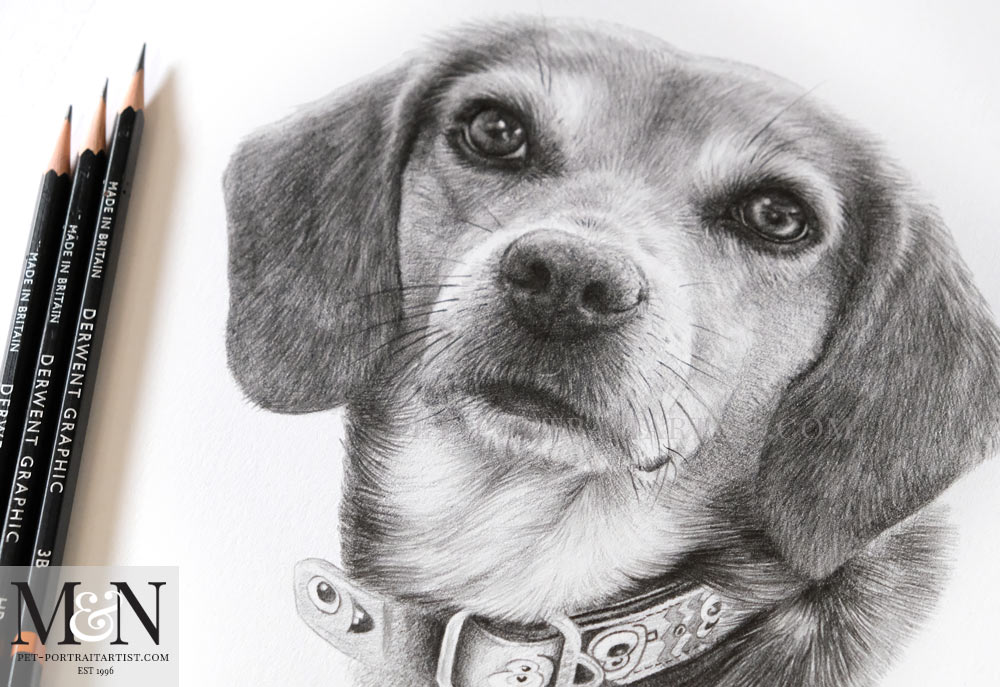 Are you enjoying our blog? Why not sign up to our Melanie's Monthly News, which comes right into your inbox each month! You can sign up at the bottom of our website or at the top of the blog. Please don't forget to subscribe to our YouTube Channel too. You are more than welcome to comment below, we love hearing from our readers!

You May Also Like
March 30, 2019
September 21, 2016
December 26, 2018