Happy Halloween 2018!!
October 31, 2018
Happy Halloween 2018!! Welcome to our Halloween post of 2018. Every year we celebrate Halloween by carving pumpins and decorating our inglenook with them and differnt coloured lights. We started with the front of our cottage putting up christmas coloured lights and having two pumpkins outside. As you can see below we carved two Minions keeping a watchful eye over our garden! We are now using the battery power candles which are much safer and seem to last a long time. They flicker just like a proper candle and the inside of the pumpkins don't get too hot which is great. Once the outside of the cottage was finished, we started on our indoor pumpkins. Scroll down to find out all about them and who grew them for us!!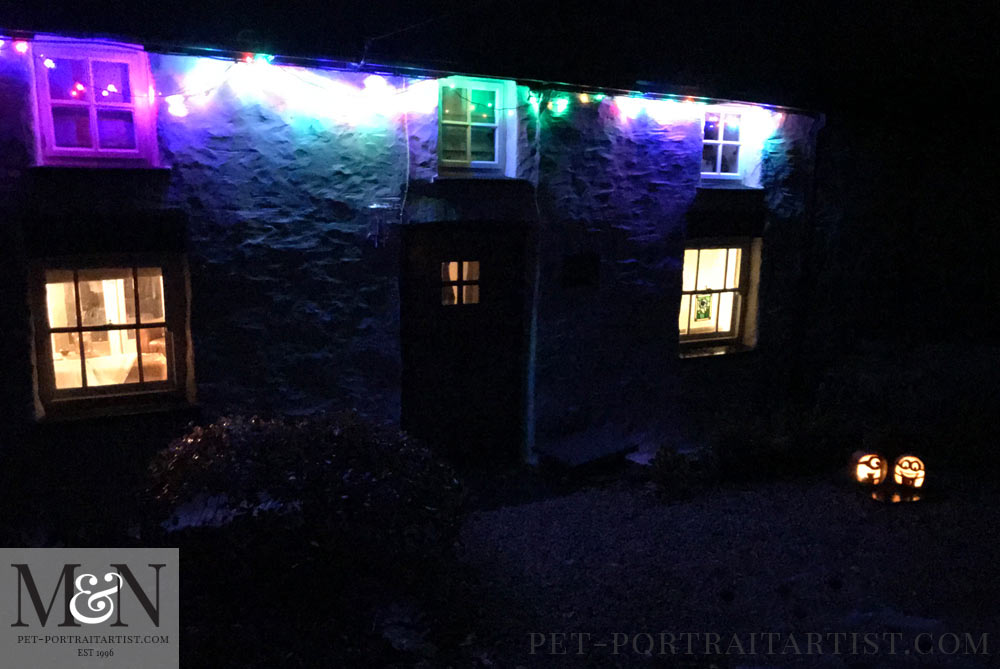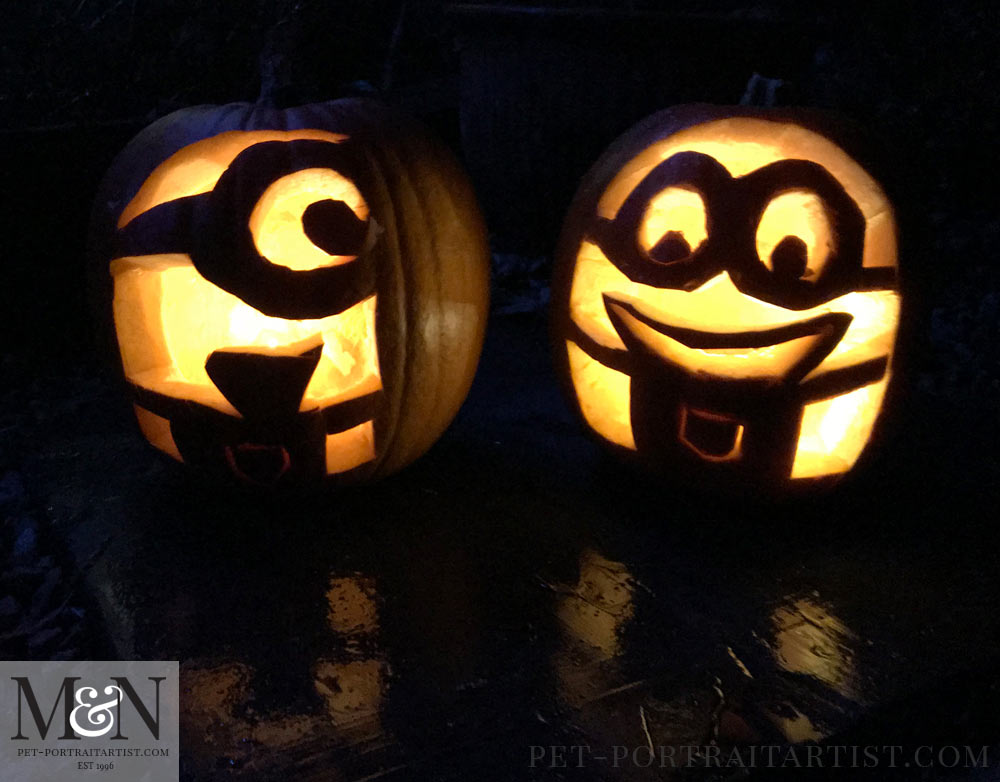 The Ginormous Pumpkins for a Happy Halloween 2018….!
Our pumpkins are grown each year by my dad in his garden. They still live on a smallholding, although they don't have any animals anymore, they still have a huge vegetable garden. Enormous in fact. Each year my dad grows a pumpkin patch for Nicholas and myself along with some for friends and their children. We usually have as many as we can fit in the car for us and our lovely little neighbour next door. This year my dad grew ginormous pumpkins and so our little neighbour had one huge one and Nicholas and I did too! We are big kids at heart!
As you can see from the photo below, this was Nicholas' pumpkin the design is loosely based on The Nightmare Before Christmas. Mine is below that, already started and I decided to do a slightly less jagged design this year, more wobbly and fun. I like to add a comical edge to mine! As you can see from the photos of the pumpkins in our kitchen, they are pretty big and were very heavy. Scroll down to see them in our cottage with coloured lights……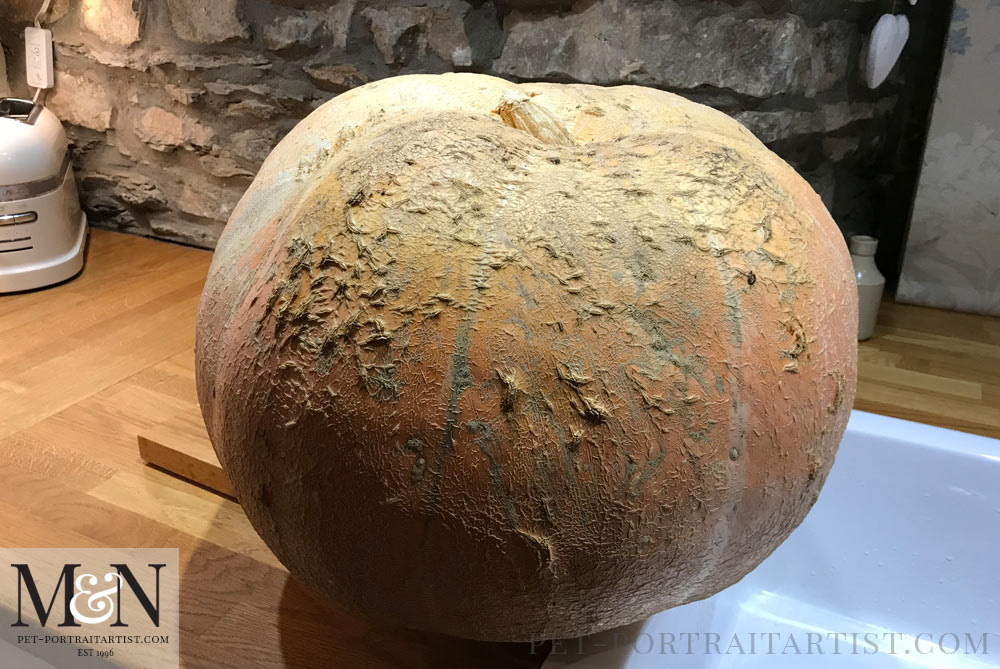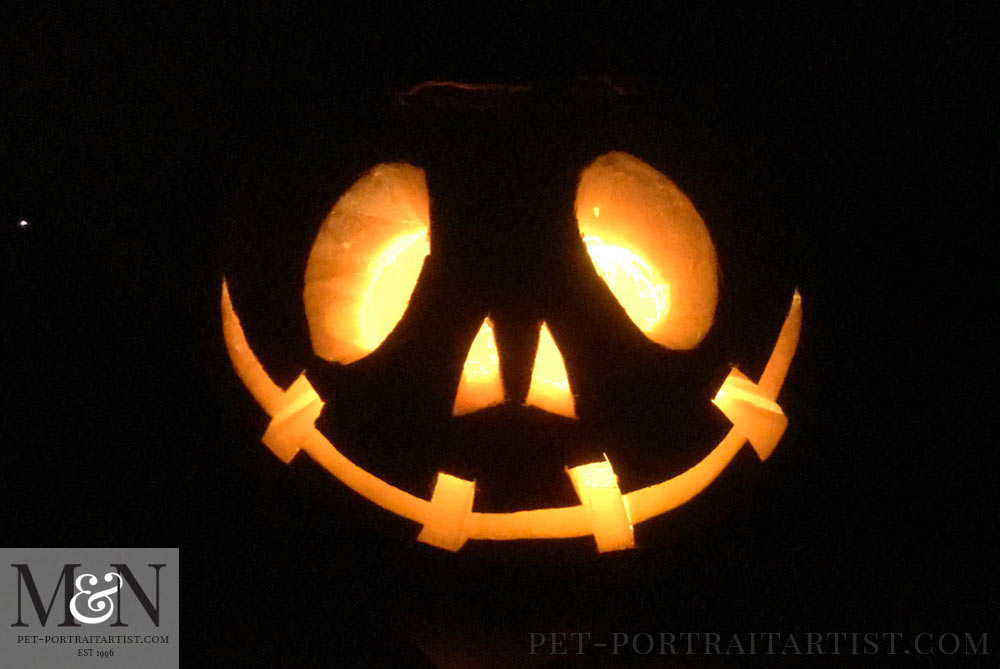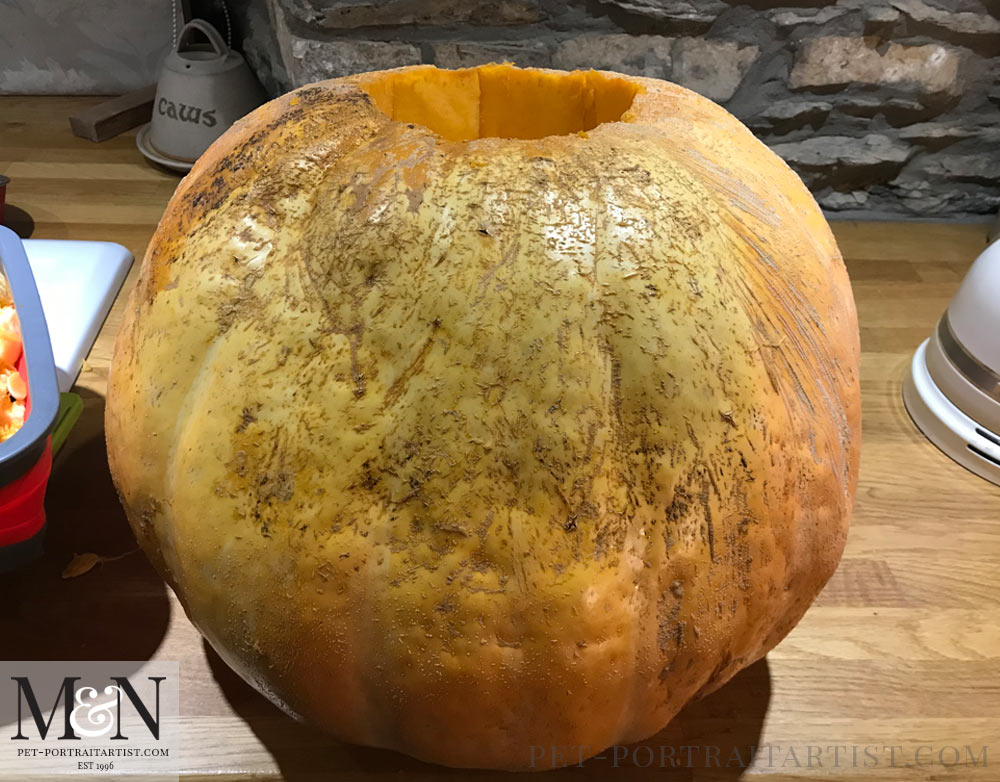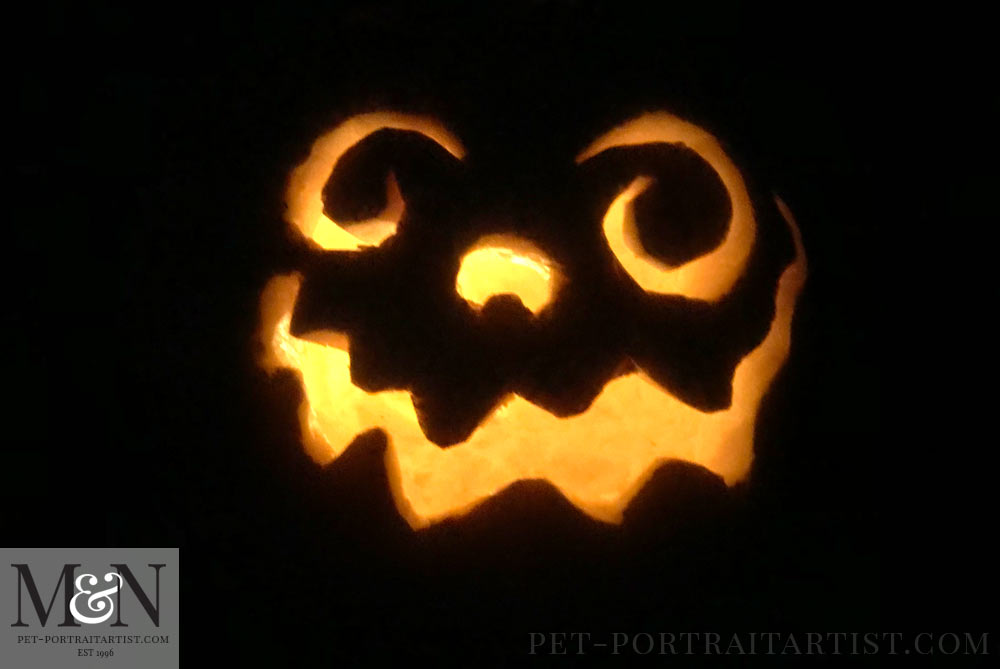 Alexa and her lights….
We have Amazon Alexa set up in our cottage and very handy she is too. We love the fact that you can change the mood lighting and its colours, great for a cosy evening by the fire with warm orange and yellow colours. However for different times of the year we can change the colours to any colour in the rainbow. Alexa even has themes. So this halloween we had a scary Halloween theme with greens and reds and purples which flashed in time to music and sounds which crashed and roared during the sequence. Hilarious! Great for scaring anyone who comes by! The first photo below was taken in the dark by the fire and below that is a video clip…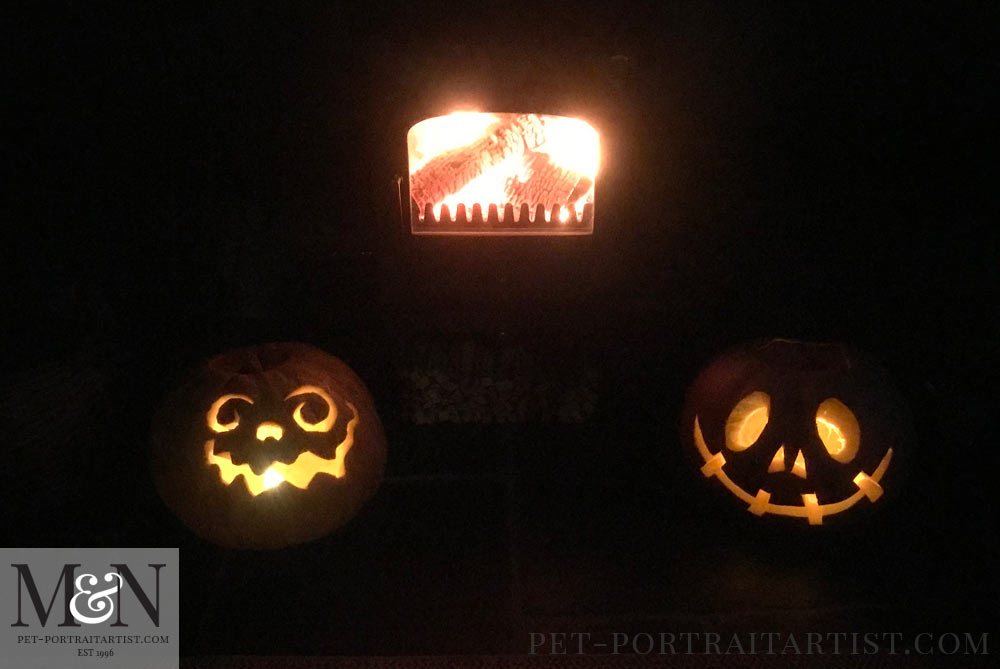 *No artists were harmed in the production of this video……
Here are some photos with different coloured lights…! We hope you have enjoyed viewing our Halloween photos and that you all had a wonderful time where you were! Why not post some of your Halloween photos in our comments below. We would love to see them!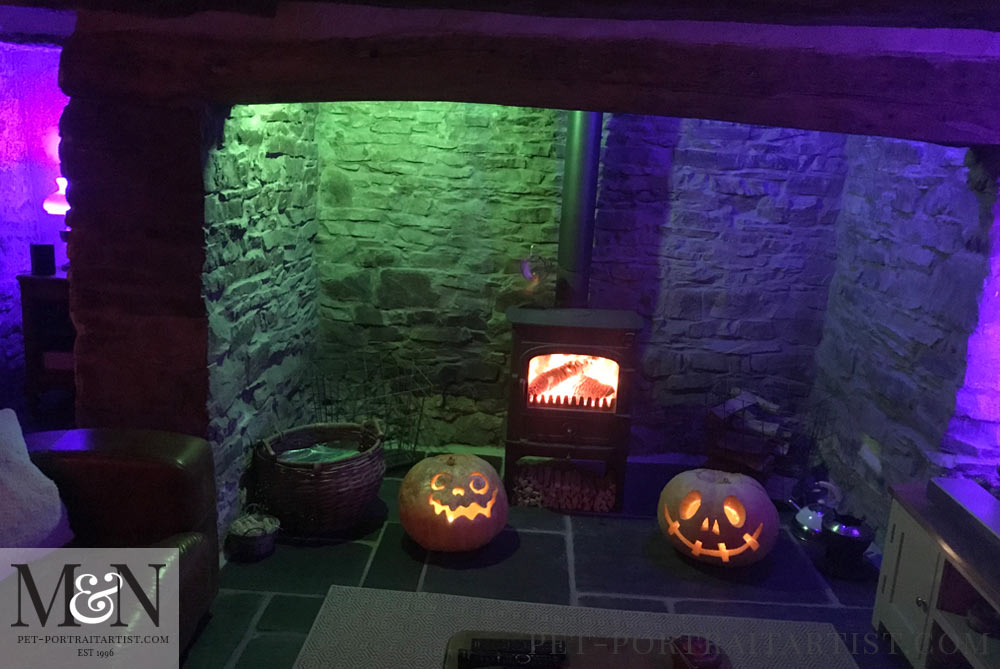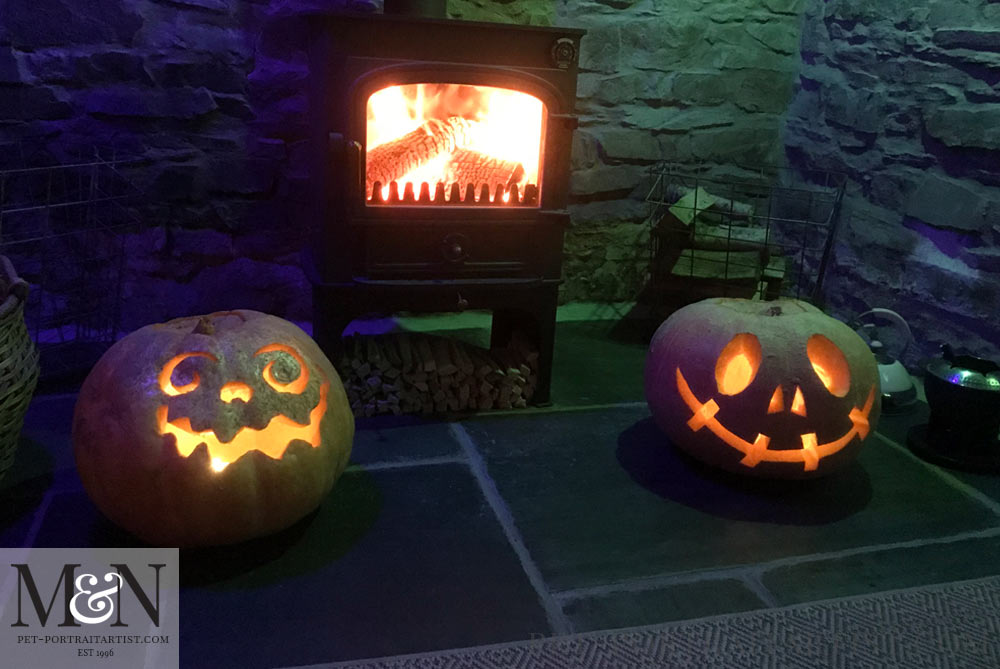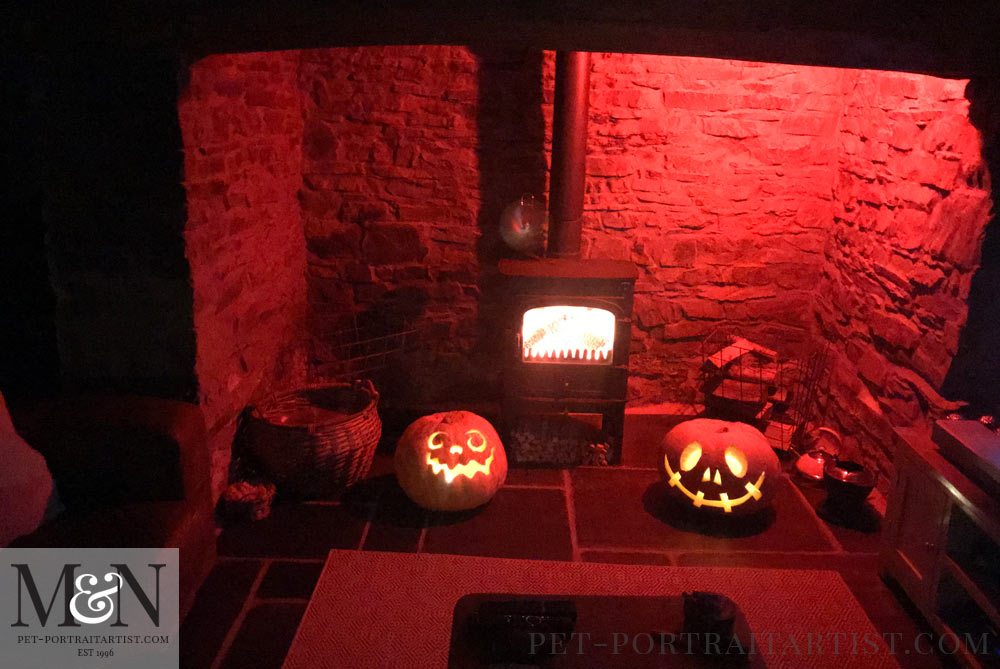 Are you enjoying our blog? Why not sign up to our Melanie's Monthly News, which comes right into your inbox each month! You can sign up at the bottom of our website or at the top of the blog. Please don't forget to subscribe to our YouTube Channel too. You are more than welcome to comment below, we love hearing from our readers!

You May Also Like
December 29, 2018
November 26, 2014
August 7, 2016