Oil Pet Portraits
July 31, 2019
Welcome to our latest bespoke oil pet portraits commission. This portrait was commissioned by Jamie and Lubka Hallam of their two gorgeous dogs Bilbo and Mr Kipling. Jamie and Lubka requested a large oil painting of them sitting in their beautiful garden in the South of England. Nicholas created the painting for them at 40 x 30 inches size.

Lubka emailed lots of photos of the dogs along with a particular photo of their garden that they loved. When the portrait was complete, it was couriered to our clients using a specialist art courier called Nick. We will definitely use Nick again in the future!

You can see the finished oil painting below. You can also see a photo of Nicholas with the painting. Lubka emailed when they received the painting,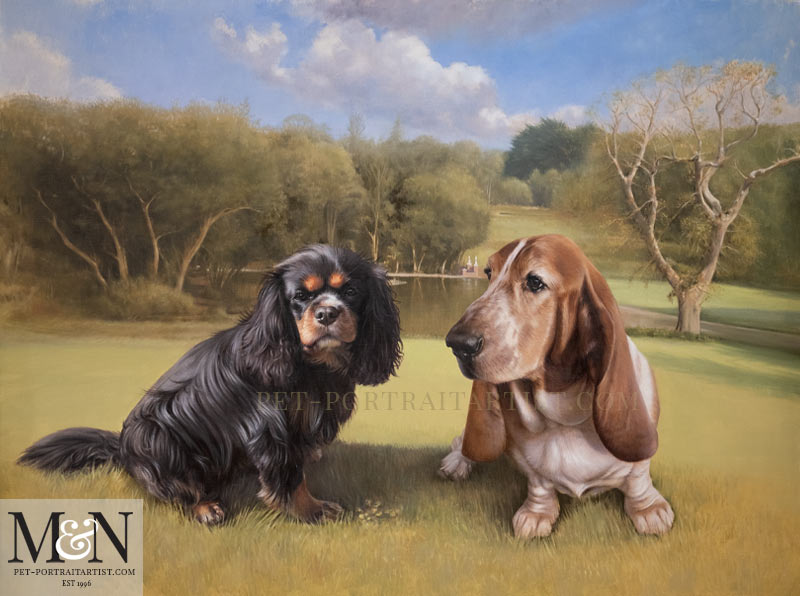 Dearest Melanie, Nicholas and Lily,
There is only one way we can sum up the Painting and it is AMAZING !!!
Really delighted with it…

Nick the art courier was lovely and super friendly. He very kindly "unveiled" the painting for us.

It has been a thoroughly enjoyable experience to deal with you… from the first email to receiving the painting. That makes the painting even more special.

Thank you again very very much!!!
Love and best wishes
Lubka, Jamie, Charlie and of course Bilbo and Mr Kipling xxx
Oil Pet Portraits – The Painting
The photos below show just a few of the close up shots I took of Nicholas working on the painting at a very nearly completed stage. Hopefully you can see the beautiful detail in the portrait of the two dogs plus the stunning background. Nicholas excels at painting scenery and landscapes with dogs and horses. Above all take a look at our pet portraits website to see more commissioned artwork.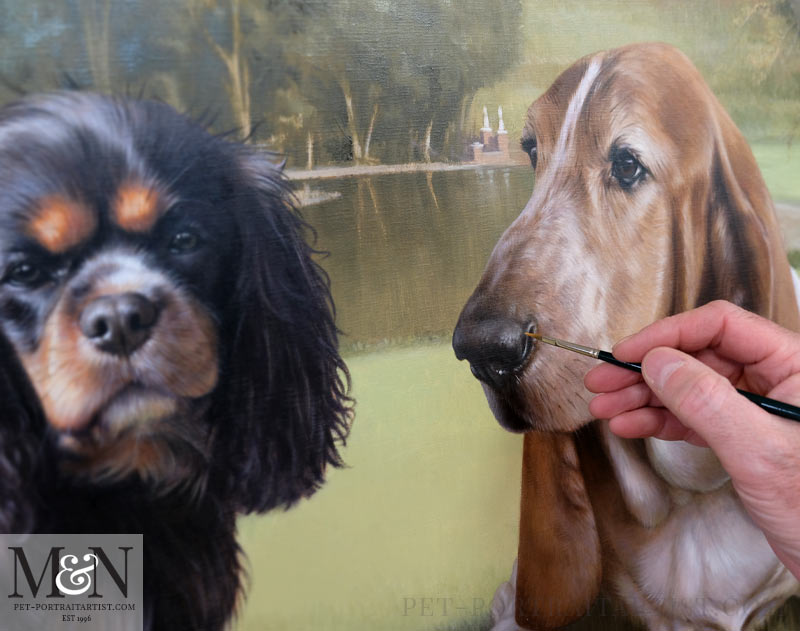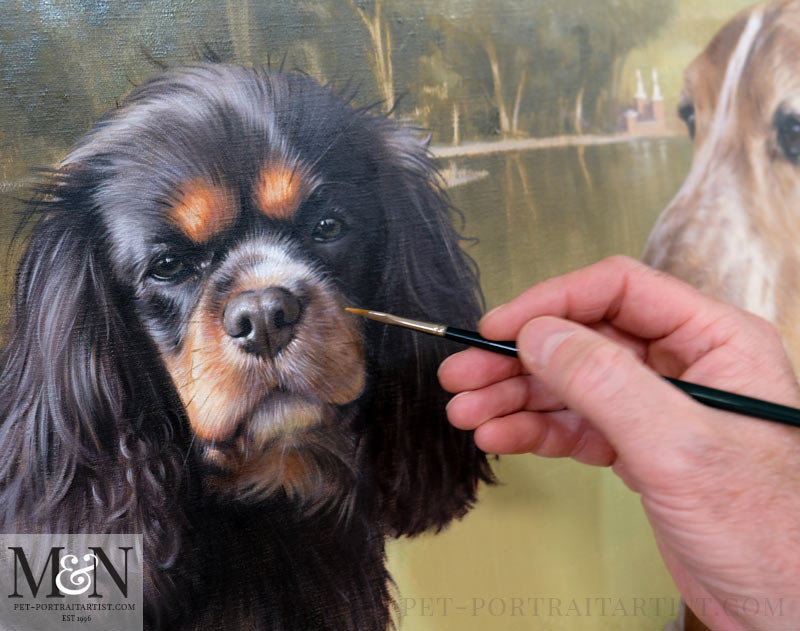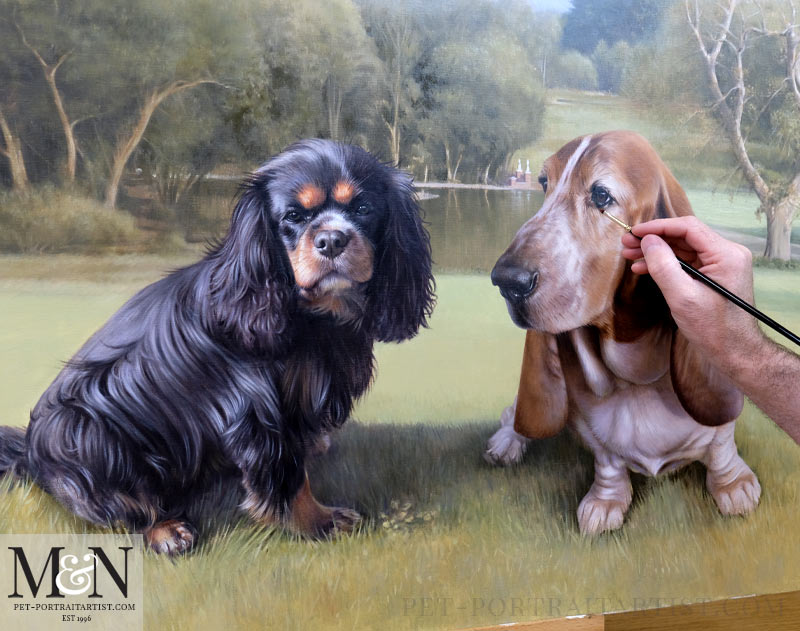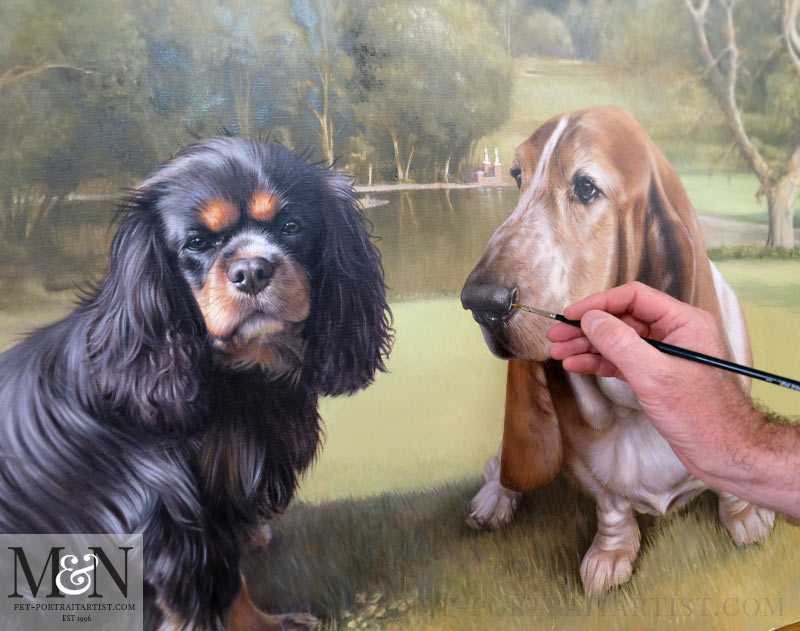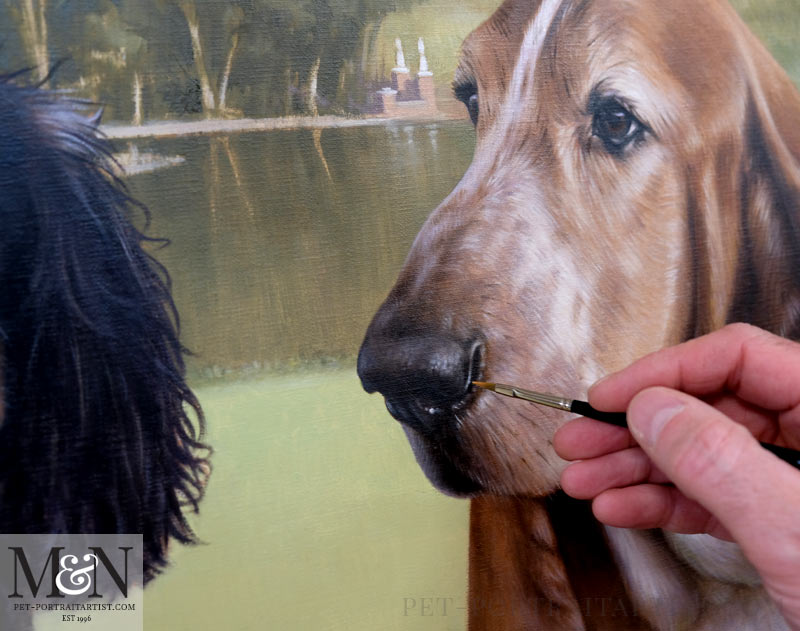 The Video!
Here is a video of the framed oil painting!
The Mayfair Frame
One of our favourite frames for our larger sized portraits is our Mayfair Frame. It is a very large moulding which is just over 4 inches wide and you can see from the photos below how beautiful it is. The gold colour is stunning and it has very subtle detail both on the front and when looking from the side. All of our bespoke gold frames are built so that when you look at the paintings from the side they sit flush to the wall. This means you are unable to see any of the canvas which is perfect. In addition, if you scroll down you can see more detailed photos of the frame up close. We are certain you will be impressed!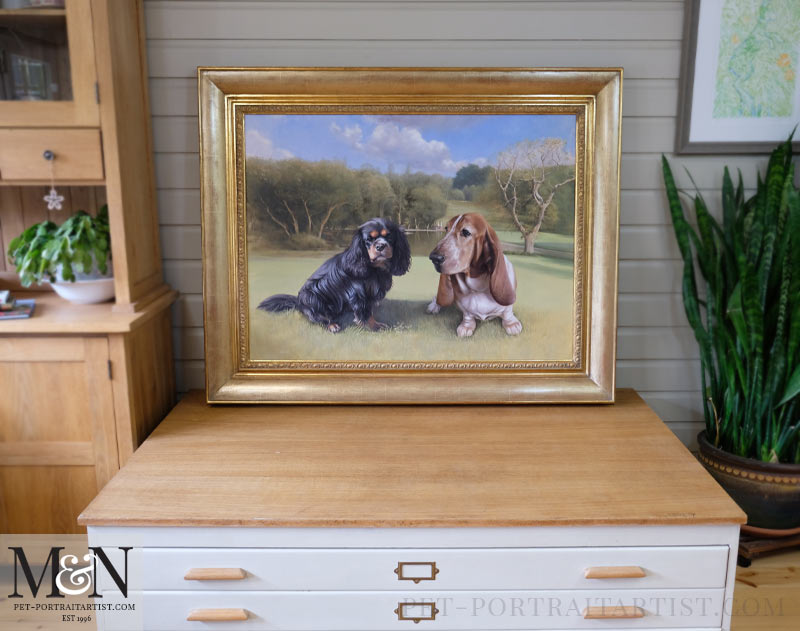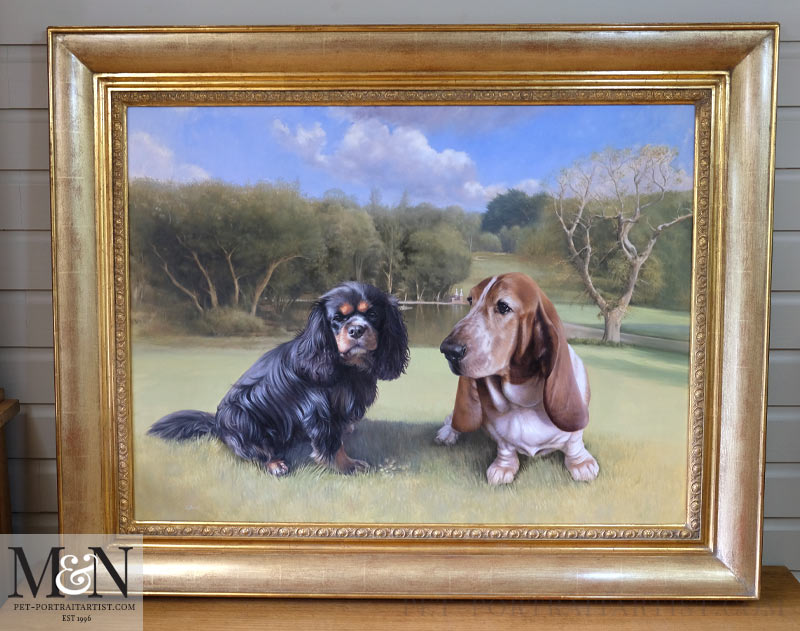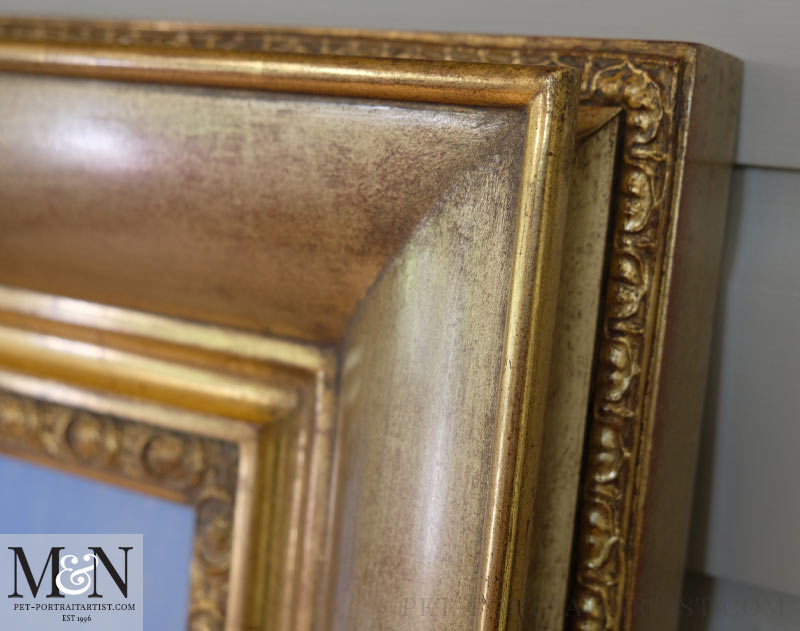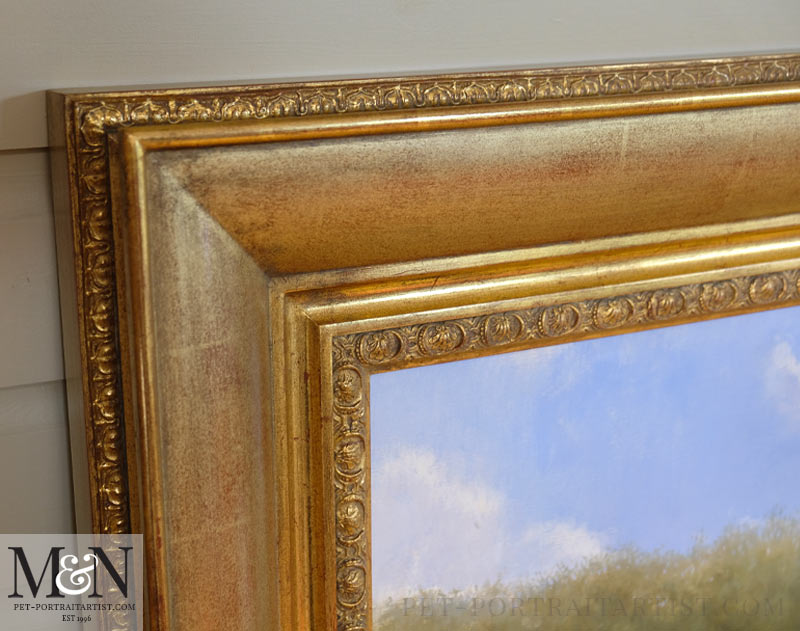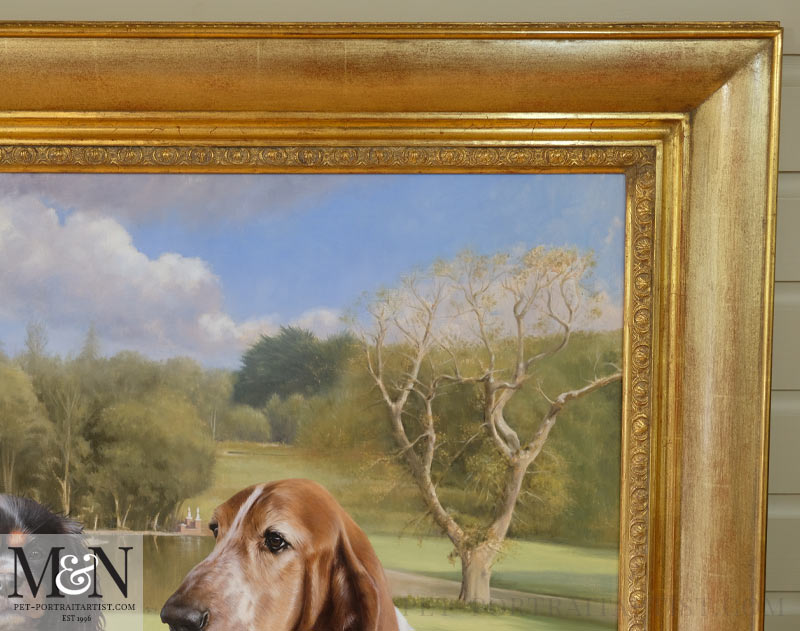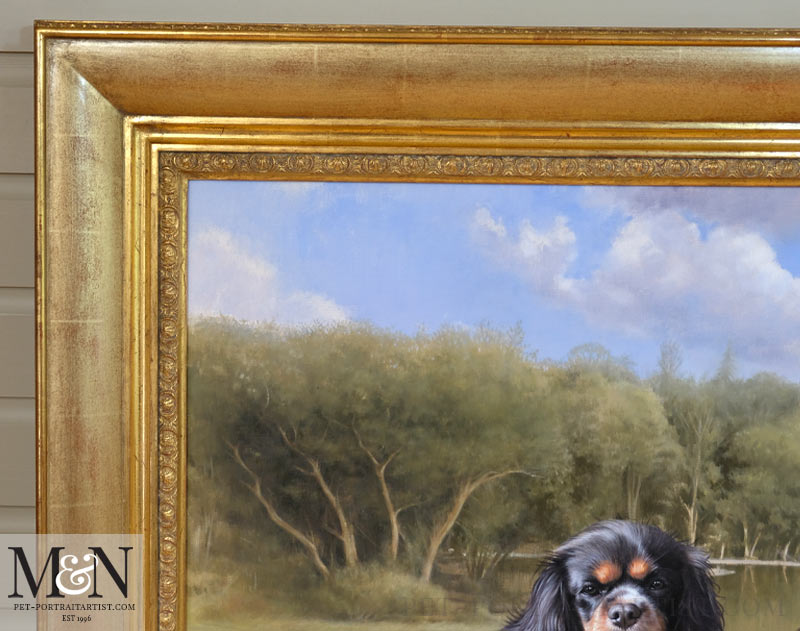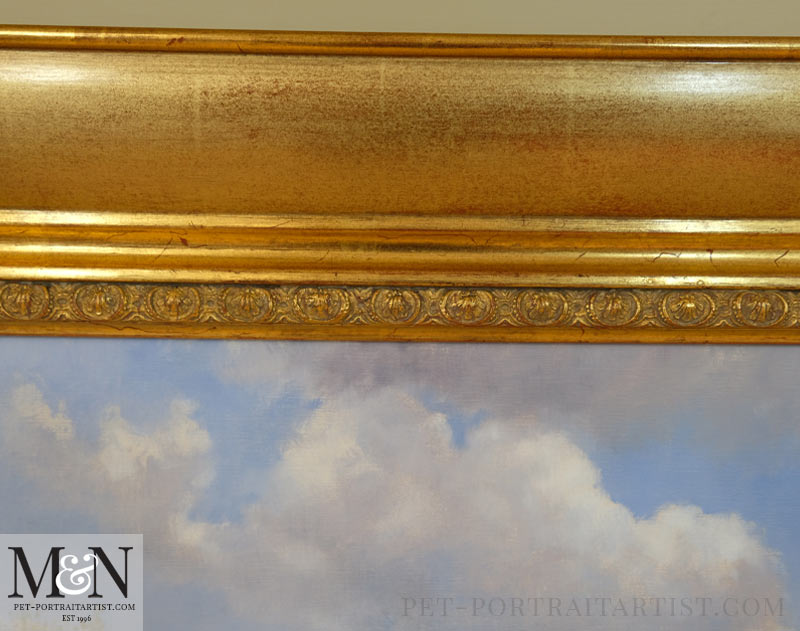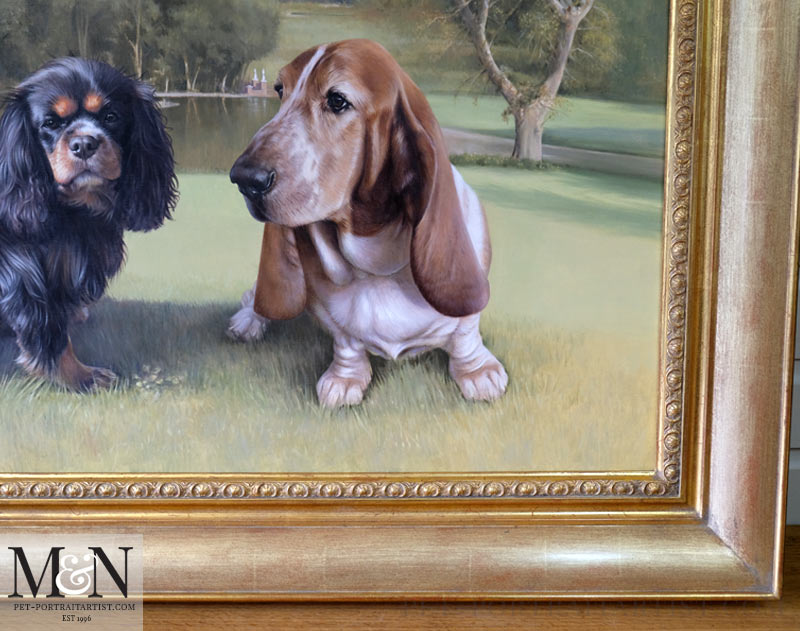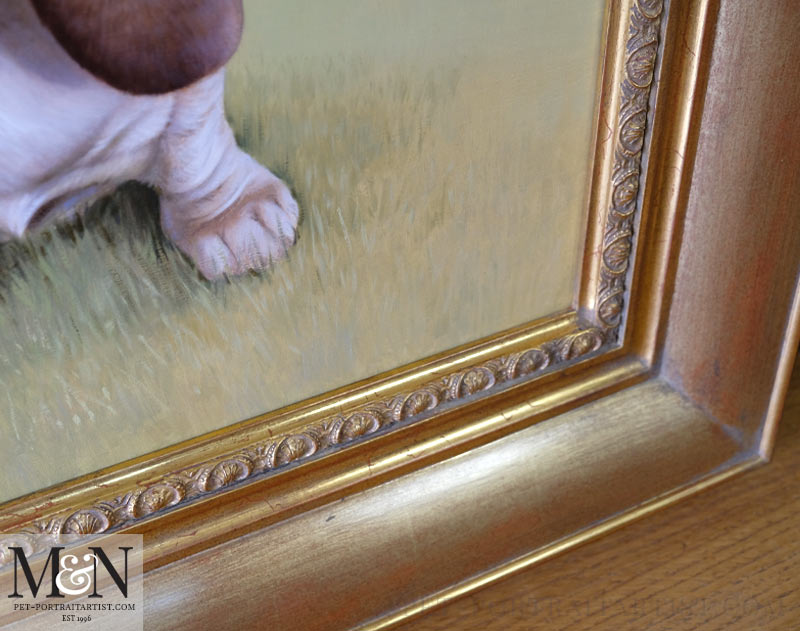 Why not sign up to our Monthly newsletter accessible at the bottom of our website which comes out on the 1st of each month. Catch up on news from our Art Studio! Please don't forget to subscribe to our YouTube Channel too, follow our Instagram @petportraitartists and Facebook @petportraitartists . You are more than welcome to comment below too, we love hearing from our readers!

You May Also Like
January 30, 2019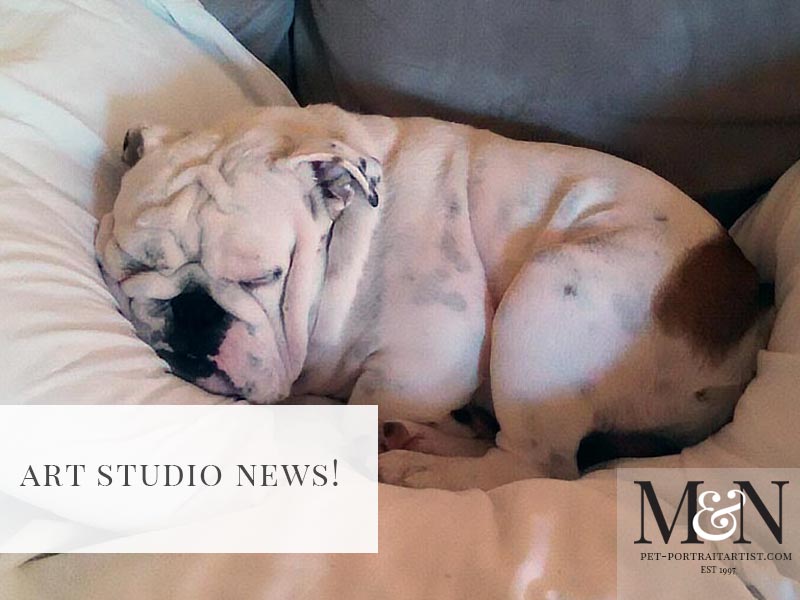 August 12, 2015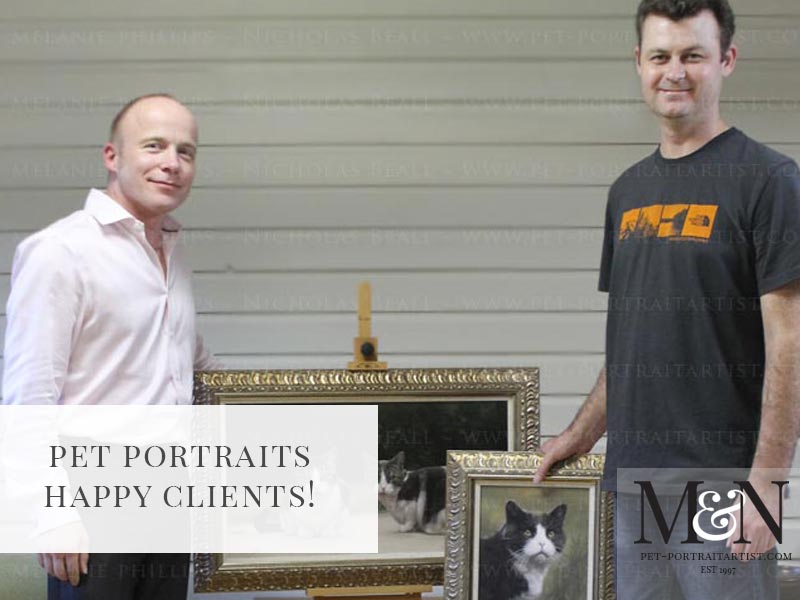 September 12, 2014