Cat Pencil Pet Portrait
July 31, 2019
Welcome to my latest cat pencil pet portrait of two cats called Archie and Roly. This portrait is for returning clients Kirstie and Gordon. They previously commissioned a portrait of their beautiful cat Dudly who is sadly no longer with us. You can see him on his dedicated page – oil portrait of Dudley.
Kirstie was given the cat pencil pet portrait for her birthday so that she could then have full control over the drawing and its design. She was able to choose the photos she wanted, choose the format and have it exactly how she envisaged it to be.
It combines a portrait of Archie full body on the left in the garden, along with Roly bottom right showing his big fluffy tail in his basket. Finally the smaller drawing above depicts Archie sniffing Roly's ear. Kirstie was thrilled with the portrait. I have added a photo of the drawing below, in addition to photos of the portrait framed and some photos from Kirstie too…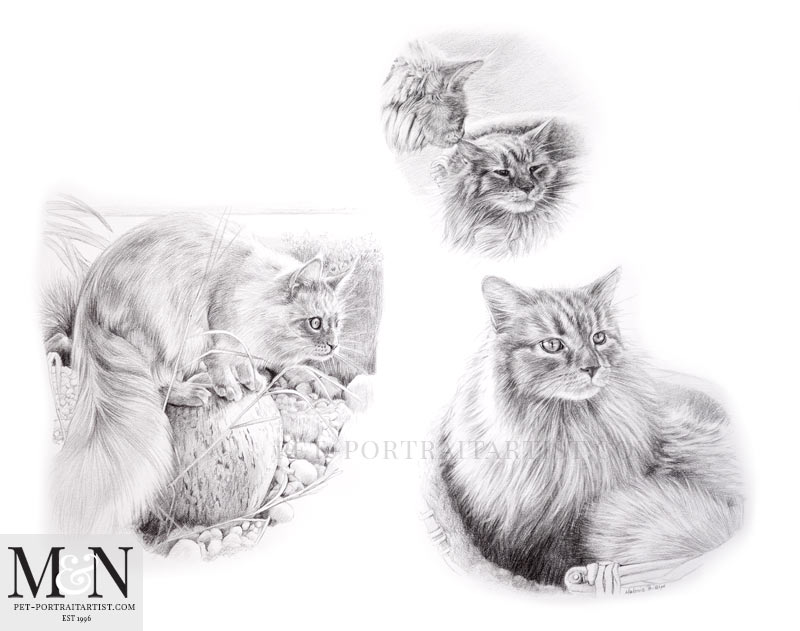 Hi Melanie,
Great excitement today! The portrait has arrived! We wasted no time opening your superb packaging and had the work of art hung within minutes.

Our gardener, Mike is here today and hung it for us then took time to admire your drawing.   He is an artist in his spare time and was blown away by your talent as we all are and the frame and mount could not be more perfect. We put the box on the table ready for opening and guess who claimed it as his!

So many thanks Melanie for such a beautiful work of art.   You and Nicholas have a rare gift indeed!

Best wishes and many thanks again for all your painstaking trouble,
Kirstie xx
When the portrait arrived…Archie decided to settle down on the packaging of HIS cat pencil pet portrait! Aren't they so funny and adorable! The photo below shows Archie when Kirstie received the email with the final photos! I think he approves! Just look at his face!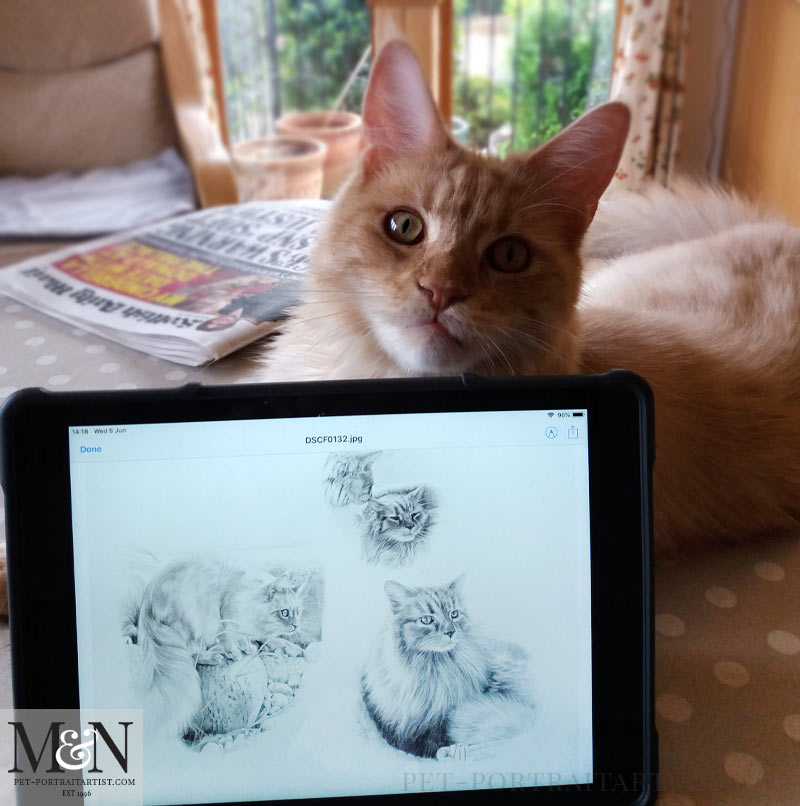 Cat Pencil Pet Portrait – Photos
Photos of my cat pencil pet portrait below show the drawing unframed and laying on my plan chest. These photos help to show the drawing in a more natural way. I have alas added a few pencils in the photos for scale. All of my pencil portraits are traditionally hand-drawn by myself.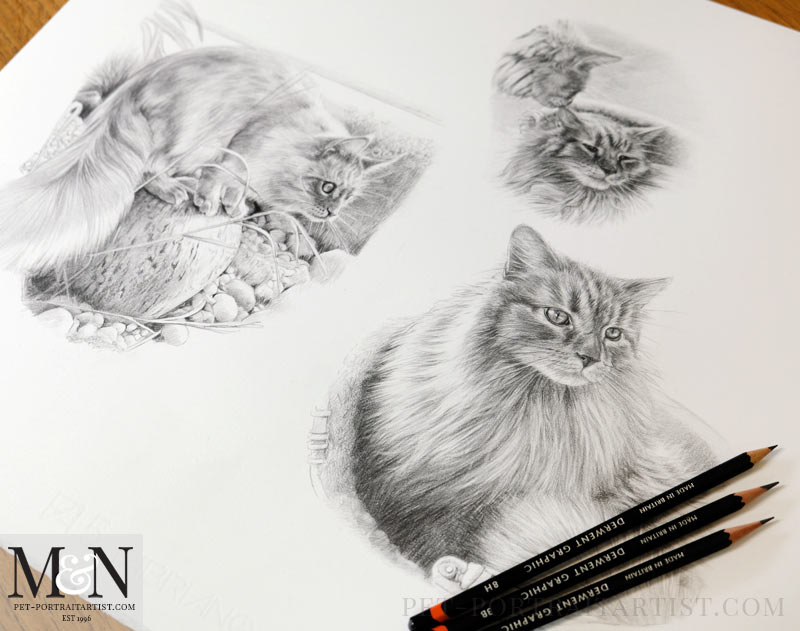 I drew Kirsties cat pencil pet portrait in my dedicated garden studio, which is the perfect place to draw. My garden studio isn't just for me though…. I share the studio with Nicholas and of course our dog Lily.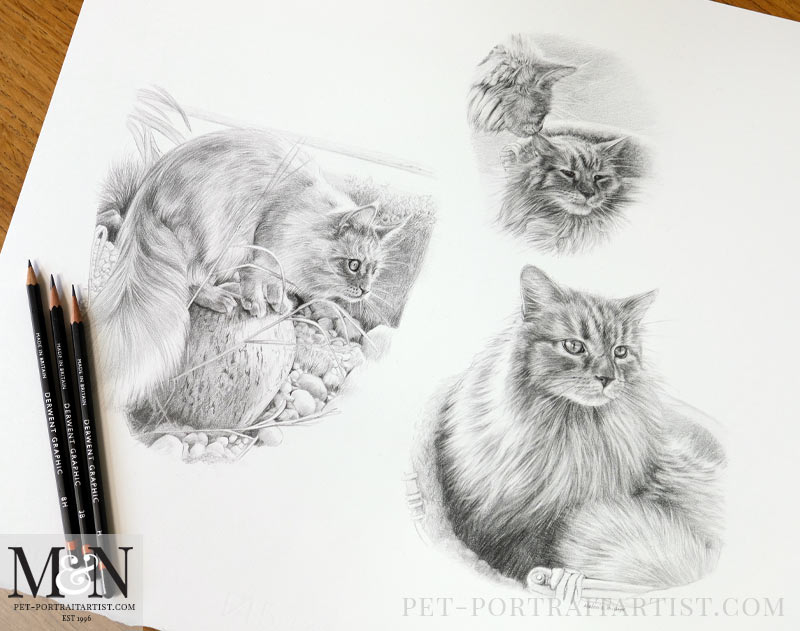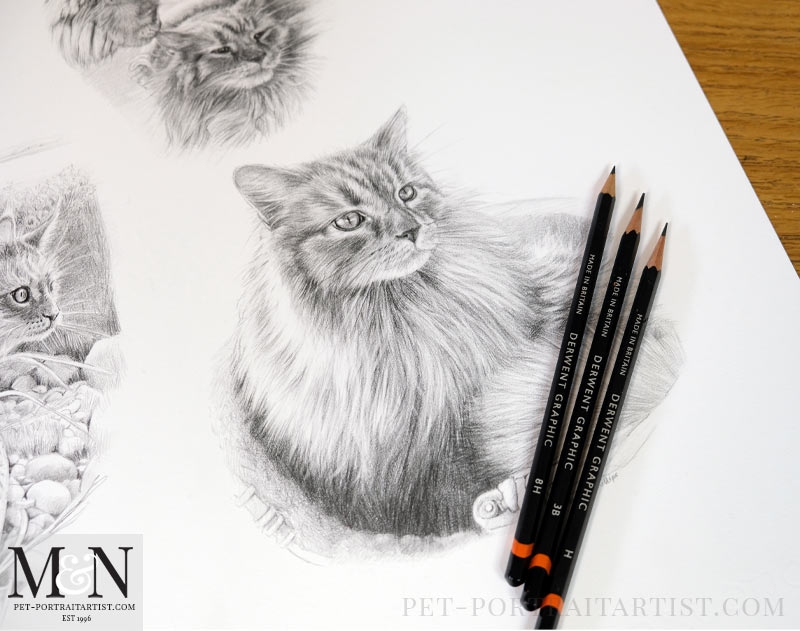 Graphite pencil s my all time favourite medium, which I find allows for great delicacy and softness in my portraits. I try to work closely with my clients, guiding them in taking photos so that we have the perfect reference and design before I put pencil to paper.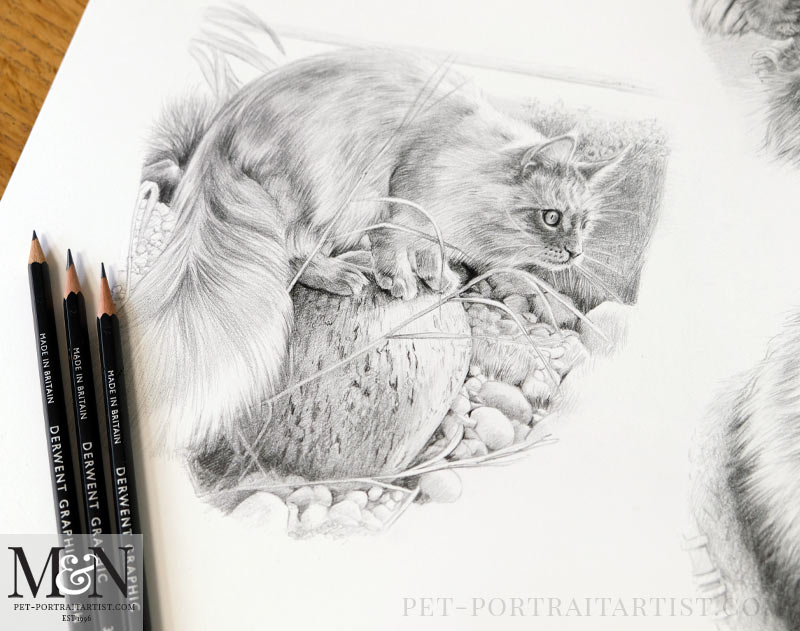 Cat Pencil Pet Portrait Framed
Kirstie also chose to have the cat pencil pet portrait of Archie and Roly framed using our Madison Taupe Frame matched with a 'Morning Dew' upper mount, which is a bit like a sage colour, along with a Hayseed cream inner mount. The Morning Dew colour therefore works perfectly with the Madison Taupe and as you can see below compliments Kirstie's home decor beautifully!
I love receiving photos of my pet portraits when they are displayed in my clients home. It allows me to see them both framed and in their forever home. It kind of completed the pet portrait story!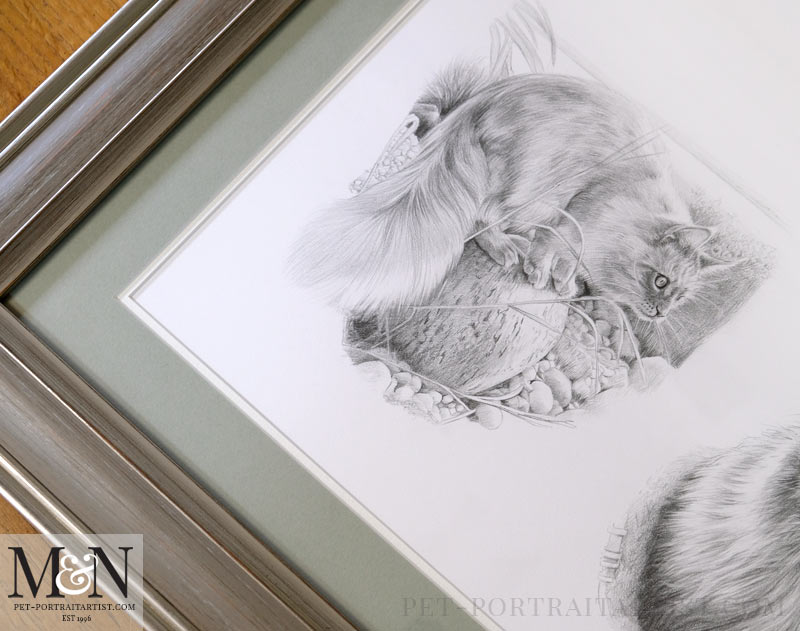 I send my pencil pet portraits far and wide, all over the world, from Singapore, Australia, USA, Canada and of course with this portrait, it headed to Scotland. It doesn't matter where you are in the world, you can always have one of my cat pencil pet portraits!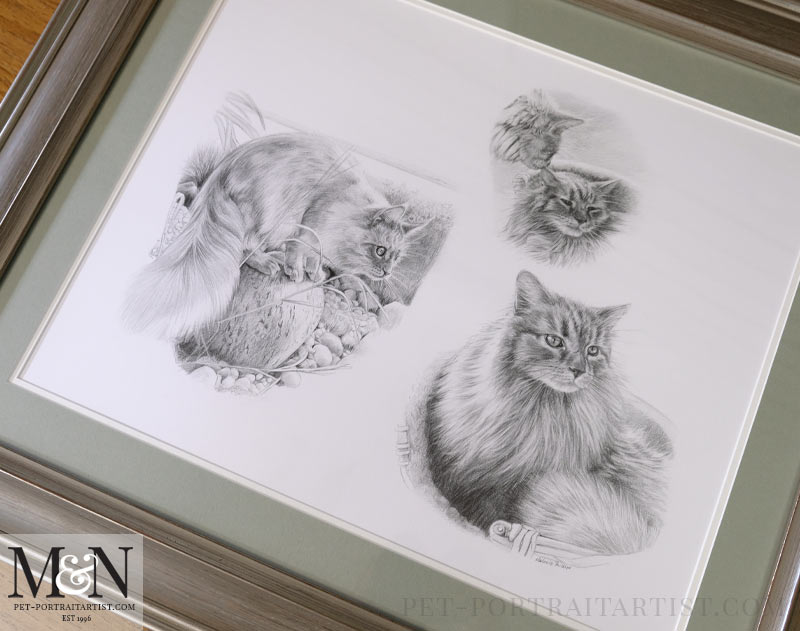 Commission Yourself a Cat Pencil Pet Portrait
If you would like to order a cat pencil pet portrait, and would like it for a special date, do get in touch as early as possible as I do have a waiting list. If you find that you are short of time, similar to Kirstie's portrait, you can give the surprise and idea of a drawing and allow the recipient to help design it themselves. This way they can have exactly what they want. You can contact me at any time via email, or WhatsApp on my website. I am always happy to chat about your ideas!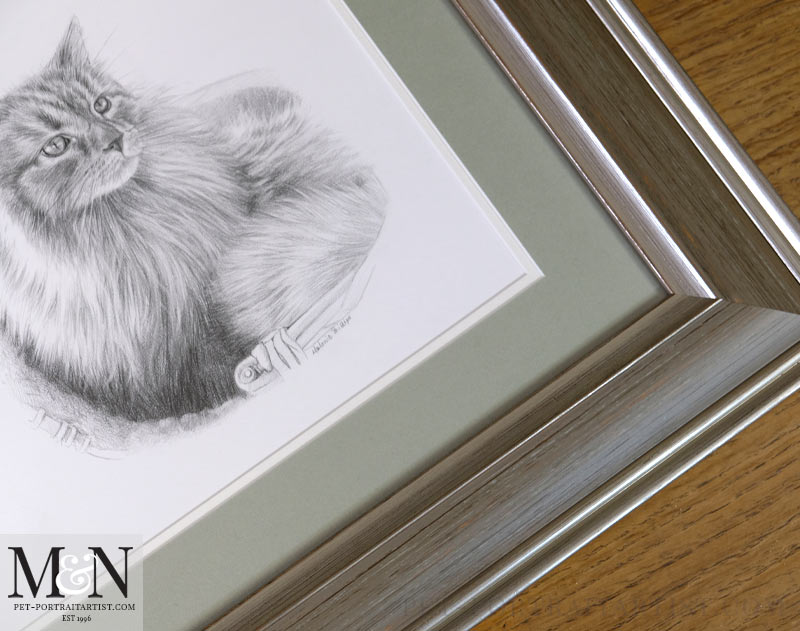 Are you enjoying our blog? Why not sign up to our Melanie's Monthly News, which comes right into your inbox each month! You can sign up at the bottom of our website or at the top of the blog. Please don't forget to subscribe to our YouTube Channel too. You are more than welcome to comment below, we love hearing from our readers!

You May Also Like
June 3, 2016
November 2, 2015
December 16, 2015