Triple Dog Portrait in Pencil
July 31, 2019
Katie Rampton commissioned a triple dog portrait in pencil of their three dogs Winston, Alfie and Ziggy. Katie commissioned it for her husband's birthday as a complete surprise. She purchased a gift voucher so that Matthew could choose his own photos and design.

Matthew was thrilled with his surprise birthday gift and emailed me three of his favourite photos through to see if I could work with them. They were excellent quality for a portrait and also worked well together too! I created the pencil drawing at 18 x 14 inches which is the perfect size for a triple pencil drawing. Matthew said on seeing the finished photo of the drawing…
Thanks Melanie..
Beautiful and I am very happy with it!! What makes me particularly happy is that my dog Winston (the black lab) looks very noble…..this will annoy Katie intensely!!
Matthew
Katie also emailed when she saw the final photo of the drawing too…
Hi Melanie,
The picture looks truly wonderful and you have really have captured the dogs and their character!
Thank you so much!
Best wishes
Katie Rampton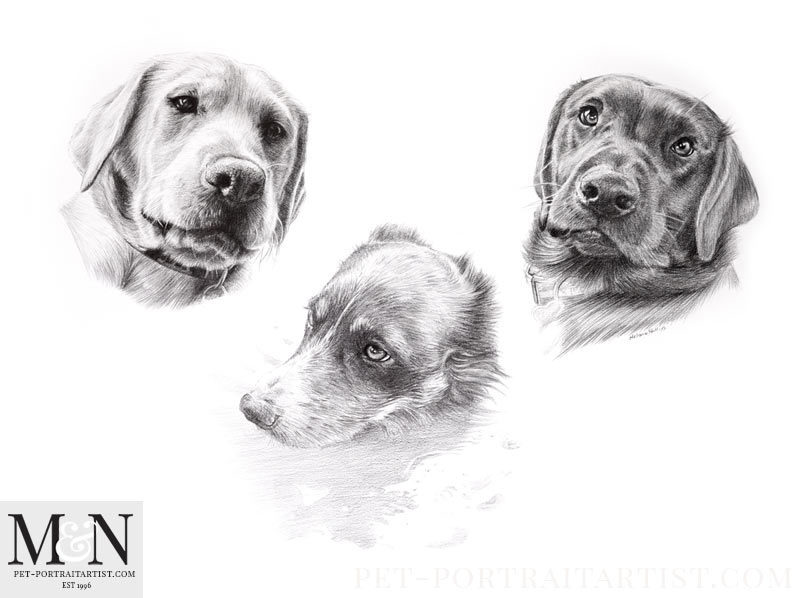 Close up Photos of the Triple Dog Portrait in Pencil
I always take photos of the portraits on my plan chest so that clients can see the artwork in a much more natural way. Similarly I did this with Katie's triple dog portrait in pencil and they were really happy to see the candid photos. I have also added my pencils to help show scale.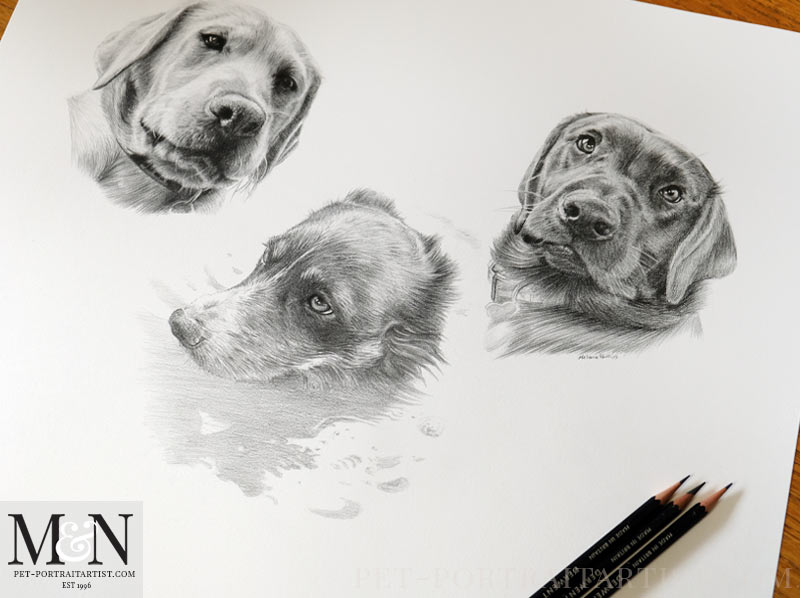 My gift voucher service is really popular with my clients and it is completely bespoke to each client. Once you provide your details, along with a photo or photos of your dog, I can create a bespoke voucher card for you. This service allows you to gift a pet portrait commission to someone special allowing them to have full control over the drawing and the process. It's such a thoughtful and unique gift that my clients always really love and are excited about getting started, just like Paul was.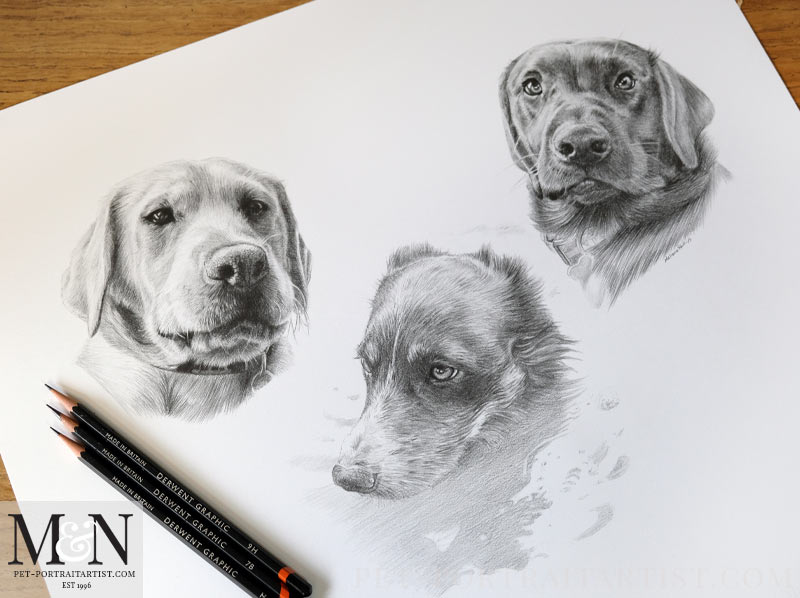 Triple Dog Portrait in Pencil Framed
Katie loved the frame when she saw photos and you can read her email below…
Hi Melanie
The picture looks amazing and the frame is gorgeous! Thank you so much – you have captured the dogs so beautifully!
Can't wait to see it.
Best wishes
Katie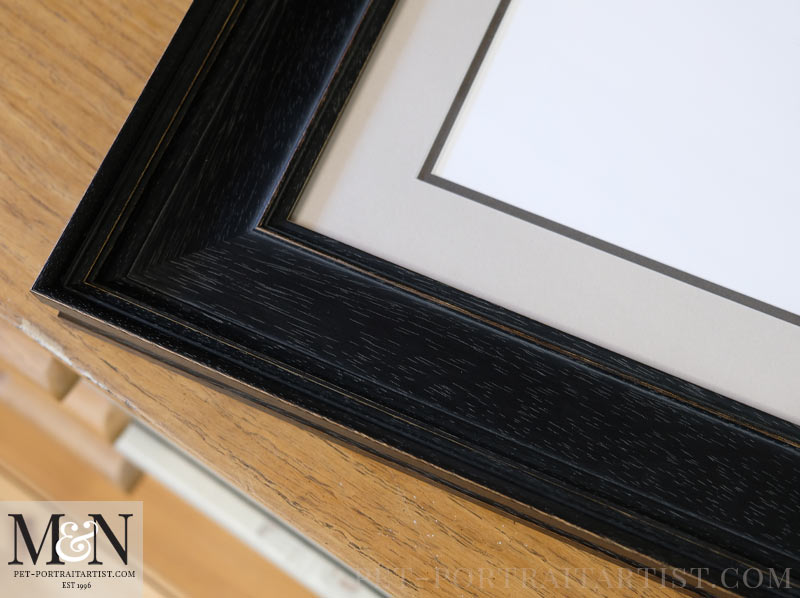 These photos clients send are crucial in capturing the unique characteristics and personality of each dog. For a triple dog portrait in pencil like this one, I work on one dog at a time. I usually start on the left hand side and move to the right completing each portrait in turn.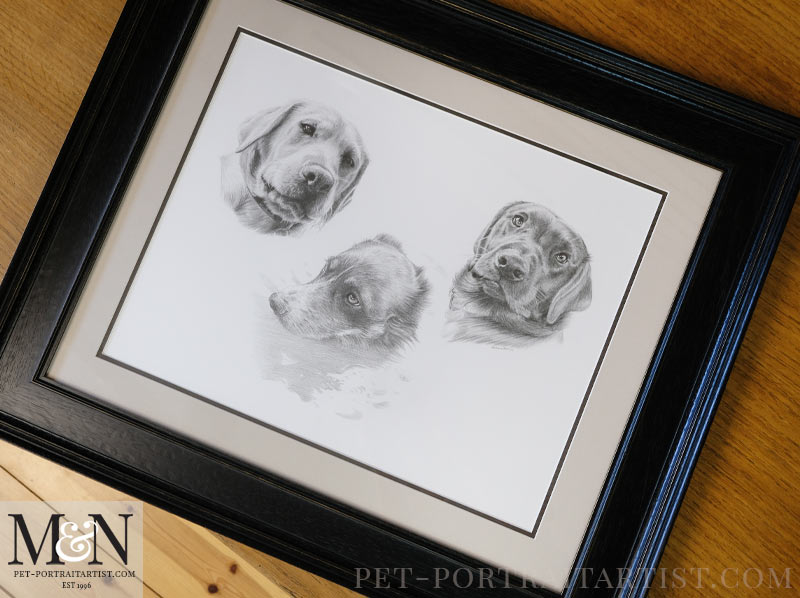 An 18 x 14 size is perfect for three dogs. It provides ample space to capture the details of each dog without the portrait feeling crowded, or the dogs being drawn too small.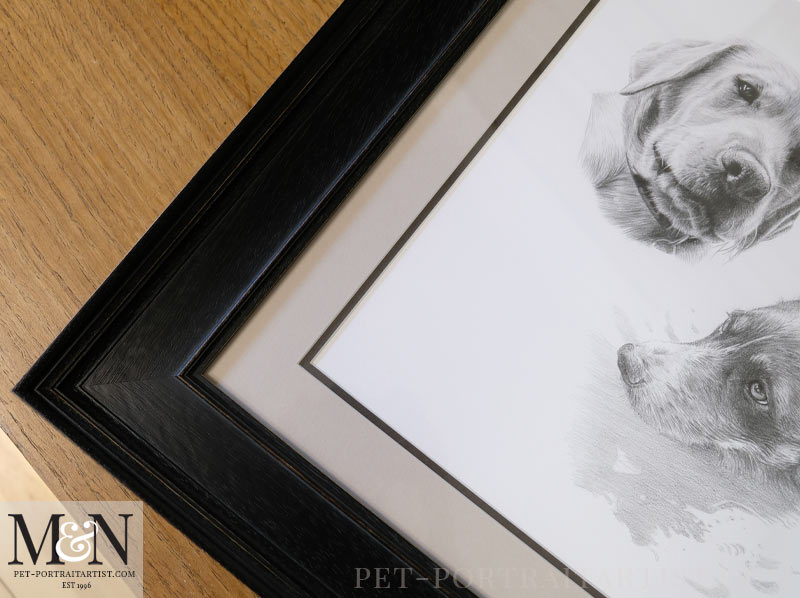 Triple Dog Portrait in Pencil
Using graphite pencil, I begin building up the layers of the drawing slowly. I gradually capture the fine detail such as the texture of the dogs' coats and their unique expressions. It is my all time favourite medium as it, allows for delicacy and softness, perfect for dog portraits.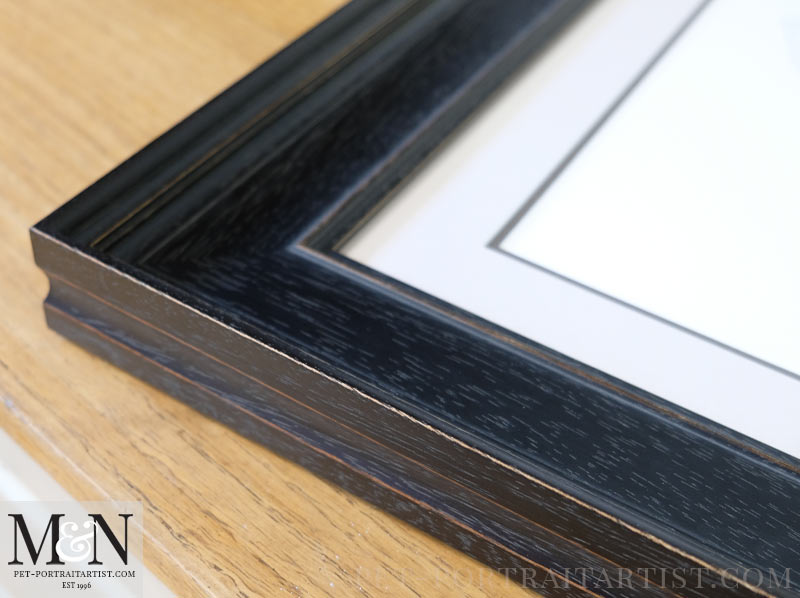 Once the portrait is complete, I take plenty of photos so the client can see the drawing from various angles. As when you think about viewing a portrait on a wall, you don't just see it from the front! You are in the room walking around so it is important for it to be perfect from all angles.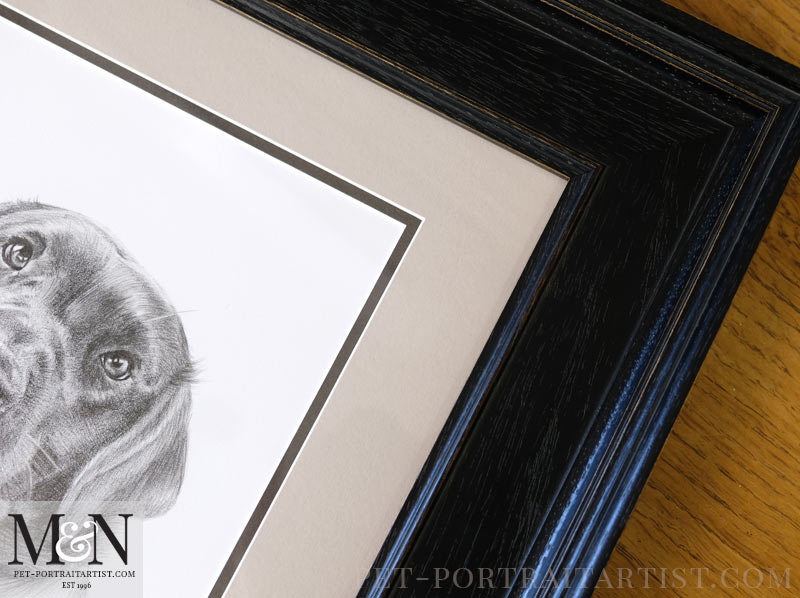 Once my clients are happy, just like Katie and Paul with their triple dog pencil pet portrait, I carefully pack and book it in for the courier to collect. The whole process is quite time consuming. Drawings cannot be rushed. It does just take time. But I can guarantee it will be worth the wait.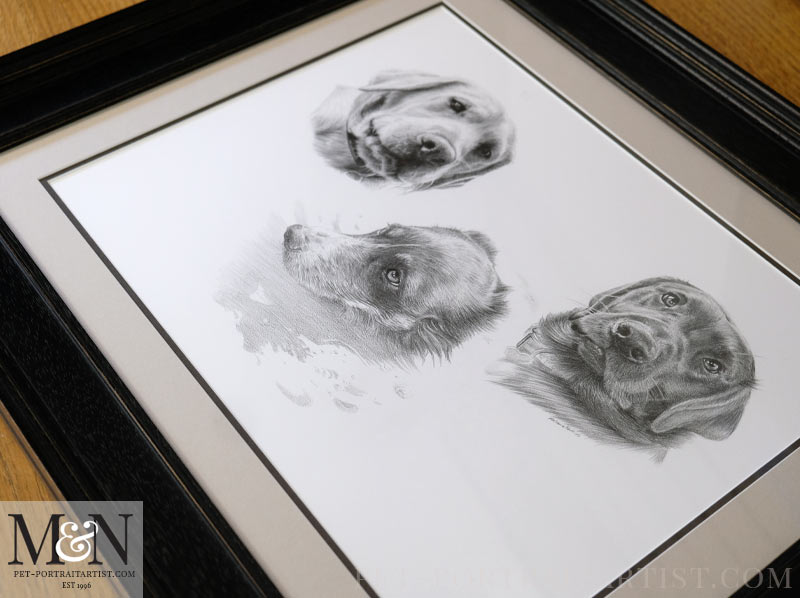 If you would like a triple dog pet portrait in pencil of your dogs, please get in touch. Perhaps you might prefer a mandate drawing like the one Kirstie commissioned – another gift voucher surprise! Read about it here – Cat Pencil Pet Portrait
Are you enjoying our blog? Why not sign up to our Melanie's Monthly News, which comes right into your inbox each month! You can sign up at the bottom of our website or at the top of the blog. Please don't forget to subscribe to our YouTube Channel too. You are more than welcome to comment below, we love hearing from our readers!

You May Also Like
December 24, 2021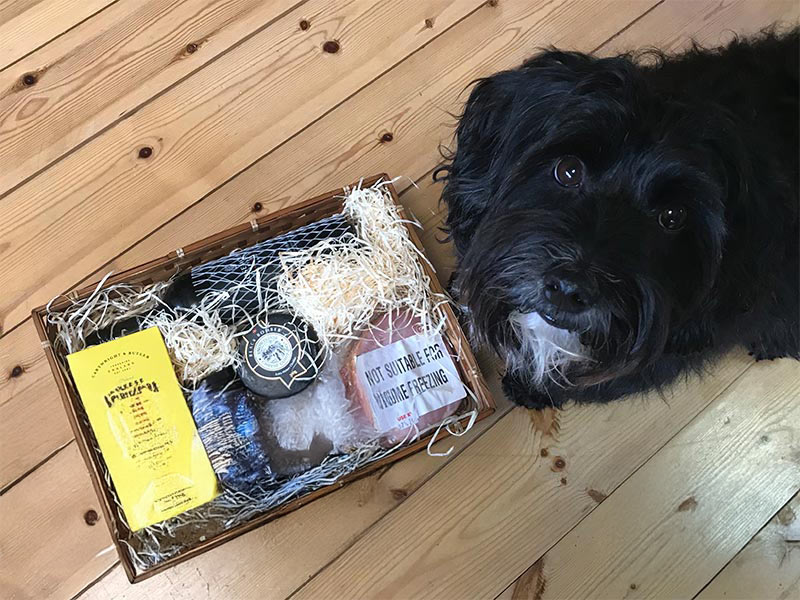 January 30, 2020
November 26, 2018