Golden Retriever Oil Painting
October 30, 2019
Welcome to the pet portrait story of the Golden Retriever oil painting of H. Nicholas traditionally hand painted the portrait on Italian Linen canvas. Our client commissioned the painting as a Christmas surprise for his wife. We love it when clients get in early for their paintings. Good job too! We are now taking bookings for January.
The portrait of H is a 12 x 10 inches oil painting. You can see the finished painting below as well as some photos of it framed. Read a lovely email from our client Mal….
Melanie & Nicholas 

I have this morning received the portrait of H all in great condition. I am extremely pleased with the overall detail and quality of the whole portrait. It is truly amazing, the frame and portrait all go together superbly well. Thank you both so much for literally a fine piece of art.

Kind regards
Mal.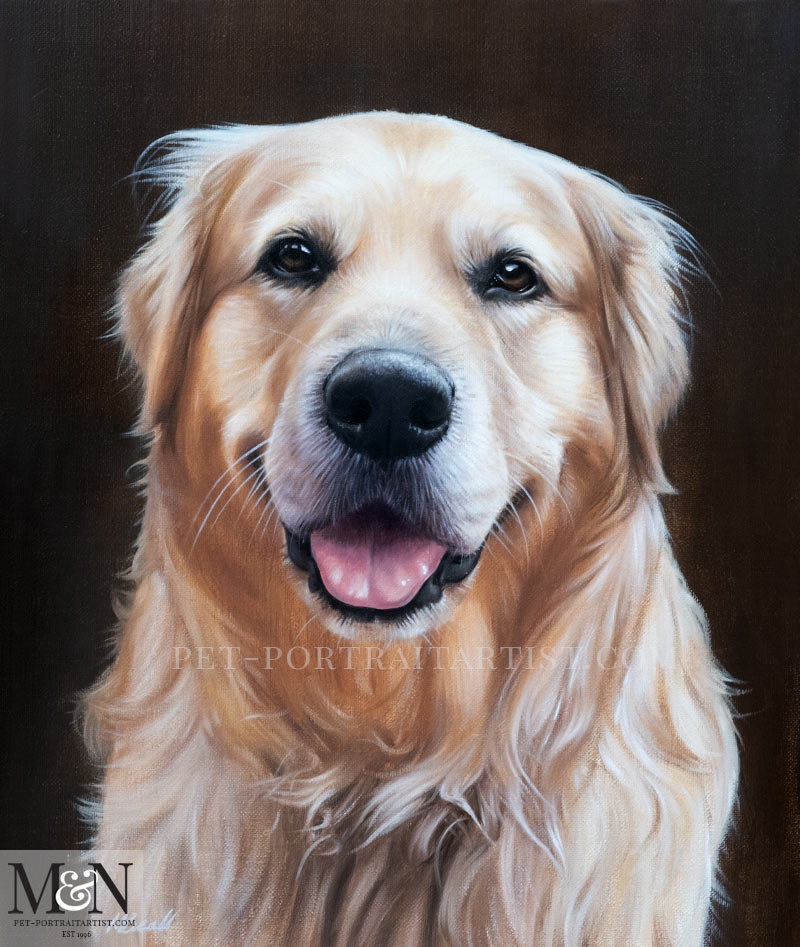 Golden Retriever in Progress
We often take photos of our paintings in progress, so that clients and prospective cellists can see how they are progressing and watch them come to life.
At the start of the commission Nicholas begins by carefully studying the photographs provided by our client. We only had one photo of H so Nicholas had to get everything from this photo that he possible could.
Once he had a clear understanding of H, Nicholas started with an initial sketch on the canvas. Outlining the composition and the positioning of the Golden Retriever. Next, he begins the painting process, building up the layers of paint, starting with the underpainting. This stage sets the tonal values of the painting and provides a guide for subsequent layers.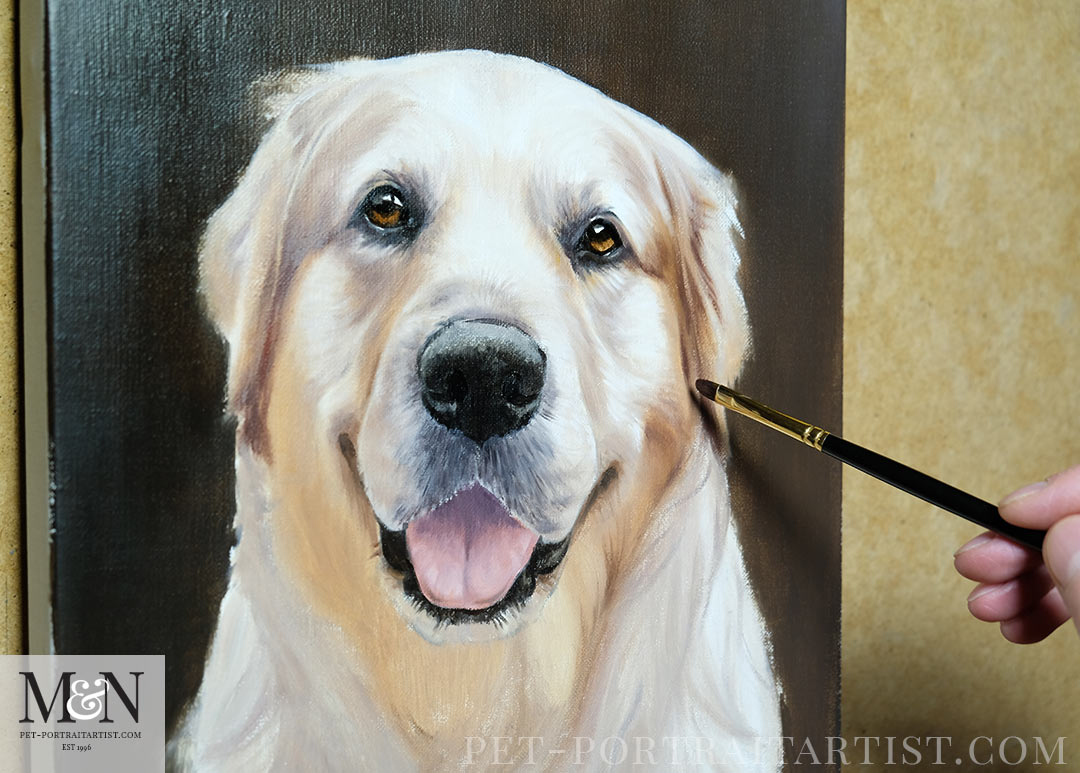 Nicholas then works on capturing the fine details of the Golden Retriever's coat, the gleam in the eyes, and H's unique personality. He uses various brush techniques to create texture and depth, bringing the H to life on the canvas. This process ensures that each pet portrait Nicholas creates is not just a painting, but a cherished piece of art that captures the essence of that pet – not just any pet.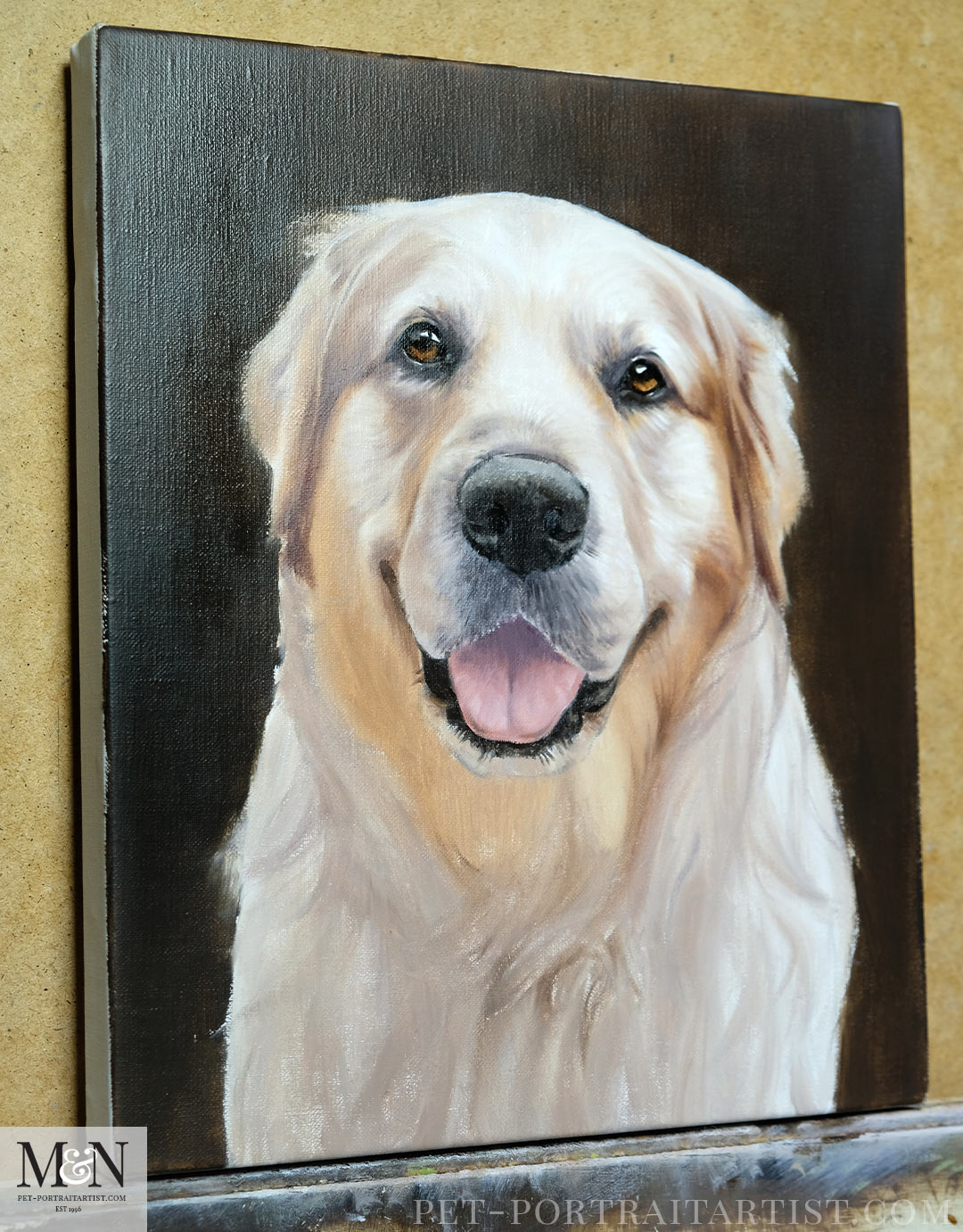 Golden Retriever Oil Painting Framed
The photos below shows the portrait all framed and ready to send to our client.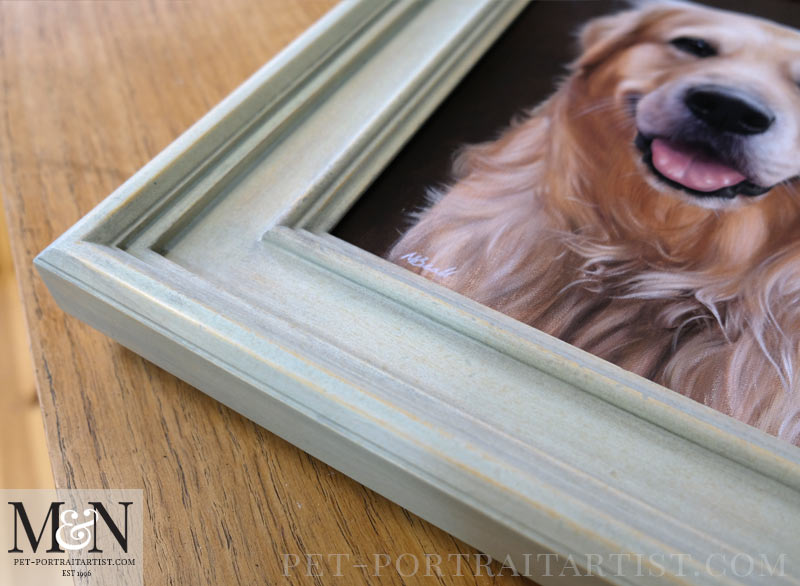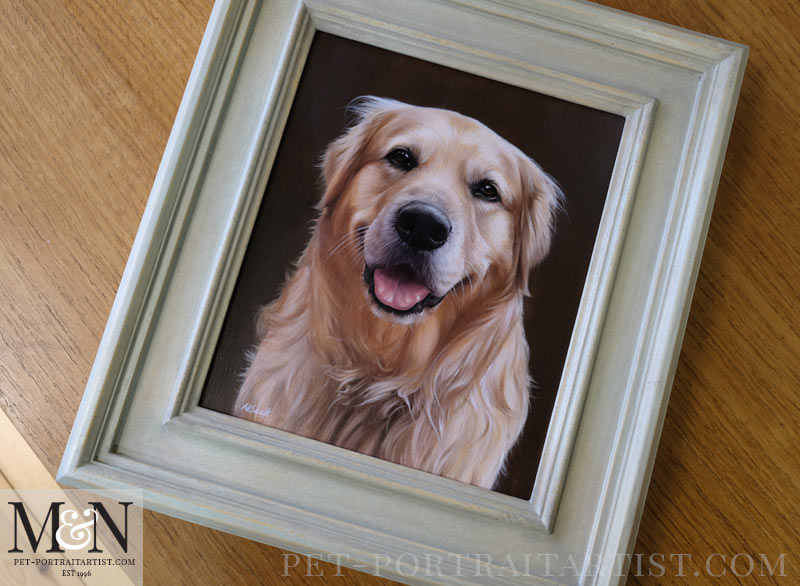 If you would like to see a double Golden Retriever portrait, take a look at another repainting Nicholas created this year for clients in Guernsey. Golden Retriever Pet Portraits. It was framed in our Highgate Frame and as a result was similarly well received by our clients. In conclusion, this was one of our favourite portraits this year. We also hope that Mals' wife will be absolutely thrilled this Christmas!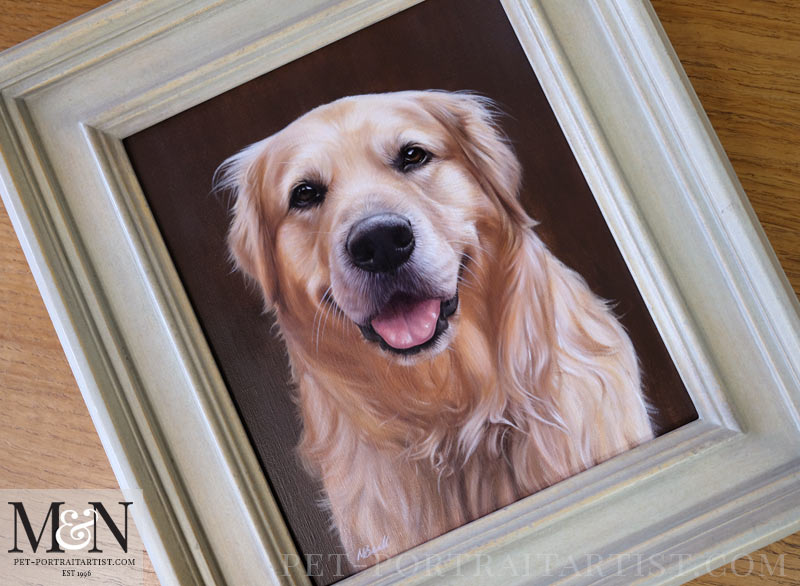 If you would like your Golden Retriever painted, similar to the portrait of H, you are more than welcome to contact us at any time. If you are looking to have a portrait for a special date, similar to Mal, please do get in touch early as possible as we are always booked up a number of months in advance for our pet portraits.
Are you enjoying our blog? Why not sign up to our Melanie's Monthly News, which comes right into your inbox each month! You can sign up at the bottom of our website or at the top of the blog. Please don't forget to subscribe to our YouTube Channel too. You are more than welcome to comment below, we love hearing from our readers!

You May Also Like
March 30, 2019
January 28, 2019
January 9, 2017