Oil Pet Portraits by Nicholas Beall
October 30, 2019
Welcome to the latest Oil Pet Portraits by Nicholas Beall of Chucho and Jack Henry. Our client Cate ordered two 14 x 12 oil paintings of her dogs in oils on canvas, both framed. Cate has some lovely photos of both dogs and we helped her choose what we felt would work really well for portraits and luckily Cate agreed too! The portraits are below and you can read an email from Cate when she received the portraits…
Hi Melanie and Nicholas,
Thank you!! The portraits came in today and they are perfect!! Absolutely beautiful! It has definitely captured Chucho!
Chucho is so sweet and loving, and it really shines through in the portrait. They are both wonderful!! I am so happy and amazed!!
Cate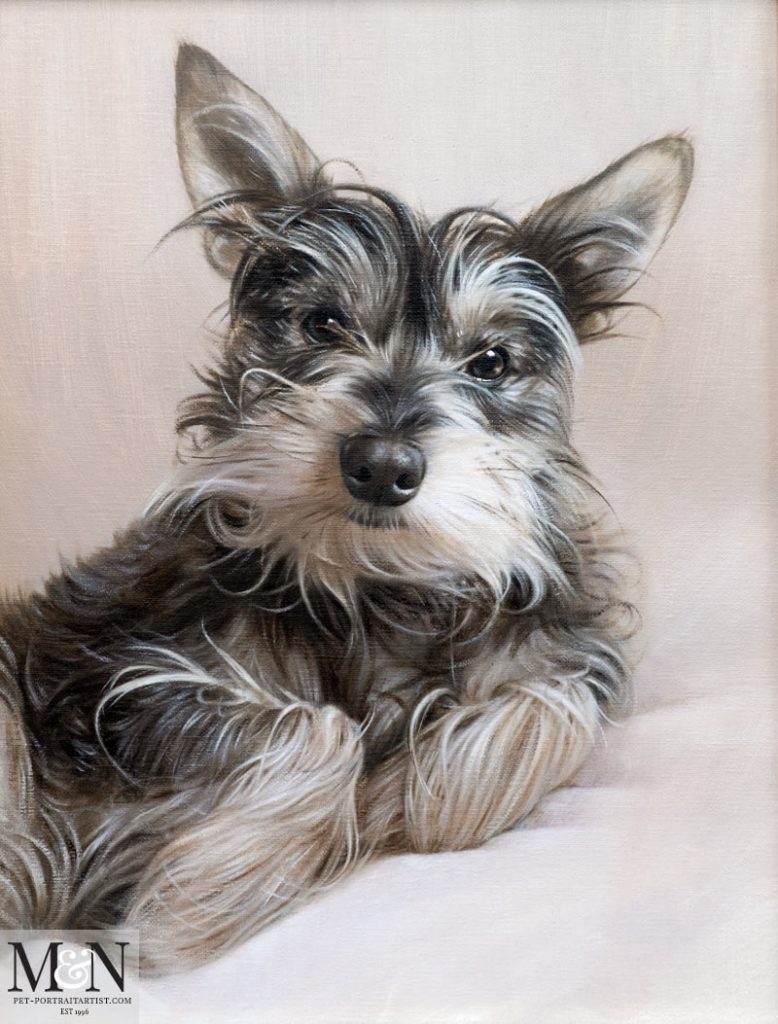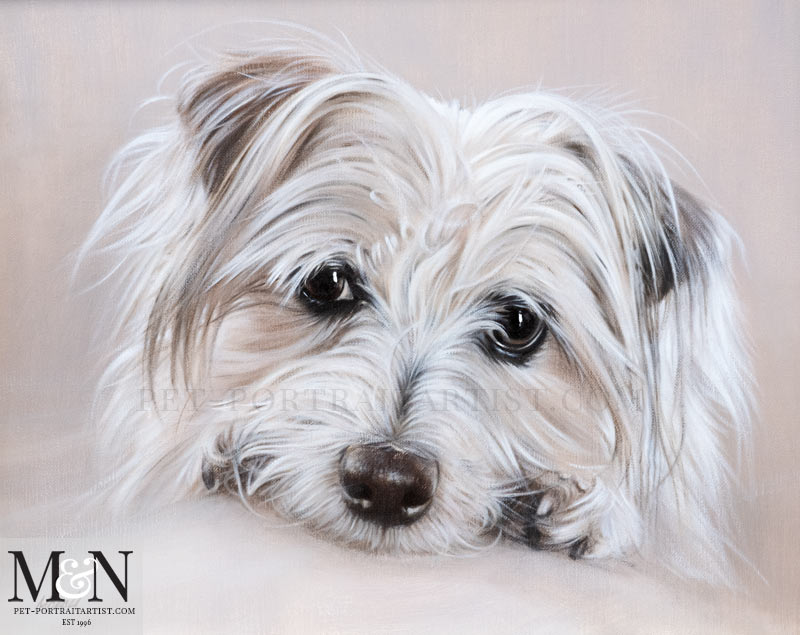 In Progress
Here are a couple of photos taken during the painting process. Nicholas stands at his easel for many hours per day traditionally hand painting each portrait. Consequently, you can see from the size of the brush Nicholas is using it is a fine and delicate process. Especially when painting long fur, capturing each whisp accurately.
We love the eyes on both dogs, however Jack Henry's in particular are gorgeous. This was an in progress photo of Nicholas adding detail into Jack Henry's delicate white long fur on the top of his head.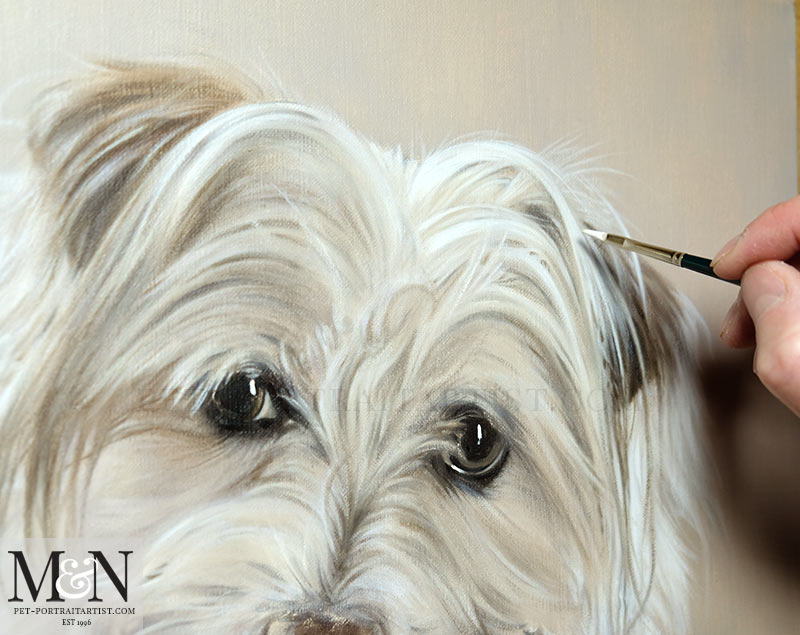 Framed Oil Pet Portraits
The oil pet portraits of Chucho and Jack Henry were framed using our Highgate Frame It is a very popular frame of ours and it is suitable for many of the sizes of portraits. You can see a larger painting of two Golden Retrievers also framed in it. It is smooth and silky to the touch and absolutely beautiful.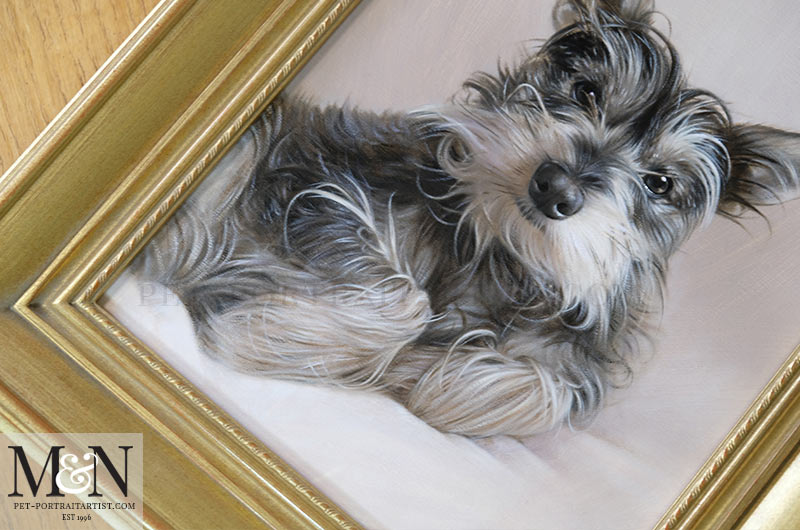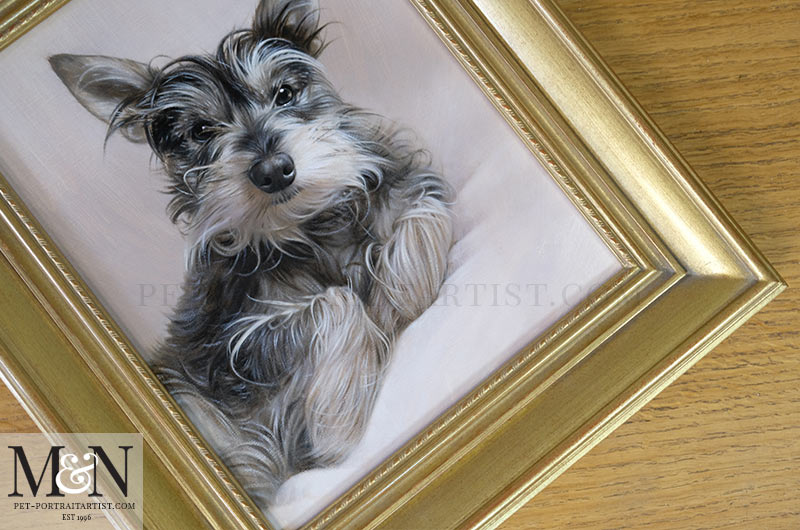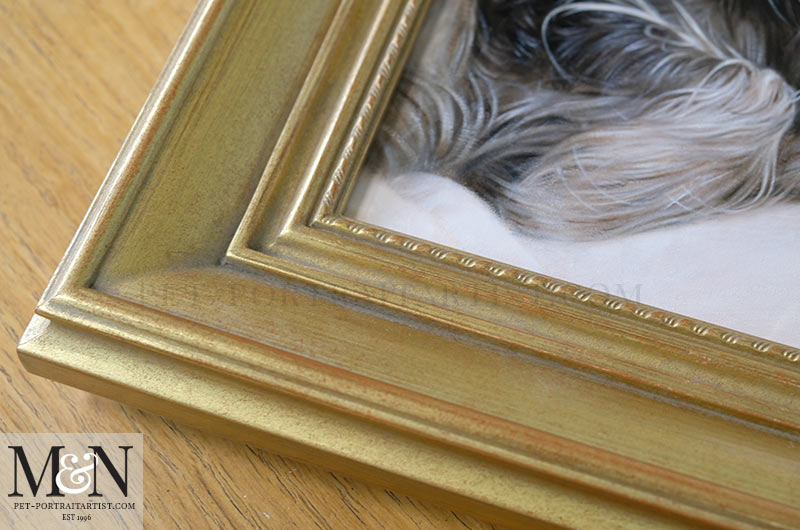 How to Commission an Oil Pet Portrait by Nicholas Beall
To commission an oil pet portrait from Nicholas, you can follow these steps:
Reference Photos: Collect some clear and in focus photos of your pet, making sure they capture your pet's unique characteristics and personality.
Contact Us: Email or WhatsApp us and let us know your requirements. This could include the size of the painting, the desired background, and any other special elements you want to include in the portrait.
Commission the Portrait: Once all the details are finalised, we will send you an invoice for the deposit and get you into our commissions list.
Starting the Oil Painting: Nicholas will begin the process of creating your oil portrait.
Updates: Throughout the process, Nicholas may share updates with you see the progress of the painting. You can provide feedback and request revisions if necessary.
Delivery: Once the portrait is completed, it will be carefully packaged and delivered to your specified address.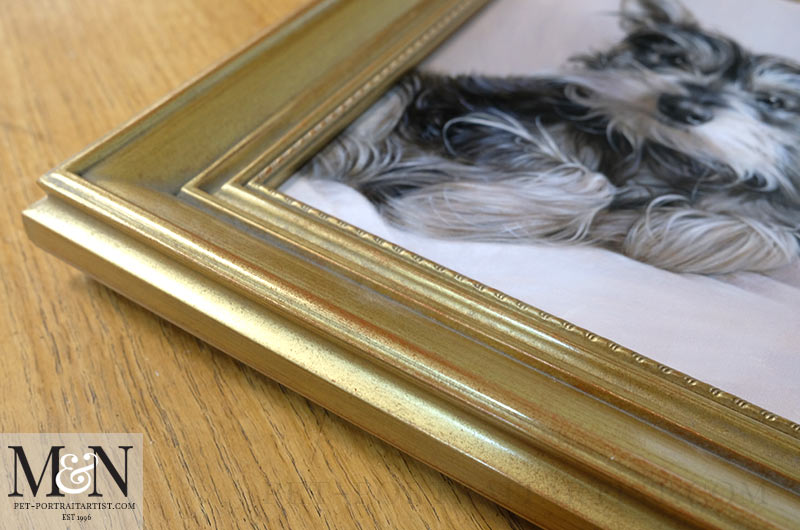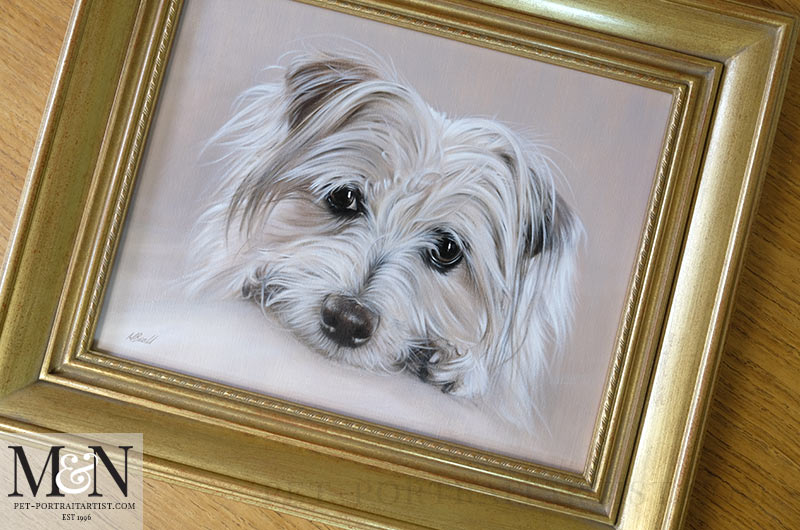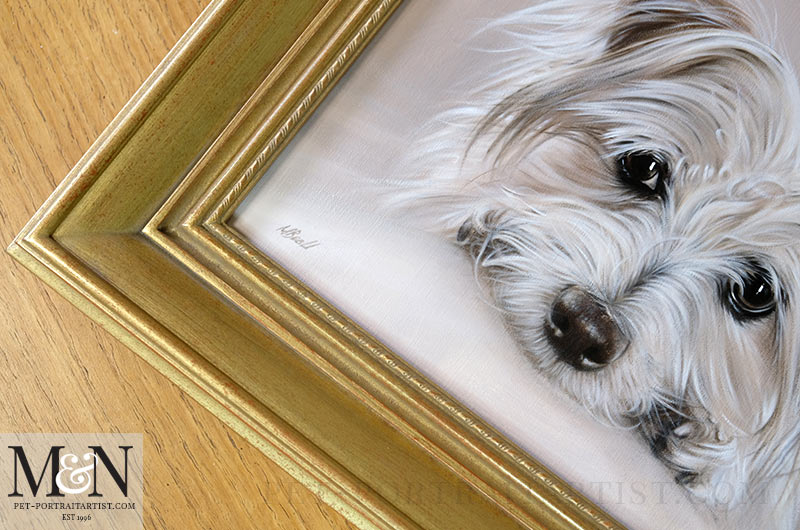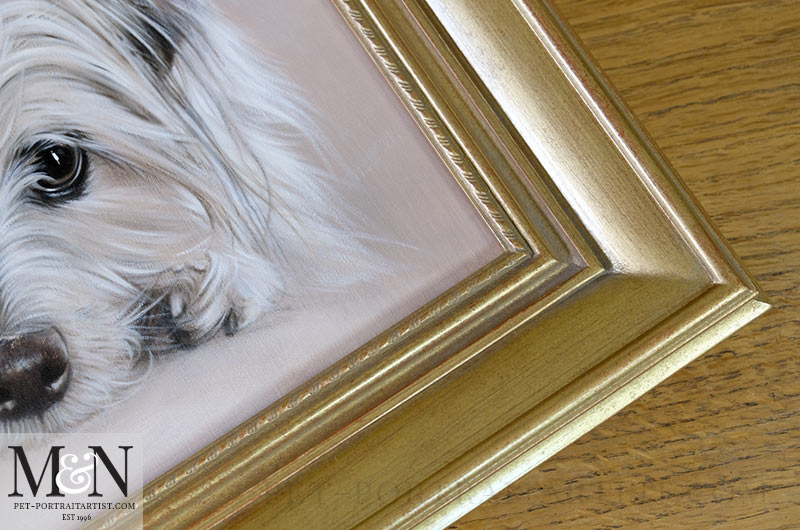 Oil Pet Portraits by Nicholas Beall in the Studio
Here are also a couple of photos taken of the portraits together on our plan chest in the studio. I know that Cate was thrilled with the portraits and I really hope that they look fantastic when displayed in her home. I hope that you like them too!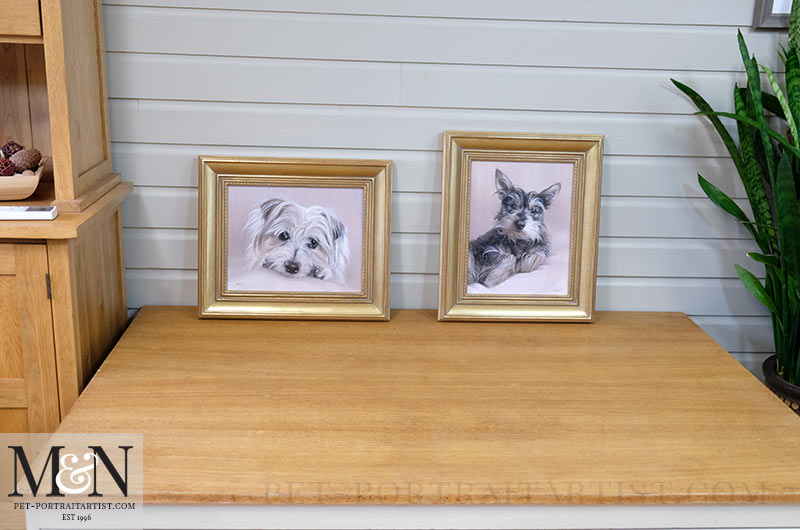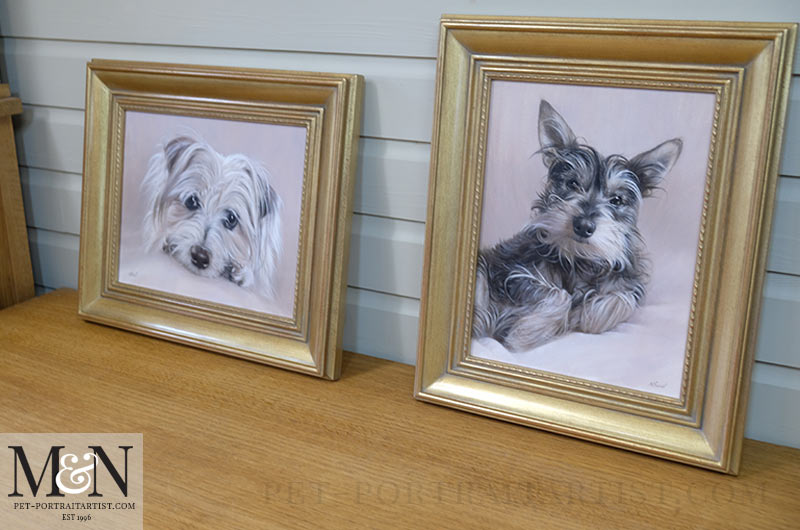 Are you enjoying our blog? Why not sign up to our Melanie's Monthly News, which comes right into your inbox each month! You can sign up at the bottom of our website or at the top of the blog. Please don't forget to subscribe to our YouTube Channel too. You are more than welcome to comment below, we love hearing from our readers!

You May Also Like
July 5, 2016
March 30, 2019
February 10, 2015