Ruffwear Logo Pet Portrait
August 31, 2019
Welcome to my most exciting project of the year, the Ruffwear logo pet portrait commission. Andrew Geere, the CEO of Ruffwear, called me to discuss commissioning a pencil drawing earlier this year in April. The focus of the portrait would be of Ursula who was the inspiration for the Ruffwear logo back in 1993. A close friend of Patrick Kruse, the founder of Ruffwear rescued Ursula. View a photo of the 'Junkyard dog' Ursula on the about us section of the Ruffwear website.

Andrew only had two photos of Ursula who had passed away 18 years ago. The photos of Ursula were fairly quality however certainly possible to create a portrait from. The idea was to make sure the collar and star tag was visible to show the Ruffwear branding.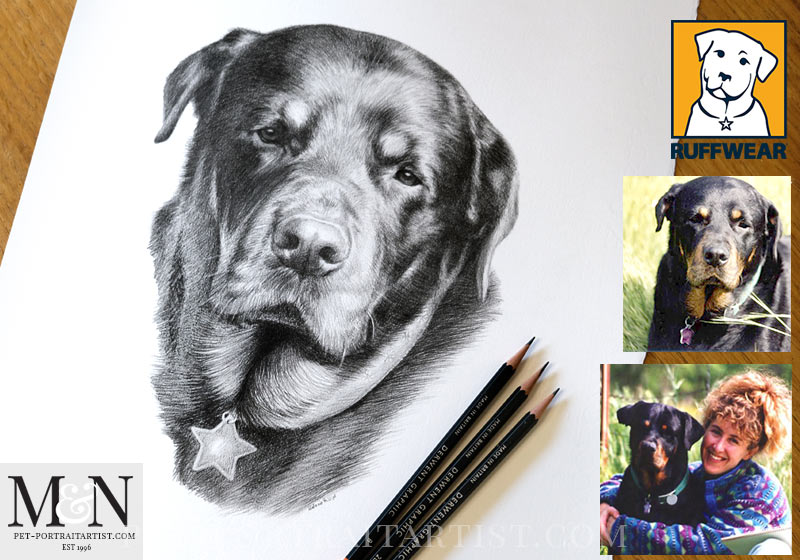 To explain a little more, Ruffwear is a company that specialises in outdoor performance gear for dogs. Their mission is to enhance outdoor adventures for dogs and their human companions.
Their product range includes trail-tested and rugged dog boots, dog coats, dog harnesses, and dog life jackets. These products are designed to be durable and functional, allowing active canines and their owners to make the most of the great outdoors.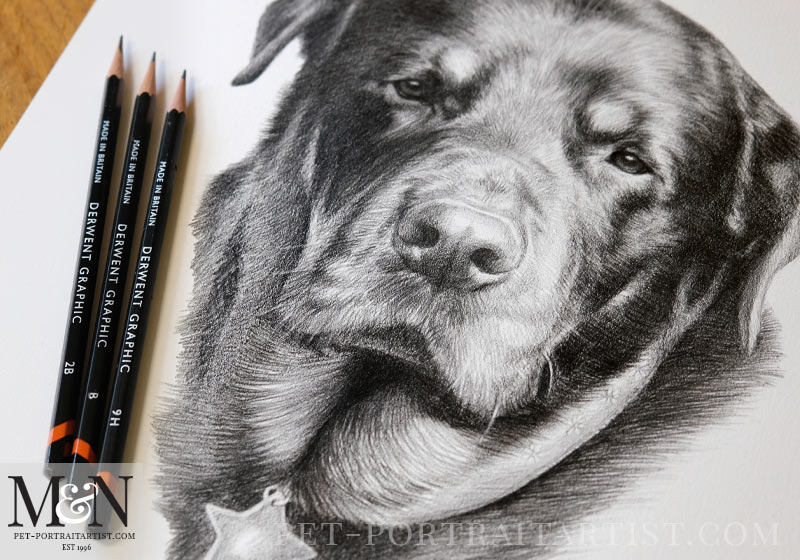 Whether it's walking, running, biking, hiking, camping, skiing, or more, Ruffwear's products are suitable for a wide range of settings, from forests and mountains to coastal areas. They also offer high-visibility gear for early risers and twilight hikers.
In addition to providing quality products, Ruffwear is also committed to sustainability. They strive to conduct their business in a way that maximises the good they can do in the world while being cognisant of the impact they have on the planet.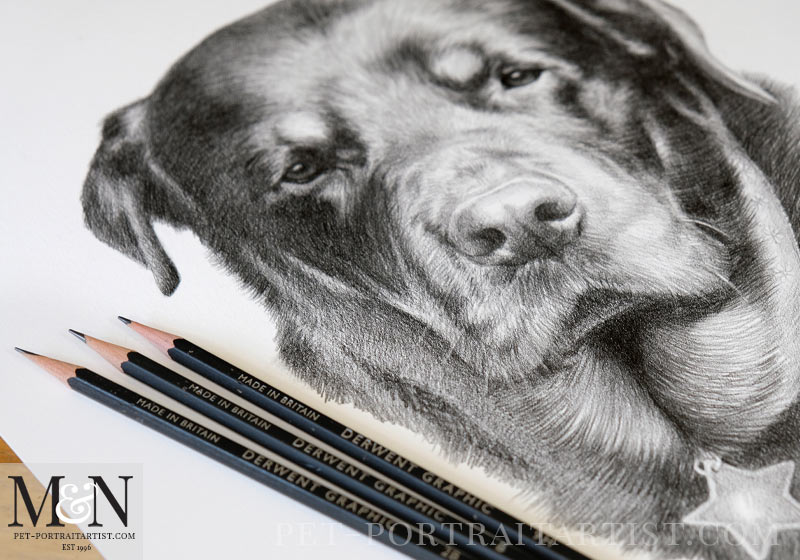 Ruffwear Logo Pet Portrait Framed
Andrew emailed regarding framing. They wanted something contemporary to fit in with their new offices along with an engraved plaque too. Andrew also ask for the frame to have an orange inner mount to match in with the Ruffwear logo which you can see in the photo below.
The engraved silver plaque has a line edging detail. Inscribed with the words 'To the next 25 years – Accapi 2019'. The frame is a 58mm wide brushed silver frame. I will be adding it to my pencil portrait website soon.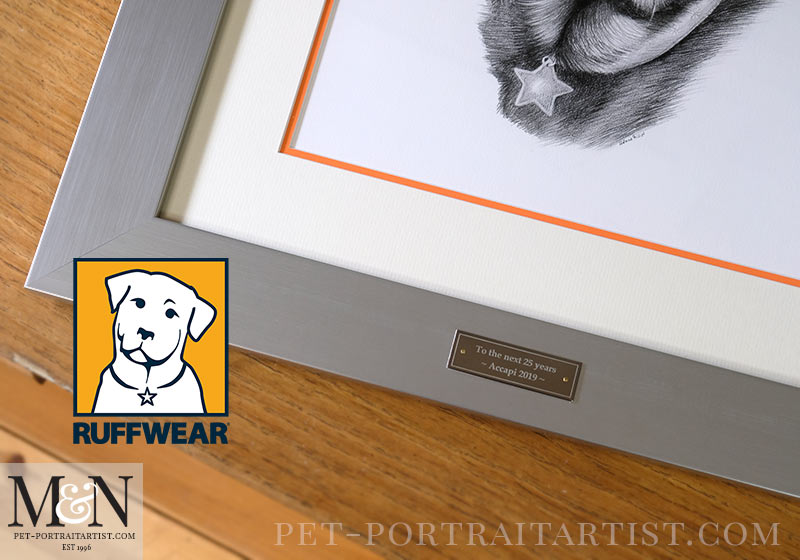 Finally, the portrait was all packed up and sent to the USA for the opening of their new offices and I really hope that it looks stunning displayed.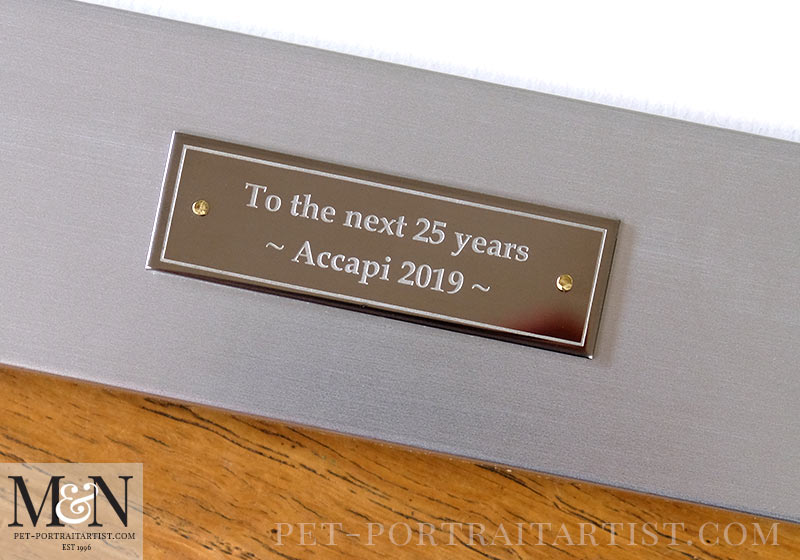 Ruffwear Logo Pet Portrait
I frequently collaborate with various companies, providing them with unique illustrations of dogs, cats, and horses. These collaborations offer me the opportunity to bring my love for animals and art together. It's always very exciting to work with companies such as Ruffwear.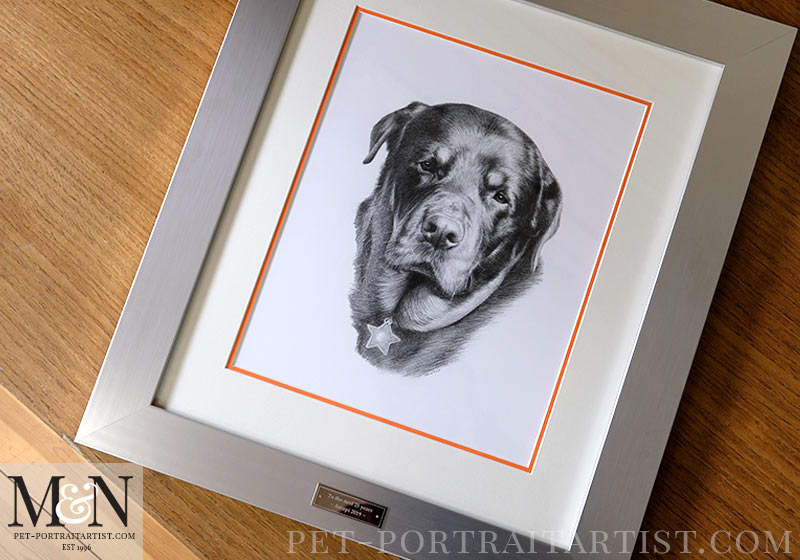 This project was an incredible opportunity that allowed me to showcase my skills combined with my passion for pet illustrations. The experience of creating artwork for a brand like Ruffwear was truly rewarding.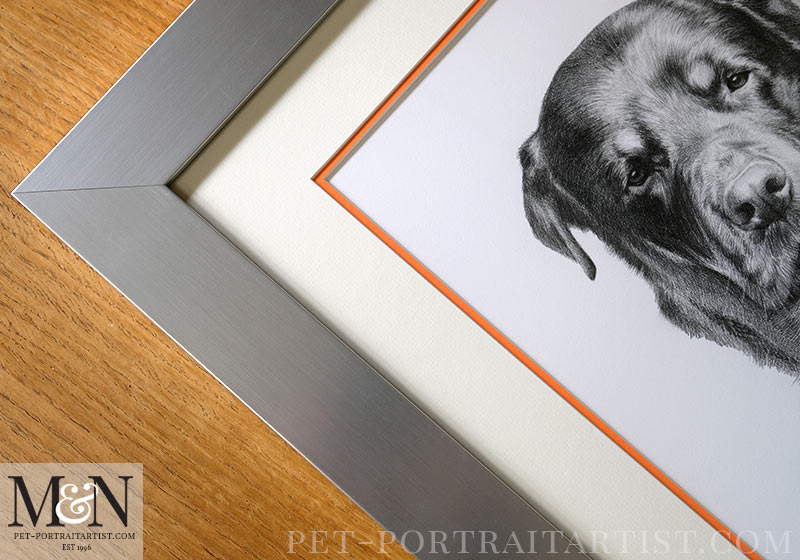 I have also created illustrations for various dog products and packaging which as always been a lot of fun. These projects have not only broadened my portfolio but also always exciting to see my work on pet products online or in the shops.
If you represent a company interested in unique, custom pet illustrations, please don't hesitate to get in touch. I would be delighted to discuss how my artwork can help bring your products or packaging to life, creating a visual impact that your customers will love. Whether it's a detailed portrait of a specific breed or a playful depiction of pets, I'm here to bring your vision to life.
Are you enjoying our blog? Why not sign up to our Melanie's Monthly News, which comes right into your inbox each month! You can sign up at the bottom of our website or at the top of the blog. Please don't forget to subscribe to our YouTube Channel too. You are more than welcome to comment below, we love hearing from our readers!

You May Also Like
February 13, 2018
January 4, 2017
May 4, 2019