Spaniel Pet Portrait in Oils of Millie
September 29, 2019
Welcome to our latest Spaniel Pet Portrait in Oils of Millie. The portrait was a 16 x 12 oil painting traditionally hand painted by Nicholas on Italian Linen canvas. Our client Peter got in contact and sent us this lovely email..
I have just been looking at examples of your dog portraits on your website and was impressed by the quality and detail you achieve on your paintings. I am interested in an oil painting commission of our Welsh Springer Spaniel, Millie, for my wife's 60th birthday in September.  I note from your website that you have lengthy waiting lists so just wondered first of all whether you would be able to produce something by September, if I provided a selection of photos by say end of May. From photos you receive do you then select the one which you feel would produce the best picture?  I assume a certain amount of artistic licence in terms of background.
Peters questions were completely valid and Peter was correct to get in touch a number of months prior to requiring the painting. Nicholas is always booked in advance for his paintings, so Peters timing was perfect.
We always love to see plenty of photos of clients pets however finding the one perfect photo out of them is the most important. In this instance we chose the perfect photo of Millie and also used some aditional references for Bamborough Castle as this is where Peter and his family often walk with Millie.

Peter emailed when he saw the final photo of the painting…
Wow – what can I say !! Painting is fantastic and I'm sure Julie will love it. Just need to find somewhere safe to store it now. Will definitely send some photos in due course.
Thanks again.
Peter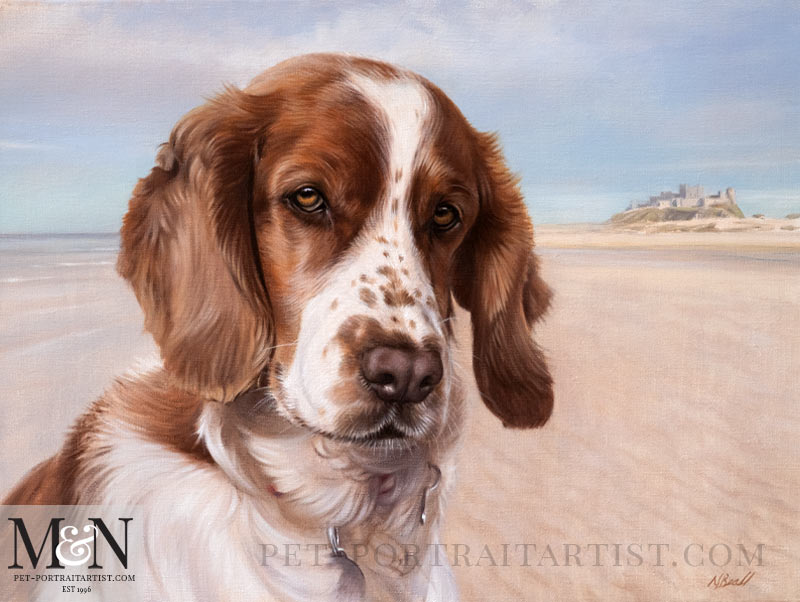 Spaniel Oil Portrait of Millie Framed
In addition, Peter decided to have the portrait of Millie framed in our Traditional Flat frame, which was a great choice. It worked really well with Millie's colouring.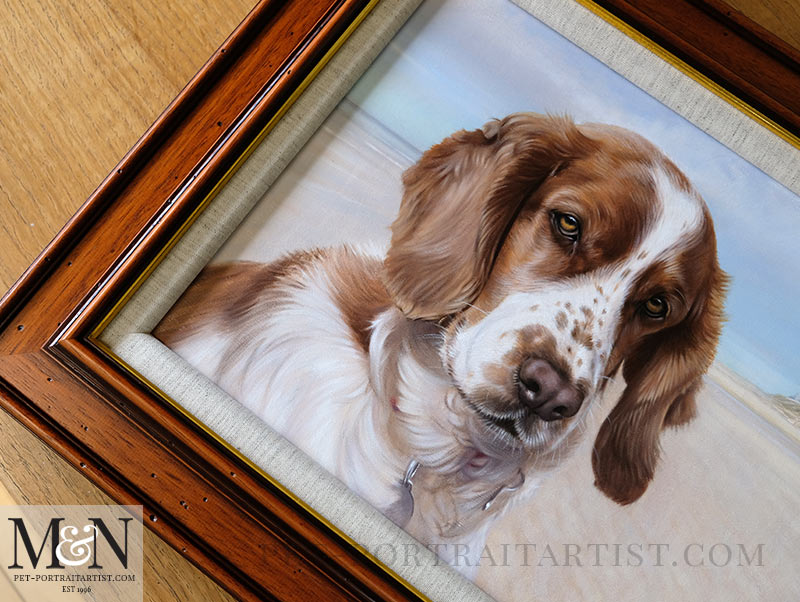 Millie in Progress
I took the photos below, whilst Nicholas was painting. While Nicholas is standing at his easel I always take photos while he is working for clients to see. I then email stages so that they can see how it is all progressing. We hope that you like the painting and if you would like your Spaniel painted, why not get in touch from our Pet Portraits website today.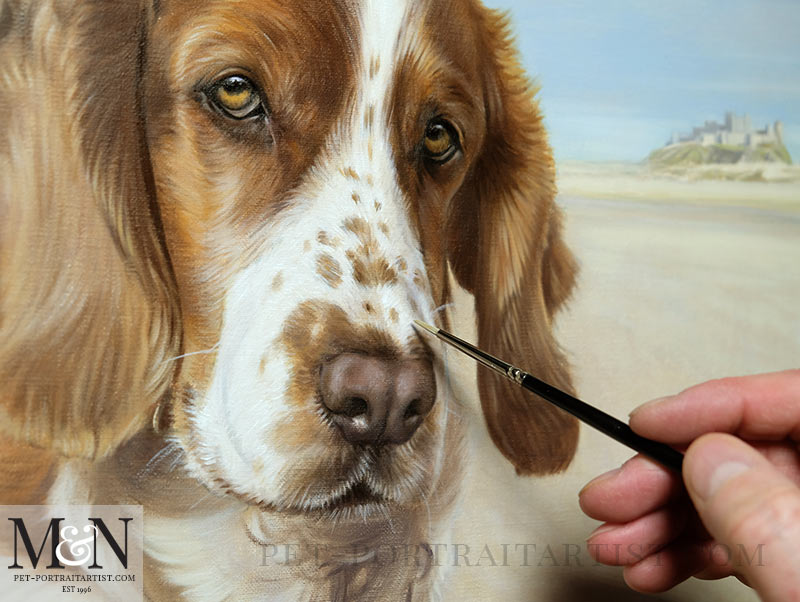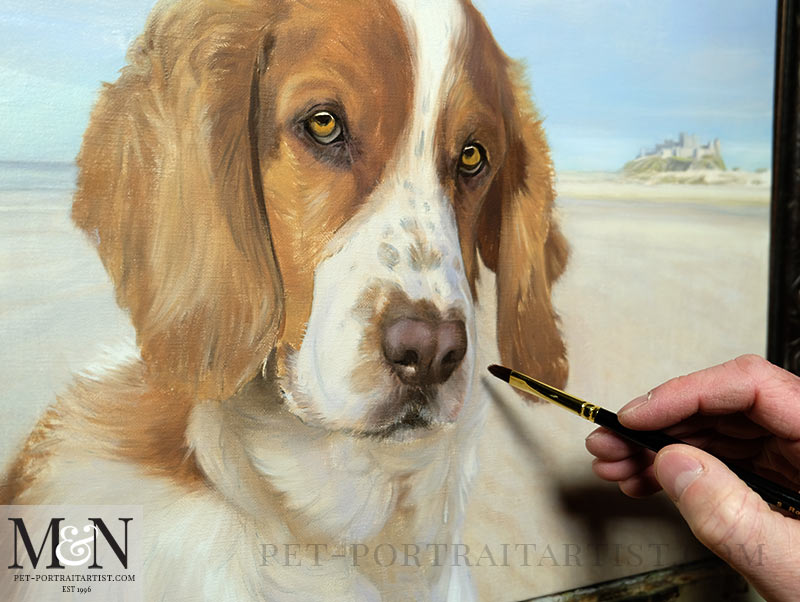 I hope that you have enjoyed reading about Millie and her portrait. If you have a spaniel and would like Nicholas to paint you a Spaniel Pet Portrait in Oils similar to Millie, please do drop us a line at any time!
Are you enjoying our blog? Why not sign up to our Melanie's Monthly News, which comes right into your inbox each month! You can sign up at the bottom of our website or at the top of the blog. Please don't forget to subscribe to our YouTube Channel too. You are more than welcome to comment below, we love hearing from our readers!

You May Also Like
December 1, 2016
April 15, 2016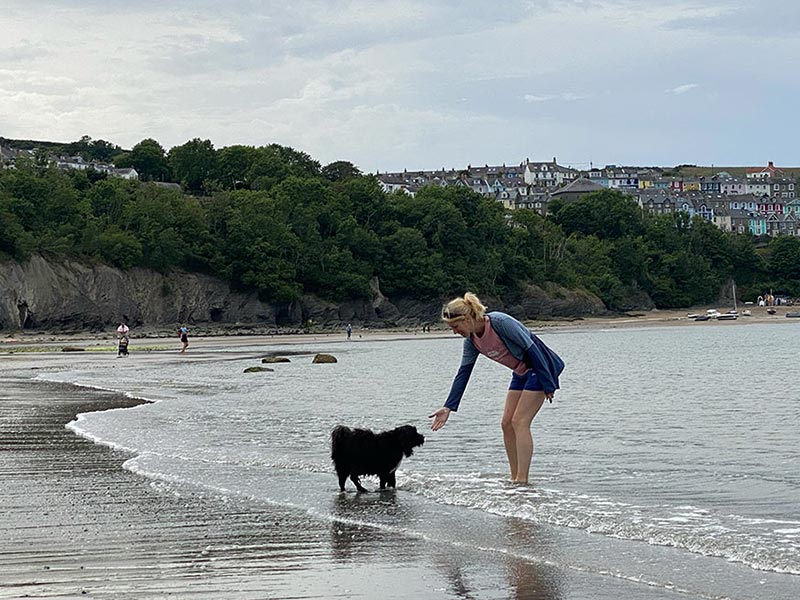 June 27, 2022